Transportation is one of the biggest expenses during a trip, especially if you have to fly. Luckily, there are a ton of tips you can use to slice your costs in half. For example, you can use these discount travel websites to keep your money in your pocket.
Here's one money-saving travel tip you probably didn't know. If you fly on Tuesdays, you can save a ton of money on transportation costs. You can also compare prices from different travel websites.
If you need more travel pointers, tap or click here for Kim's 5 top travel tips. Plus, there are a ton of websites that find deals on airfare, lodging, car rentals and more. We rounded up 10 trustworthy websites you can use to plan your next vacation.
1. Search hundreds of travel sites at once
If you want to hunt around for the cheapest flight, hotel, rental car or cruises, try Kayak.com. Kayak collects data from airlines and travel sites so it can give you the cheapest tickets and rentals. It also offers guides to help travelers learn about local restaurants, must-see locations, where to capture the best photos and more.
Kayak's website has a lot of content because it has an active blog and a lot of price comparisons. But if you're looking for cheap flights first and foremost, the flight search bar is right on the homepage, and the search bar can be found at the top of each page.
2. Let Google find cheap travel packages
Google Flights works much like Kayak — it collects data from airlines, hotels and travel sites, then shows you several options. You can look for specific locations or, if you want to be inspired, you can check out the most popular searches.
Google Flights helps you track price trends so you can buy when tickets are at their most affordable. You can also search by airline, price and the number of stops.
You may not be able to search for rental cars, but you can check out flights, hotels, get package deals and more. Because it's connected to the Google search engine, when you look up a location in Google Flights you also have access to the cool things to do in those areas, as well as the best places to go and stay.
You may also like: 5 Google Flights tricks you need to use now 
3. Compare pricing across several travel sites
For those road-trippers and train aficionados looking for affordable hotels for your next vacation, try goSeek on for size. goSeek helps you find hotels in or near almost any area you can think of, based on location, the dates you'll be staying and how many people you have in your party (plus how many rooms you need).
From this search, you'll see the rates normally given for that hotel through sites like Expedia and Hotels.com, and how much you save by using goSeek. Combine these savings to user ratings and find the best accommodations for your party.
One thing to keep in mind: goSeek brings up a number of pop-up ads, and if you don't deselect the "Compare vs goSeek" checkmarks at the bottom of the search area, you'll open a second, very confusing, window showing you other sites and their deals.
4. Browse travel deals, name your own price
If you're traveling on a budget, try using Priceline and its Name Your Own Price service to get a deal you can really afford. When searching for a hotel, click the "Name Your Own Price" link on the left side of the page if it turns up, and select the area you want to stay in, as well as the star level you'd like the hotel to have.
Then, submit your bid for an amount you're willing to pay for a hotel room in that area. Priceline will tell you the median price available, so you'll have an idea if your budget can match where you're looking. The site will then ask the nearby hotels if they'll take your price, and if they do, that's all you pay.
If hotels reject your price, just change your area selection, dates and maybe your star-rating to get the price you can afford. Sadly, the Name Your Own Price feature only applies to Priceline's hotel searches, and not their flight, cars or cruises. Still, to seriously save on accommodations, Priceline is a good site to try out.
Just be prepared to have every link you click on Priceline bring you to a new window. You won't get pop-up ads, but if you're comparing a few vacation options, be aware you'll have quite a few windows to look through on your desktop for a little while. But it's not bad for a free app.
5. Rent more space for less money
Maybe you prefer the comforts of home to a hotel, but you still want to get away for a little while. To rent a vacation home for your trip, check out Vrbo, a site that connects homeowners and renters with travelers so travelers can stay in cabins, condos, mansions or whatever else their heart desires.
The pricing at Vrbo can be a little steep — you might find some hotels less expensive — but staying in a vacation home can ultimately save you money, especially if you travel in a group.
A group can split the cost of staying in a Vrbo house, and there will actually be enough room for everyone to have their own beds and their own space. With the option to cook meals in the house, you could save a ton of money and really get to enjoy quality time with your fellow travelers.
6. When you don't know where you want to go
Sometimes you want to get away, but you don't know where you want to go. Travelzoo can help with that, and can find you great deals in the process. You can use Travelzoo to book hotels and cruises, or take advantage of deals on vacation activities.
The best use of the site may be its weekly Top 20 list of amazing vacation packages. Use this to get inspiration for your next trip, as well as discounts and deals. Most of Travelzoo's deals and packages are great, offering places to stay, means of transport and often special tours and activities.
To really look into deals, you have to sign up as a Travelzoo user, but it's free and the deals are worth it. Next time you feel the itch to see the world, but don't know where to go, try Travelzoo, and soon you'll have more vacation ideas than you'll be able to pick from.
7. Get alerts about airfare deals
If you have a dream vacation in mind, a place you've been hoping to go to for as long as you can remember, use Airfarewatchdog to find the cheapest flights immediately when they go on sale. Input a starting destination into the Airfarewatchdog homepage and click "Find Fares."
From there, Airfarewatchdog will let you know if there are flights available and if they are "good" rates or below the average cost for that flight. If the rates look good, you can click "Find Deal" next to the price and be redirected to a booking website to purchase them.
Airfarewatchdog finds cheap flights, but does not perform any transactions — you'll be redirected to bookingbuddy.com for that, a site that will help you find the travel sites with the listed prices. It's a bit convoluted, but you do find the prices Airfarewatchdog tells you about, especially if you move quickly.
If things are looking a little pricey, you can click the "Track this route" link beside the alarm clock icon, and you'll be directed to input your email address. Once you do, you'll be notified the moment the route you're looking for gets cheaper tickets via email.
You'll have to move fast, as Airfarewatchdog can only let you know when prices are down, but others are receiving the same email and will pounce on the better deals.
8. Check cheap flights on your smartphone
Occasionally, you might have to (or want to) buy plane tickets while away from your desktop. The JustFly.com app is great for that. It helps you compare flight, hotel, rental car and cruise prices all from your smartphone.
You can also access it from your computer, though. Basically, this is one of the simplest flight comparison apps you'll find.
We love it because it turns up some great bargains. Prices can change quickly, so having an app might be your best option.
9. Get deals on cruises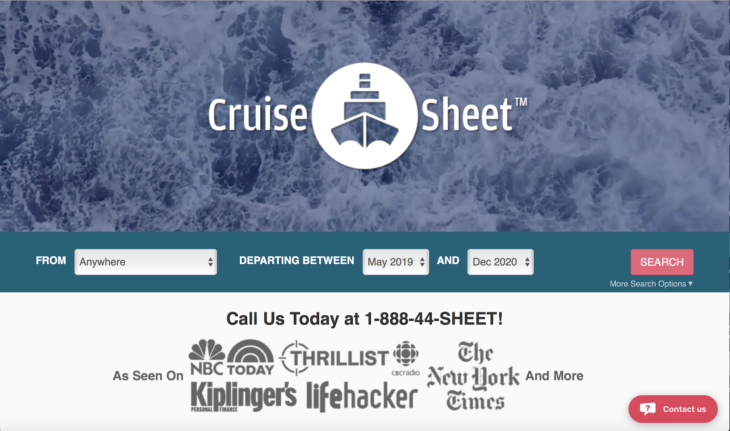 Maybe you don't like flying. If you and your family and friends prefer cruise ships, we've got you covered. Try CruiseSheet, which is designed to find the best ocean travel deals.
You can search for cruises with destinations you want to visit. You can also filter your search to find cruise ships that match the amount of free time you have. Overall, it's a great site for people who love to plan ahead.
You can find ships that set sail for as much as a year and a half from now.
This way, you can book a vacation well in advance — and get great deals.
On top of that, CruiseSheet helps you find last-minute deals on cruises.
You can find deals that just went online — and cruises that just dropped in price.
To stay on top of the latest sales, sign up for CruiseSheet's email lists. You can even set up price alerts for particular cruises you're interested in. With good timing, you can snap up deals whenever cabins and trips drop in prices.
Bottom line: CruiseSheet is the best site for finding good cruising deals. It's easy to use and it's perfect for people who prefer open ships to cramped airplanes.
10. Travel like a college kid and get a friend for life
Maybe you're the only person in your friend group who loves to travel. Find travel buddies with Get A Friend For Life, or GAFFL. This website connects you with like-minded travelers so you can split costs and stay safe.
You can use GAFFL to advertise your trip ideas. Also, you can reach out to people who are planning trips you want to join. This site is a one-stop shop you can use to start group chats, divide costs and pay each other.
Just be careful when you're meeting strangers online. Follow these tips to use GAFFL safely. The main downside to GAFFL is it costs $6.99 a month.
It's not a renewing amount, so you don't have to worry about being overcharged. But you can't start planning a trip until you pay that $6.99 (or more for longer memberships). Still, GAFFL is a good resource for those who love to travel with other people and save money.