If you haven't gotten into the Instant Pot craze, yes you're a little late to the table, but not too late. This is not your mom's Crock-Pot. It's a kitchen gadget that is a slow cooker, pressure cooker, rice cooker, steamer and so much more. If only it would go to the grocery store, too.
Our best advice to anyone who's new to the Instant Pot world: Follow recipe directions to the "T." Don't deviate or improvise, especially when it comes to adding liquids to the pressure cooking settings. Trust us. We've had our share of burnt chicken, beef and veggies. And incorporate other essential kitchen gadgets that work well with Instant Pot. Tap or click here for some of the best options.
The next section explains what the Instant Pot is, followed by three pieces of advice for using your pressure cooker.
What is Instant Pot?
The creators of Instant Pot set out with a goal in mind: "To find solutions that would enable busy families and professionals to prepare quality food in less time, promoting better eating and reducing the consumption of fast food."
Instant Pot was introduced in 2010 and quickly became a fan favorite.
With the ability to be a pressure cooker, slow cooker, rice cooker, yogurt maker, cake maker, egg cooker, saute, steamer, warmer and sterilizer, Instant Pot can take care of pretty much whatever it is that needs to be done.
There are several versions of Instant Pot to choose from. Here are a couple of the best options.
Great for newbies
If you've never used an Instant Pot before, this model might be the best option. It's the Instant Pot Duo which is a 7-in-1 multipurpose cooker that will let you do almost anything in the kitchen.
You can use it as a pressure cooker, slow cooker, rice cooker, steamer, saute, yogurt maker, warmer and even a sterilizer. It holds up to six quarts and has 14 one-touch programs built-in. You won't be disappointed in this bad boy.
For the more adventurous cook
If you want to be the resident chef of the household look no further than this Instant Pot Duo Crisp 11-in-1. You're going to love its flexibility as it is a pressure cooker and air fryer that comes with two convenient, removable lids.
Use it to pressure cook, saute, steam, slow cook, sous vides, warm foods, air fry, roaster, bake, broil and dehydrate food. And you're going to love its size as it holds up to eight quarts of food, perfect for the whole family. It truly is the ultimate cooking machine.
If you already have one of these amazing cookers, you know how simple it is to use. However, there are some neat tricks that you might not know about. Let's talk about them.
1. Speed up cooking time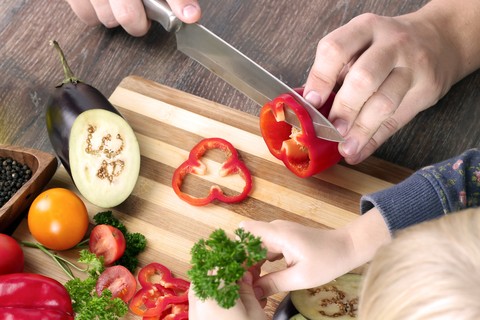 Instant Pot is already a super fast way to prepare your meals. It's designed to cook food up to 70% faster than normal. That's fantastic! But here's a little trick that can speed up the cooking process. While you are prepping your food, turn on the Instant Pot saute function.
Doing this will preheat the cooker and save you valuable time during the cooking process. Let it heat up while you're slicing and dicing everything that you're about to cook.
Here's how the saute function works:
Press the Saute function key.
Select a temperature with the Adjust key for Normal, More or Less.
When Instant Pot reaches the given working temp, it displays Hot and it's ready to use.
One full Saute session normally runs for 30 minutes, but you can cancel it at any time by pressing the Cancel/Keep Warm key and continue with a pressure cooking function.
2. Cook from frozen in your Instant Pot (be careful)
Remember at the start of this article when we said to be careful not to deviate from recipes? This is especially true when you go from a frozen state straight to your pressure cooker.
With Instant Pot you can cook food and meals from frozen in a jiffy. No longer do you have to scramble to find a healthy home-cooked meal when you forgot to thaw out that chicken.
Now, you can simply put frozen food directly into Instant Pot and voila, you'll have a fully cooked meal in no time. For example, a whole chicken only takes about 35 minutes to cook from frozen in Instant Pot.
There are plenty of reasons to fall in love with Instant Pot. Give it a whirl and see for yourself.
3. Join an Instant Pot Facebook group to become a master
If you're a beginner or even someone who has used Instant Pot for years, there are plenty of resources to help you become a master. Here are a few Facebook groups that you could join to learn how to become an Instant Pot wizard.
Instant Pot Beginner Recipes and Tips:  This is a great start if you are looking to get into cooking with Instant Pot. This group focuses on beginner tips and recipes. It has over 52,000 members and usually produces 239 new posts per day.
Instant Pot Vietnamese Recipes: If you are looking for some more exotic recipes, this group is for you. With a staggering 131,000+ members and daily posts, you will be making delicious Bò Kho in no time.
Instant Pot Indian Food: This Indian-themed group is surprisingly massive. It has over 248,000 members. Learn how to make some delicious spicy curry here.
Dump and Push Start: This is a group dedicated to quick and convenient recipes that can be thrown together in minutes. Just your style. Here, members share their favorite simple and quick Instant Pot recipes. This group also boasts more than 131,000 members.
Pro Tip: If you do decide to join any of these groups, you might try "unfollowing" the group from your News Feed. They post often and might completely take over your timeline. To unfollow a group, click on the three dots on the top right corner of a post and click unfollow. You can still visit the group anytime and read, but it will stop the group from bombarding your News Feed.
By clicking our links, you're supporting our research. As an Amazon Associate, we earn a small commission from qualifying purchases. Recommendations are not part of any business incentives.