When you're selling your home, you want potential buyers to be smitten with your house. Nowadays, you don't have much time to spruce up the place before buyers start looking. Long before they step into your home, they'll have already checked it out online.
More people are looking online than ever before. According to the National Association of Realtors, 98% of older millennials use online websites to find their homes. When it comes to online real estate, Zillow is one of the most popular websites to search. Tap or click here for the best sites that reveal your home's worth.
The only problem is that these websites often provide inaccurate market values, which can deter buyers. Luckily, there are a few ways you can improve your property's appearance on Zillow.
1. Claim your property
Your home's "Zestimate" is Zillow's best guess on market value. It's computed through a formula the site uses, which factors in public and private data. Thus, the fastest way to make Zillow's market value more accurate is to sign in and update facts about your home.
First, create a Zillow account. Then, type your address into the search bar and tap More, which drops down a list of options. Tap on Verify your ownership to claim your property.
Now that you're in, it's time to correct Zillow's errors to get a more accurate Zestimate.
2. Make sure the square footage is correct
When you look up homes on Zillow, you see the number of bedrooms and baths as well as the year it was built. Zillow also includes the home type (if it's a single-family home or a duplex, for example) and the lot size.
Zillow descriptions may have inaccurate square footage details, especially if you've remodeled your home and installed amenities. Once you've logged in, you can improve the listing with up-to-date information.
3. Consider for sale by owner
Realtors are lifesavers, but commission costs can bleed you dry. If you want to list your home without the assistance of a real estate agent, here's what to do. Update your listing and tap on For sale by owner (or FSBO).
According to Zillow, 49% of folks selling their homes without a real estate agent want to save money, while another 34% already know a potential buyer. This option is a great way to save money in the long run, and you can change your mind at any time. 
For now, try listing your home as FSBO to see what kinds of offers roll in. Try pricing really high to see what happens. You might be surprised to see just how much people are willing to pay!
There's just one caveat. You'll get many people who want to list the property or give you a moving estimate. If you're going this route, we recommend getting a Google Voice number, so your real number isn't posted. 
Google Voice not only provides you with a phone number, but it also lets you forward calls, accept voicemails and even receive text messages. Tap or click here for five ways to take advantage of Google Voice.
4. Add 3D home, download Zillow 3D home app and add a virtual tour
Here's another helpful tip when you're trying to put your home up for sale. The Zillow 3D Home Tours app gives buyers the best impression of your property, including accurate floor plans and measurements. It feeds panoramic photos and stills into Zillow's artificial intelligence machine.
This way, potential buyers can get a comprehensive idea of your home without dropping by. Best of all, it's free to use and easy to create. Plus, listings with a 3D Home tour get around two times more average views than homes without this feature.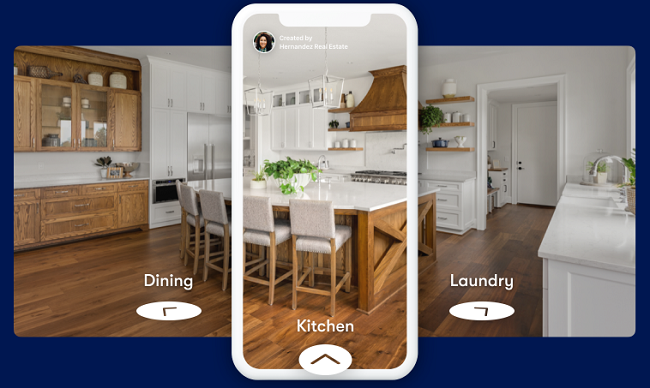 5. Email Zillow at this super-secret address
If you've made a bunch of changes and don't see them reflected, reach out to this email address: consumercare@zillow.com. It may take some time, so if you think you might be interested in selling at any point in the future, email now while you're thinking about it. You don't have to wait until you're actively selling to do these things.
If you're selling a house that's packed with smart home technology, we've got some special tips for you to keep in mind. First, you need to decide which smart appliances you want to leave behind and how to secure the ones you do. Tap or click here for our full guide on buying or selling a smart home.