Cassette tapes, CDs and even iPods all feel like distant memories of how we used to listen to music. Today, it's all about the music you can carry or stream on your Android phone or tablet. All you need is your gadget and a set of earphones or a Bluetooth speaker to enjoy your favorite tunes.
When it comes to Android devices, you have a lot of options for music players. Google Play Music is probably already on your phone, but you can choose from a variety of high-quality apps that will keep you rocking and rolling wherever you go.
Some apps only reach their full potential when paired with a subscription service, but you can also choose a music player that's geared to helping your organize and listen to the music that's already on your tablet or smartphone. Here are some smart app options for wrangling music on Android.
Android's native music app
Let's kick this off with the app you already have: Google Play Music. This is where you can access your music library, explore top charts and new releases, and also find and listen to podcasts, including Komando On Demand.
Google lets you add up to 50,000 songs from your own personal music collection to Play Music, which is pretty great if you already have a big digital music library. Some users aren't thrilled about the recommended song upload method of using Google's Play Music app for Chrome. I have been able to successfully upload songs through my Chrome browser, so it's worth a shot if you want to move your personal library into Play Music.
The $9.99-per-month subscription upgrade option for Play Music gets you ad-free access to 40 million songs. There's a lot of competition when it comes to subscription music services, with Apple Music and Spotify giving Google Play Music a run for its money. Google sweetens the deal by bundling in the YouTube Music service for ad-free music video access. If you often find yourself browsing YouTube for music, then this is a nice bonus.
Tap or click here for a handy chart compared streaming music services, including Apple Music, Spotify and Google Play Music.
Apple Music on your Android
You might be rocking an Android device, but maybe you're also an Apple fan. Apple Music boasts a massive library of 50 million songs and you can get a free trial before committing to the $9.99-per-month subscription price. Apple knows the appeal of its music service reaches beyond iPhones and iPads, which is why you can get the Apple Music app for Android.
If you're not already a subscriber to Apple Music, you will see an offer for a free trial after you install the app and sign into your Apple account. It's worth a tryout if you're shopping around for a streaming music service. If you just want to listen to songs you already have on your gadget, then Google Play Music or one of the following apps are a better bet.
A no-nonsense music player
Musicolet is an app you'll want to check out if you're not looking to stream music and you just want to listen to and organize music files on your smartphone or tablet. It's free, but it's also ad-free, which makes it feel a bit like a unicorn.
Musicolet can search your device for audio tracks, which you can then organize into queues. It's fairly straightforward once you play around with it. There's nothing fancy or flashy about this app, but its fans praise its versatility and no-nonsense approach to managing the music on their Android devices.
Music player with equalizer, personalizations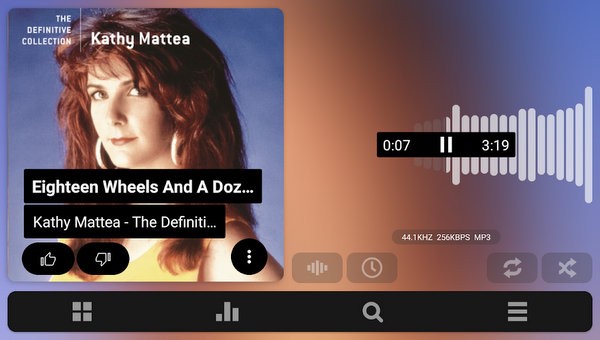 The Poweramp Music Player has been around for awhile, but it's still a popular choice for Android users thanks to its advanced set of features. You can play around with an equalizer, tweak the sound, change the look of the app and view album art. If you want a lot of control over your music-listening experience, then try out Poweramp and play around with the settings and features. You can download the free trial and then consider upgrading to the $3.99 paid version if you like the app.
Subscription music services are a fun way to find new music and listen to old classic. The free trials will give you plenty of time to decide if they're a good fit for you. Otherwise, look to Google Play Music, Musicolet or Poweramp as solid options for  managing the tunes that are on your phone or tablet.
Of course, you'll want a good set of earphones for this, so check out our guide to wireless headphones for Android.
Bonus: Get Kim Komando podcasts on Android
Your Android device is also a perfect podcast machine for accessing our Komando podcasts, including Komando On Demand and Tech News Today. Just open up Google Play Music, tap on the three bars in the corner, tap on Podcasts and then search for "Kim Komando."  Tap or click here for our guide to all the Komando podcast offerings. We'll keep you up to date on all the important tech news you need to know.