OK pet owners, think back a few years. What was the first thing you would do when you couldn't find your dog or cat?
It probably consisted of a multi-step process that began with frantically walking or running around your neighborhood. It would then be followed by getting in your car to expand the search, while having others do the same. Then it was calling animal shelters while stapling fliers to utility poles and hoping for the best.
And that brings us to last week when a woman named Nicole Rehak-Evans came in for a guest appearance on the Kim Komando Show, to talk about her own cat that just can't seem to stay home. But instead of always having to wonder, worry and wait, she can now keep track of her pet's travels. And so can you.
The cat that just won't stay home
Meet Calvin. He apparently gets bored staying at home, so he goes on adventures through his neighborhood for up to five or six days at a time. And Rehak-Evans, his owner of 12 years, would often cry because she was afraid each time that he wasn't coming back. Was he on a catnip bender? Did he have a secret second family? He won't say.
But this cat is important to Nicole. After all, Calvin's been with her over a decade, traveling house to house, and from state to state. In case he did indeed have a second family, Nicole attached a note to Calvin's collar with her phone number. No one ever reached out.
But then Nicole's husband sent her a link to a GPS tracker made specifically for pets — and it changed everything. Now they never have to worry.
Keeping tabs on your pet
If you have a dog or cat, chances are they've made a break for it at least once or twice. But even if they don't, it's still a good idea to keep tabs on them if something unexpected happens.
A lot of people decide to go the microchip route — which is a good idea, but it has its limitations. The big issue is that you can't track your pet using a microchip. You just have to hope that if someone finds your dog or cat, they can take them to a place that can scan for the chip. That can be a lot to hope for.
Bonus: Parrot loves to shop, listen to music with Alexa while owner is away
But GPS technology continues to grow while trackers keep getting smaller — small enough to fit on collars. So many of these trackers mentioned below operate in a similar way: You activate the tracker, download the accompanying app onto your smartphone and track your pet in real time. But there are other options to keep your pet safe, like geo-fencing alerts and activity monitors. Here are some of the options.
This is what Nicole and her husband use to keep tabs on Calvin, which is a small GPS tracking device that attaches to a collar and allows you to track your pet in real-time via your smartphone. You can even see everywhere your pet has been over a 24-hour period. Below is a screenshot Nicole shared of one of Calvin's trips around the neighborhood.
You can also set up a geo-fence to alert you if your dog or cat leaves a designated area. The PawTracker can be purchased for $99.95, but you'll also need to sign up for the monthly cellular data fee that starts at $9.95 for a single pet.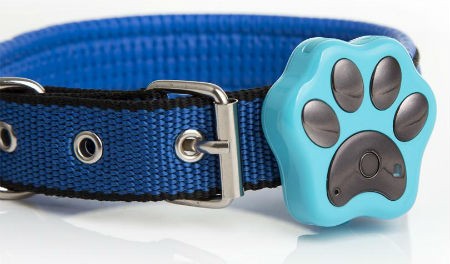 Click or tap here for more information on the PawTracker. There are also many similar alternatives.
"Amazon's Choice" for a pet tracker is the Whistle 3, which has about 4,000 mostly positive reviews. Like the PawTracker, you can track your pet anywhere and see where it's been over the past 24 hours. You can also set up designated safe spaces along with custom activity goals. This one will also set you back $99.95, and monthly subscription plans start at $6.95.
Another solid option is the Tractive GPS Tracker for cats and dogs. It offers many of the same features from models mentioned above, but costs only $74.99. Subscription plans for this tracker also come in cheaper, starting at $5 per month. Click or tap here for more information on Tractive.
This tracker and activity monitor comes in either a leather or sport option. On Amazon, you can buy the leather version for $79 on its own, or tack on a one year service plan (with three months free) for a total of $168.55. This is a collar that comes in different sizes, but Link AKC will exchange it for free if you order the wrong size.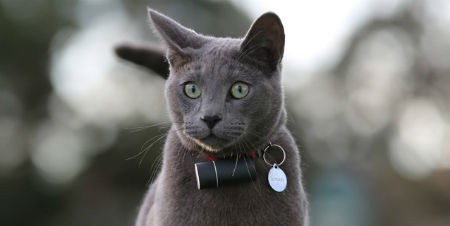 If you don't mind paying more upfront, check out the Pod 3 for $250 at Amazon. The reason it's more expensive is that it comes with a free lifetime subscription. But be sure to read the reviews, which are so-so.
Now there are dozens if not more options for pet trackers on Amazon and around the internet at large. Before landing on one, be sure to compare prices for both the device and subscription options, along with service areas or any other restrictions. And read reviews to see how they've worked for other pet owners.
As for Calvin the cat, his regular vacations are being cut short. But at least his mom doesn't have to worry as much.