Have you ever taken a screenshot on your desktop? If so, you know how handy this feature is when you want or need to save whatever is displayed. Instead of going through the motions of copying and pasting a webpage's text and images, you click the Print Screen button on your keyboard.
If you have not used this feature before, the Print Screen key is located in the row of Windows function (f) keys at the top of your keyboard and is labeled with a combination of letters such as Prt Sc or PrtScrn.
Taking screenshots on your Android is equally simple and convenient. Keep reading and we'll tell you how screenshots can come in handy and show you how to take one.
Reasons to take a screenshot with your smartphone
Now, you may be wondering why in the world would you want to take screenshots on your phone?
Here are a few ideas:
Share information with tech support – As the saying goes, a picture is worth a thousand words. Instead of sitting on the phone with tech support trying to describe the issue you are having with your device, take a screenshot of the problem and send it to them. It makes explaining your troubles easier.
Save bar codes – Whether it be to pick up an order, use as a coupon or gift card, saving a screenshot of a barcode will have it ready for use instead of having to open your email or another app to locate the bar code when you are in the middle of a transaction at a store or restaurant.
Use as wallpaper on your device – Customize your phone's wallpaper with a screenshot of your favorite online image. You can change it up any time you like without the need to download photos or wallpaper apps that may pose security problems with your Android OS.
Whatever your reason may be initially for taking a screenshot, once you begin capturing images, you will find many other useful purposes.
How to take a screenshot
Note: The instructions may vary according to model, manufacturer, and OS.
Taking a screenshot is easy. Open the screen you want to capture and press and hold down the Power and Volume down buttons simultaneously. You may have to work on your timing a little bit but hold those buttons down correctly and you will hear a shutter click and see the screenshot briefly.
You should then get a notification saying you captured a screenshot. Opening the notification gives you the option to view the screengrab, share it, or delete it. From the notification window, you can choose "tap to view" and open the image in Photos. This gives you access to all the usual Photos editing and sharing options, just like with any other image
Samsung's recent Galaxy phones offer a cool alternative way to take screenshots. Open Settings, choose Advanced Features. Make sure "Palm swipe to capture" is turned on. Swipe the blade of your hand across the screen from side to side to capture a screenshot. The phone will save your screenshots in the Gallery.
How to view your screenshot
There are a couple of ways to see your screenshots. After capturing your image, tap on Notifications at the top of your Android screen. Here, you can click on the saved image and edit, share, or delete the photo.
Additionally, you can view all of your screenshots in your Gallery or Google Photos app. Just open the app and search for "Screenshots" or look for the folder titled "Screenshots."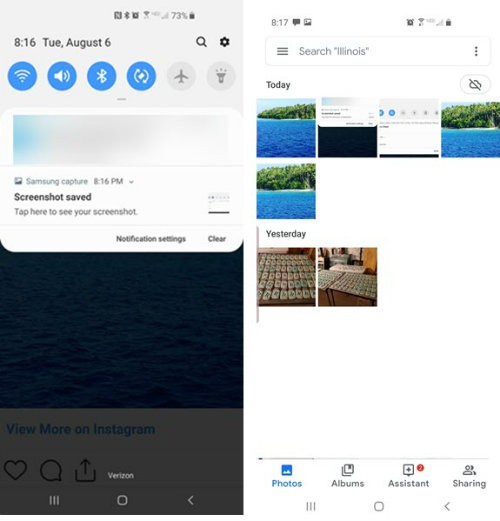 How to share or edit a screenshot
If you wish to share or edit your screenshot you can do so either immediately after the shot is taken or through your Gallery or Photos app. Share is represented by the triangle with three circles, whereas, the three-bar slider or pencil icon is Edit.
You can share your image through several apps, including text, mail, messaging, and social media. The available editing tools allow you to perform a variety of editing techniques such as crop, rotate, highlight and add stickers.
Related: The best free mobile photo editor
Screenshots you can't take
Unfortunately, not every screen image can be captured. You may come across a warning 'Can't take screenshot due to security policy' when attempting to take one. This caution occurs for a few reasons.
The Android operating system will prevent you from taking screenshots while using Incognito Mode in the Chrome browser. There are no settings to adjust or enable to change this feature.
If you have a company phone, your employer has set policies for phone use, which blocks users from taking screenshots.
You are attempting to take a screenshot in financial (banking) apps. These apps have screenshots disabled to protect you and your data.