You love Google. In fact, you can't live without it, if you're like most people.
You use Google dozens of times a day and you may not even know it. Sure, you use the Google search engine to find everything from driving directions to your doctor's office to your library's hours to news updates and personal information about your daughter's fiance.
You use Google many more times than that, if you watch videos on Google-owned YouTube, save images to Google Photos, check airfares on Google Travel and so much more. Yet, there's one thing about Google that creeps you out so much that you're ready to stop using it.
Don't do that! We've got a better, simple solution to stop Google from invading your privacy if you're concerned about Google ads that seem to know way too much personal information about you.
Here's why Google knows so much about you
Have you ever noticed that Google's ads seem to know more about you than you know about yourself? You know what I mean, when Google posts an ad about horror movies, for example, and you happen to be a horror movie buff.
Google is a bit mysterious when it comes to telling you how it determines what topics interest you. "Ads are based on personal info you've added to your Google Account, data from advertisers that partner with Google, and Google's estimation of your interests," according to Google.
The good news, though, is that Google is a lot more transparent about tracking your interests than it used to be. The better news is, you can see which topics Google thinks are of interest to you, then tailor your interests so you see ads that reflect your personality and lifestyle.
Or you can tell Google to stop tailoring its ads to your interests. You cannot turn off ads entirely, though, just the targeting of brands and products that Google thinks you'll like.
Tip in a Tip: Google's new tool lets you block annoying ads.
Here's how to tailor Google ads to match your interests
You need to make sure that you are signed into your Google account to make changes to how Google targets ads to you. Start by going to Google.com.
Click on the menu bar, which is a box with three horizontal dots and three vertical dots in the upper-right side of your screen. Then click on Account.
Scroll down to the box that says Personal Info & Privacy. Tap or click on Ad Settings >> Manage Ad Settings.
You'll see Ad Personalization is On. Scroll down to see your interests – the ones Google ads think are of interest to you.
You can turn on interests or turn them off by clicking on each topic. For example, you may see that one of your interests is American Football – if that topic or others aren't of interest, click on the topic then click Turn Off.
Here's how to turn off Google's personalized ads
If you're still creeped out about Google knowing too much private information about you, you can turn off Google's ad targeting. Scroll back up the screen until you see Ad Personalization is On.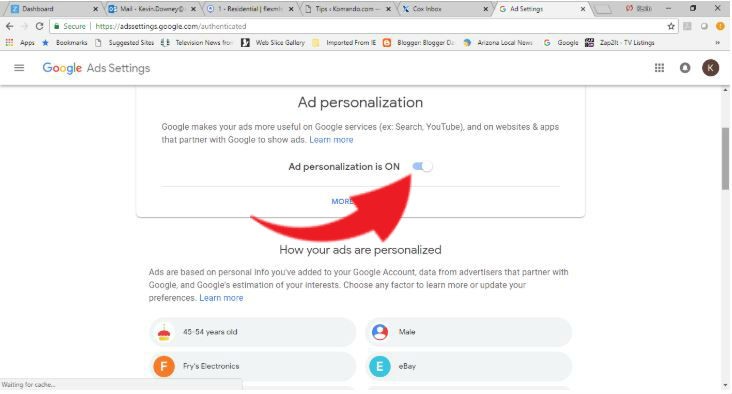 Slide the screen to Off. Then click Turn Off.
Remember, you're not turning off ads. You'll still see advertisements when you're on Google sites, including Gmail, YouTube and other Google-owned sites. They just won't be targeted to your private information.
Bonus: If you have a question about turning off Google ads, click here to ask Kim on the air!
3 ways to search the web without Google tracking you
Google saves your search history and tracks what you click online. If you need a break from the surveillance, you have options. You can use a search engine that does not mark your every move. Listen to my a Komando on Demand podcast for three ways to hunt the internet that you may find refreshing.