Sometimes, you remember an email you have to send — but it's 8 p.m., and you don't want to bother someone at night. Sure, you could just write the email and send it in the morning, but you might forget. Once you know how to schedule emails, you can ensure that the message pops up in their inbox at a better time.
It's easy to start scheduling email messages ahead of time. You can use built-in tools on Gmail or Outlook to send emails at your convenience or just use add-ons to get the job done. If you want to be more productive, here are some simple ways to declutter your inbox.
Scheduling emails let you conveniently write messages whenever you want. No more worrying about forgotten messages!
How to schedule emails in Gmail
Just follow these steps:
Open the Gmail app on your smartphone or go to Gmail on your computer.
If you're using a smartphone, tap More. On a computer, click the Down arrow next to Send.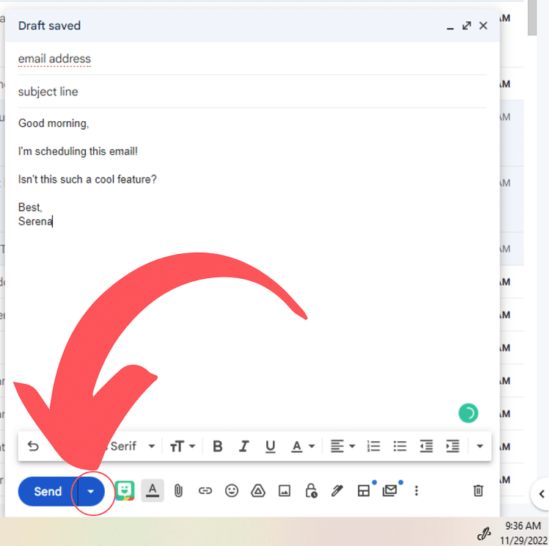 Next, select Schedule send.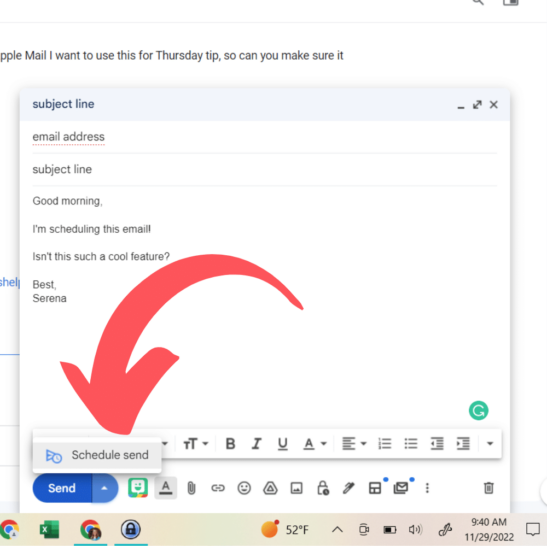 Once you click Schedule send, you can pick the time you want to send the mail. Gmail automatically offers a few time slots.
If none of the preselected options match what you have in mind, select Pick date & time at the bottom.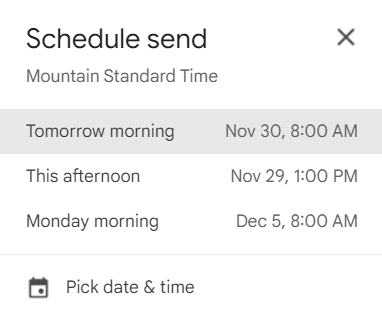 Just like that, you'll open up a new box with endless options. Here's what it will look like: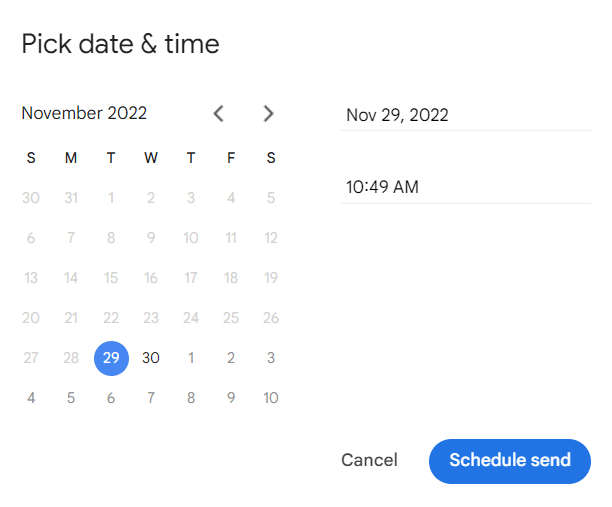 You can pick a particular day and hone in on a specific time you want the email to go out. You can even schedule months in advance.
Once you're done, click Schedule send.
You'll know you're done when you get a pop-up like this:

To be sure, you can revisit scheduled emails before they're sent. You can even edit and reschedule them.
When you're in Gmail, select Scheduled.
It will look like this on your computer:

Checking and editing scheduled emails will take another step if you use a smartphone. You'll have to open Gmail > select the menu and select Scheduled.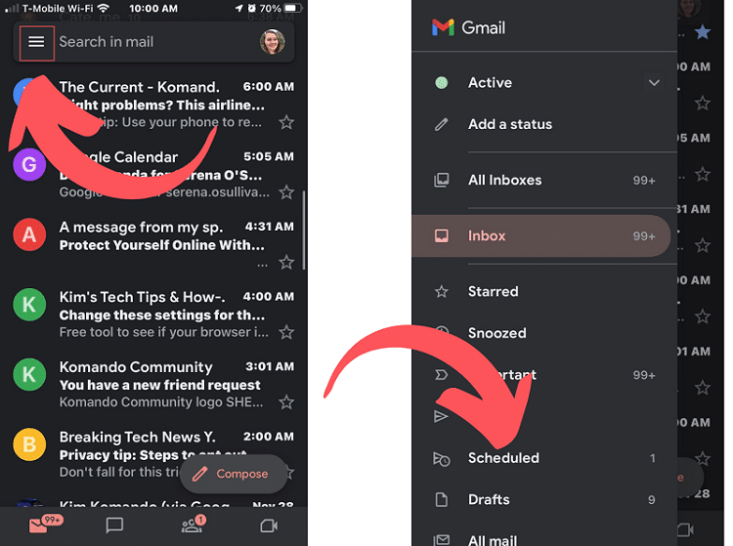 If you prefer Outlook to Gmail, we've got you covered.
How to schedule an email in Microsoft Outlook
So you want to control which day and time an email is sent. With this creative solution, you can save time and finish items on your to-do list early.
The steps are slightly different depending on the type of computer you use.
Schedule Microsoft Outlook messages on Windows
On your computer, open the Outlook app. On your phone, open the Outlook.com app on iPhone or Android. Then, write your email.
Next, click New Message. After you write your email, go to the Options tab.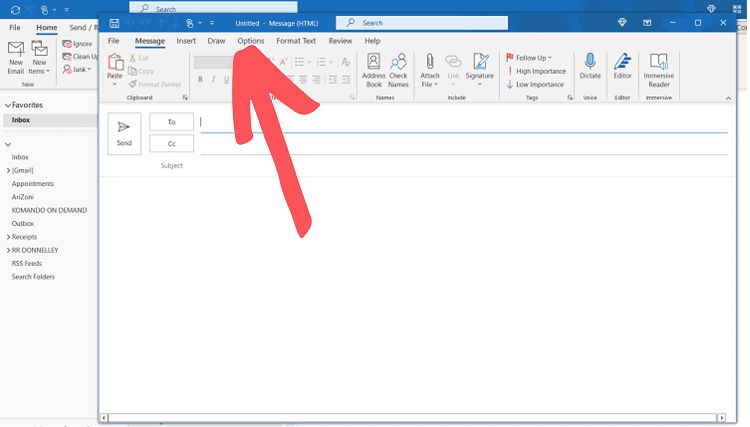 Lastly, go to Delay delivery.
A new box will appear called Properties. In the Delivery options selection, select the box next to Do not Deliver before.
Then, choose the day and time you want to send the email.
How to schedule emails on Microsoft Outlook with a Mac
First, go to Outlook. Then, select New email or New message.
When you're done writing your email, click the down arrow next to the Send button.
Then, select Send Later. Here's what it will look like: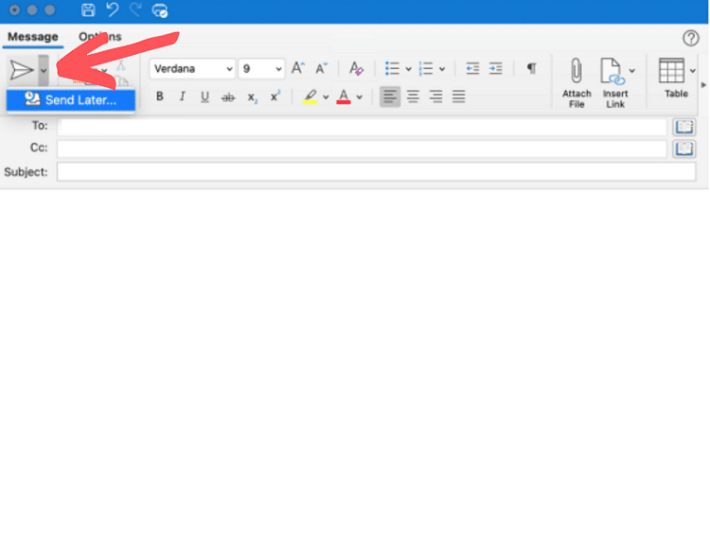 After you pick the date and time, hit Send. You can view, cancel or edit scheduled emails through your Drafts folder.
Just like that, you scheduled an email in Microsoft Outlook.
How to schedule emails in Yahoo Mail
Sadly, Yahoo Mail doesn't have any built-in email scheduling services. Instead, you'll have to download a third-party app that adds the feature.
If you research how to schedule Yahoo Mail messages, you might find an app called Boomerang Yahoo. This used to be a browser plugin that lets you plan messages ahead of time. Unfortunately, it's no longer supported.
We recommend Later.io, a popular scheduler tool that lets you send emails at later times.
However, it might cost you some cash if you need to schedule lots of emails. You can send 30 emails per month, but after that, you'll have to upgrade to one of its paid plans.
Read more
Tech tip: How to bulk delete thousands of emails all at once
Protect your privacy, your cell phone number and email address