Phone recordings can serve as physical records of important calls like customer service disputes, verbal contracts, and even interviews if you're someone like us here at Komando.com who interview experts.
Keep in mind that recording phone call conversations without consent may be illegal in your state so check your local laws first. Although some states do allow phone conversation recordings without the other parties' consent, some states require two-party consent, meaning you must inform the other party that they're being recorded or you can face lawsuits if you release the recording or its transcript.
Also, since the wiretapping laws vary from state to state, it's always better to play it safe and ask for permission from all parties before recording. Click here to learn each state's wiretapping laws.
Smartphone apps for recording calls
NoNotes
NoNotes is a free app for iOS and  that can record phone calls with an option to transcribe. NoNotes.com boasts over 100,000 active users a month and claims that it is rated as the best call recorder and transcription service based on app reviews.
After you sign up for a NoNotes account with your phone number, email and numeric pin, you'll get 20 minutes worth of free call recordings. If you exceed this limit, you can either pay 25 cents for each extra minute or buy 100 minutes for $10. You will also have an option to send the recorded calls to NoNotes for transcription.
Click here to check out NoNotes at the Apple App Store.
TapeACallPro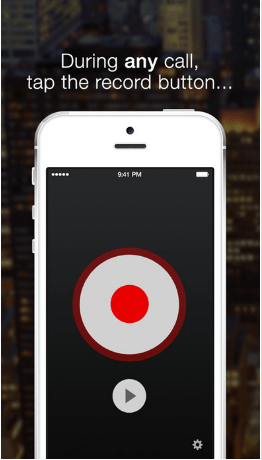 TapeACall is another app that lets you record your incoming and outgoing calls on your smartphone.
Its free version, TapeACall Lite, lets you record an entire call but only lets you listen to the first minute of the recording. To listen to phone calls in their entirety, upgrade to TapeACall Pro for a yearly subscription price of $9.99. This Pro subscription gives you unlimited call recording times.
Keep in mind that TapeACall records calls via a three-way call where the third party is a local TapeACall number. The service also doesn't notify the other party about being recorded so you have to be careful when using the app for legal reasons.
Try out TapeACall Lite on the Apple App Store or the Google Play Store.
Call Recorder – IntCall
IntCall is a VOIP service that likewise can record incoming or outgoing calls. Since it is a VOIP service that uses an internet connection to make calls, IntCall can work with just Wi-Fi, even without a phone service.
To record outgoing calls, simply open the IntCall app then dial the number to make a recorded call. To record an incoming call, pick up the call then open the IntCall app and tap the Record button to start the recording.
It is not a free service but it has some of the cheapest per minute rates around. The costs depend on the country you're calling but most calls range from 10 to 20 cents per minute.
The IntCall app is available for both iOS and Android.
Web-based apps for recording phone calls
In case you didn't know, Google Voice can record incoming calls for free. The downside is that it can't record outgoing calls. It is also required that you transfer your cellphone number over to Google Voice.
To activate recordings in Google Voice, do this:
Go to the Google Voice website.
Log in then on the home page, click the gear in the upper right and select Settings from the drop-down menu.
Go to the Calls tab, scroll down and check "Enable Recording" under "Call Options."
Once this is enabled, just press the number "4" on your phone's keypad during a Google Voice call to start recording. Press "4" again to stop recording. All Google Voice recordings are saved automatically to your inbox.
To listen to your recordings, install the Google Voice app on your smartphone.
Open the app
Tap Menu on the top-left of the app
Choose "Recorded"
Look for the recorded call you want to listen to and tap it
Tap the play icon on the bottom-left corner to listen
External phone call recorders
If you'd rather not use third-party apps and have total control of how your recordings are saved you can use an external phone recorder instead.
Connect gadgets like the ESONIC Cell Phone Call Recorder to your phone's 3.5 mm headphone jack and you can record and save both incoming and outgoing phone calls to its internal storage. You can then download the audio files to a Mac or PC for review.
Want to use Bluetooth instead? The RecorderGear PR200 works with any Bluetooth enabled smartphone and can record both incoming and outgoing calls. This recorder can also be used as a multipurpose voice recorder for dictations, lectures, voice memos, etc. You can listen to your recordings directly via its built-in speaker and download the audio files to a Mac or PC via its USB connector.