Let's be real: Some of us aren't fully on board with keeping everything digital. Between things like maps, recipes and news articles, sometimes we just want a physical piece of media to hold and appreciate. Plus, with new texting laws beginning to take effect, just holding your phone while driving can be enough to warrant a ticket. A printed paper map, however, is A-okay.
Unfortunately, when it comes time to print a webpage, that also means printing out all of the excess content of the site. We're talking advertisements, banners, pop-ups and boxes that look absolutely unsightly on paper. Wouldn't it be better if we could trim the fat and just print the content we need without needing to format the whole webpage in a text document?
There are a few useful solutions that allow you to print a webpage without all the extra content that dominates modern web design. Get your printer fired up, because it's easier than ever to take a piece of the internet with you anywhere you go.
'Reader Mode' is your new best friend

Many modern web browsers offer a feature called Reader mode that makes it easy to distill a webpage down to only its contents — with none of the extra junk like advertisements and javascript items.
In theory, this is supposed to be used for commuters who want to read a website offline when there's no internet. Subway riders are probably quite familiar with this, and using Reader Mode is the fastest way to download a webpage and read it later when no signal is available.
For our needs though, Reader Mode serves the express purpose of cleaning up and streamlining the website so it looks great printed on paper.
Just text, images, and some minor formatting make it as minimalist as possible, which also helps to conserve printer ink. In the case of printing out a page converted into reader mode, we do recommend printing it in black and white unless it's important for you to have color images.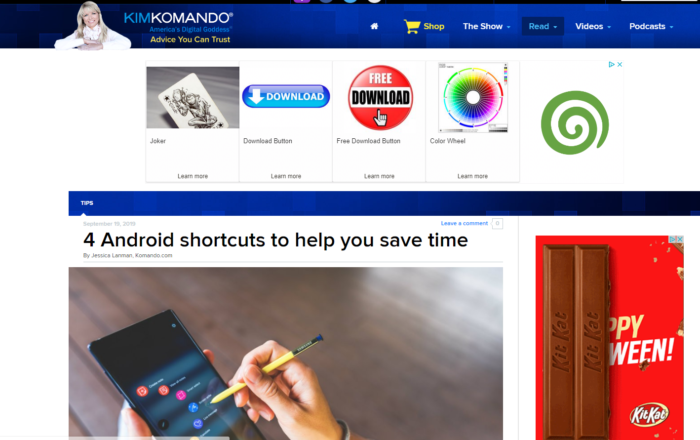 Putting a website in Reader Mode is easy, but requires a slight change in settings on your web browser. Since Chrome is the most popular out there, we'll go over that first.
To activate Reader Mode in Chrome, open a new tab and enter the following code in the search bar: chrome://flags/#enable-reader-mode. This will take you to a hidden settings menu where Google allows users to test officially unreleased features. Click on the drop-down menu and select Enabled. Chrome will then prompt you to restart the browser.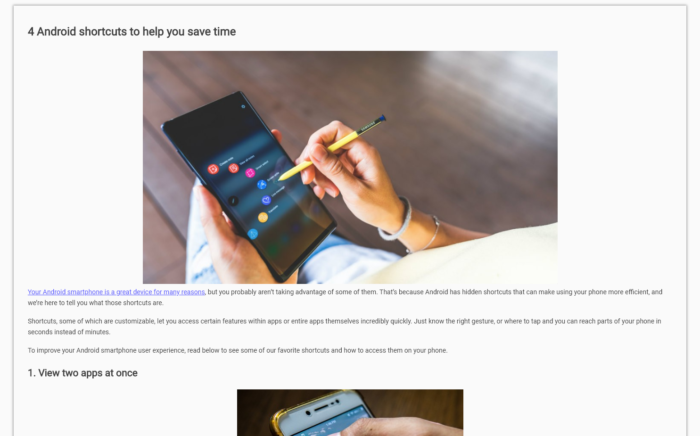 After Chrome has restarted, click the three-dot icon in the upper right corner of your browser and select Distill page. This will convert whatever page you're reading into Reader Mode. Keep in mind, the same process can be used on the mobile version of Chrome found on both Android and iOS.
How about other browsers?
If you use a Mac or an iPhone, we have good news for you: Reader Mode is enabled by default in Safari!
If you look at the upper left corner of your browser window on either the desktop or mobile version of Safari, you'll see an icon that looks like three-and-a-half lines. Tap this to enter Reader Mode.
As you can see, the banner ad at the top instantly disappears. To make things even easier, Safari's Reader Mode also lets you increase or decrease text size, which is perfect for those of us who prefer to read larger bolder print.
As for Firefox, Reader Mode (called Firefox Reader here) is also available by default. To access it, click the icon that looks like a sheet of paper, and your webpage will instantly be converted.
Print it out!
Once you've gotten your page of choice in reader mode, all you'll need to do is follow the instructions on your computer or phone for printer mode. Usually, this is a right-click on your mouse followed by Print from the menu that appears. Alternatively, you can type Ctrl+P on Windows or Cmd+P on Mac to start the printing process.
Keep in mind, however, that printing directly from a smartphone usually requires a devoted printer with smartphone compatibility, so make sure yours is up to the challenge before continuing. Otherwise, you'll need to print from your desktop.
Bonus: Get the best printer for the job with Epson's EcoTank
Naturally, if you're printing a page out, you'll want a printer that's able to handle the job. But, what if you were able to not only print your pages in clear, vibrant print but also save money on ink refills?
Our sponsor, Epson, is offering its EcoTank system of printers, which feature refillable ink tanks that save you loads of money each month on expensive ink cartridges. Plus, they're more efficient, which means fewer refills over time.
Check out the Epson EcoTank printers at a Best Buy, Office Depot or Office Max near you and online at Epson.com/EcoTankKim.