Many startups and established companies specialize in digital asset storage online.
Now, these companies have crossed over into estate planning, where electronic documents and end-of-life instructions are stored securely with a clean record of executors, financial advisors, and beneficiaries along with defined access rules for end-of-life planning purposes.
As part of end-of-life planning, it is important to allow easy and authorized access to your data after death. One way to do this is by using an end-of-life planning application.
What do end-of-life planning applications do?
End-of-life planning applications contain all of the information needed to facilitate end-of-life estate planning, including but not limited to wills, trusts, insurance policies, creditors, and health information. Even logistical details around funeral and legacy instructions could be managed and saved.
Many digital archives even carry a to-do checklist to keep you organized and covered under all end-of-life scenarios with loved ones, with suggestions on how and where to get started.
Which end-of-life planning applications are reliable to use?
There are several end-of-life planning tools that guide users through the process of submitting end-of-life information and enabling access to advisors and beneficiaries.
1. Everplans
Everplans is an online application that collects all of your personal information needed for end-of-life planning. It is arguably the most popular one on this list, with more than 15,000 subscribers.
After answering a few lifestyle questions, users are presented with a to-do checklist that walks them through the process of adding information across different planning categories, such as insurance policy information and setting funeral arrangements.
Everplans even provides pre-written scenarios for you, such as "I recently had a child" or "I don't know where to start," making each assessment even more tailored. Once all information is uploaded and saved, it can be shared with "deputies" — advisers or loved ones who are granted access.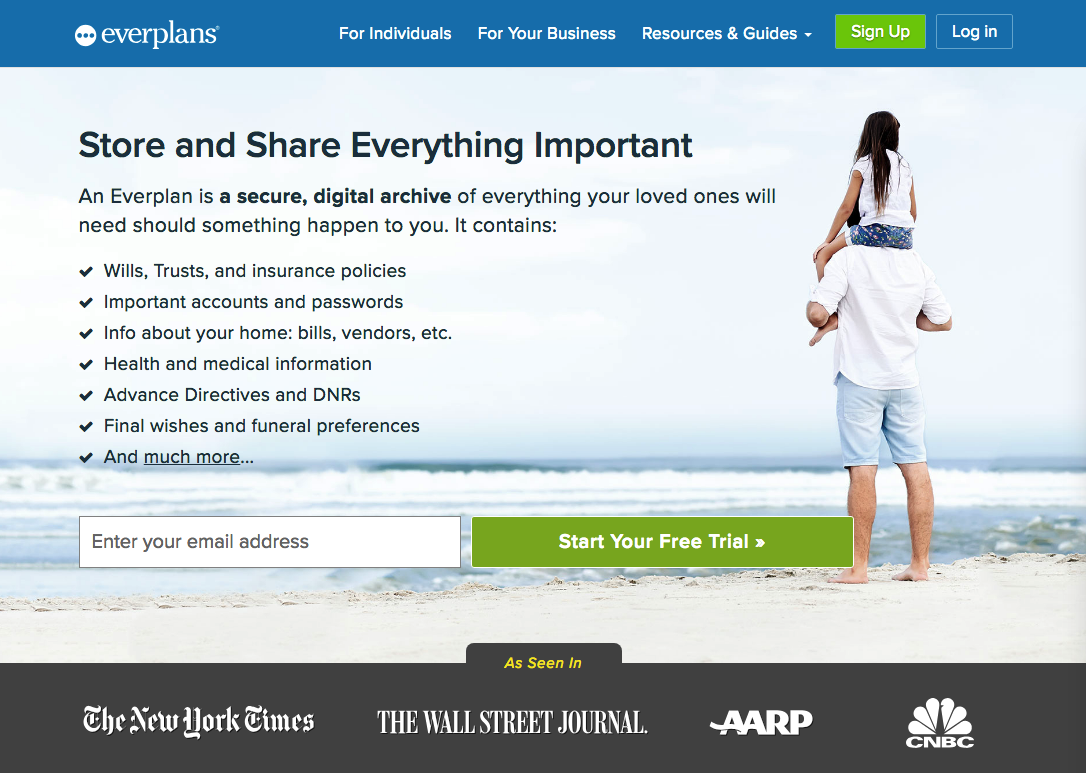 One of our favorite parts about Everplans is how it organizes your information. All information is broken out by section, including Medical & Dental, Eldercare, Legal, and similar categories.
It also includes helpful resources, such as checklists on how to write a will, writing a death notice, or pre-planning a funeral, along with state-by-state guides that provide information on laws and regulations specific to estate planning in each jurisdiction.
With Everplans, you select a "Deputy," or several of them, to oversee your information. They'll be asked to create a sign-in and will be able to access whatever you let them access. Some information also can be hidden from Deputies until you die.
Everplans has also become popular with financial advisors who have started to offer it as a free service for their clients.
Everplans starts out with a free 30-day trial and then charges $75 a year for its service.
Click here to check out Everplans now.
2. My Life and Wishes
Created by Ted and Michelle Braddock, a couple who suffered an agonizing 10-month process of retrieving a deceased father's financial information, My Life and Wishes also allows users to upload digital records and grant access to authorized users with editing rights. It also features a comprehensive Planning Center with key information about end-of-life decisions.
With My Life and Wishes, you designate an authorized user who has access to your information and to what level. You'll also say whether they can view or edit that information. When you die, your authorized users will be able to access your account to see all your plans.
My Life and Wishes also offers the choice of two payment plans — monthly for $7.95 and $79 yearly, along with a free 30-day trial with access to all features.
Visit My Life and Wishes.
3. Cake
Cake starts by having users complete an end-of-life assessment before generating documents and allowing access to loved ones. All information is fully HIPAA-compliant with secured bank-level encryption. Unlike Everplans and My Life & Wishes, this service is offered free of charge.
One of our favorite features is its extensive FAQ section, with articles that cover popular end-of-life planning topics such as how to choose a health care proxy and the different types of power of attorney and how to assign one.
When you die, your designated family members will be able to access your Cake account to carry out your wishes.
Cake's service is free.
Click here to visit Cake.
Need to be in the know about organizing end-of-life plans? Click here to send Kim a question!