Recalls of vehicles happen all the time. A manufacturer might find that a certain part on a specific model wears out faster than expected and decides to replace it for everyone. Sometimes, the problem can be something more urgent and dangerous, like the exploding tire recalls of the '90s.
But, you have to agree that these are interesting times we live in. Thanks to technology, we just don't take our modern cars to the dealer to sort out mechanical issues. There are computer bugs to deal with, too.
It's no longer just about mechanical components, such as your engine and transmission — drivers now have to worry about software that's running their cars' various components.
Hardware or software, dealers and carmakers typically send an email or regular mail notices to their customers if there is a safety recall, but records aren't always up to date and it can be easy to miss a letter sent in the mail.
Fortunately, you can go online and easily find out if your vehicle is subject to a recall. Here's how:
1. Find your VIN
First, find your vehicle's unique 17-digit Vehicle Identification Number, or VIN, for short.
You can find the VIN on most vehicles by standing outside the front windshield and peering down at the lower, driver's side corner of the dashboard. It can be a little hard to see, so look carefully. Some cars will also have it printed on an emblem on the driver side door jamb.
If you can't locate your car's VIN, especially if it's older, it may be easiest to check your vehicle title or registration or look in your insurance documents.
2. Update your registration
To make sure your vehicle registration is up to date, you may want to visit your state motor vehicle department's website and check your VIN or license plate.
Alternatively, you can also look at the registration sticker in the corner of your plate and see if the marked year is current. If you aren't up to date, you may need to pay the associated fees and bring your paperwork current. Once that's complete, your car's manufacturer should have no issue reaching you.
Keep in mind: not every state accepts driver email information. As such, the motor vehicle department and auto manufacturers rely on snail-mail, which makes keeping your registration up to date doubly important for the safety of your car.
3. Use the NHTSA recall checkup tool
Once you have your VIN ready, visit the National Highway Traffic Safety Administration's (NHTSA) recall lookup page. Enter your 17-character VIN into the provided search field and the results will show the number and type of safety recalls that apply to your specific car. If you don't get any results, then good news, your vehicle is not part of a current recall.
It's also a good idea to run the VIN when you buy a used car so you know if you will need to deal with any safety issues after you take ownership. The search tool covers the last 15 years of recalls, so be aware that older vehicles may not generate results from long-past recalls.
Note: Don't have your car's VIN? Try searching for its year, make and model instead.
Aside from car recalls, you can also use NTHSA's site to check for recalls on vehicle accessories like car seats, tires, and other car-related equipment.
Important: Just because your vehicle isn't currently subject to recall doesn't mean that it won't get one in the future. For that purpose, the NHTSA also offers an email notification system if you want to receive alerts about recalls.
4. Visit Safercar.gov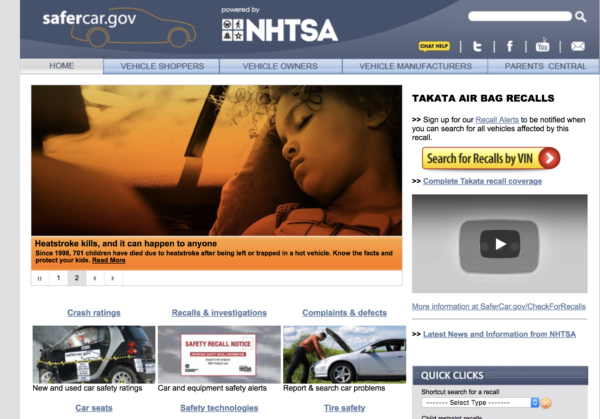 Aside from the NTHSA's site, one of the best online destinations to check for safety information on your car is Safercar.gov, a site run by the U.S. Department of Transportation and powered by the NHTSA, too.
Safercar.gov is filled with car safety information including crash ratings, complaints and defects, tire safety tips, information on safety technologies, car news, and child car-seat guidelines.
Another great resource you can use on Safercar.gov is its Vehicle Manufacturer Information Toolkit. This database has printable fact sheets and since it's powered by NHTSA, Safercar.gov also links directly to the NHTSA's VIN lookup tool.
5. Register with Carfax
You've seen the commercials with the fox puppet, but don't be fooled — Carfax is a powerful ally in protecting yourself and your car. It works as a compilation of all of your vehicle's various records, including accident reports, service schedules, and recall alerts.
If you register your car with Carfax's Vehicle Recall Check, you'll get notified when your car's manufacturer reports a new recall. The platform gets this information directly from carmakers, which puts them on the pulse of new service issues as soon as they go public, as well as previous recall campaigns you might not have resolved. Not to mention, you'll be able to glean a more detailed view of your vehicle's history.
What to do if your vehicle is part of a recall
Now, where do you take your car if it's part of a recall? Recall service work is generally done at your car dealership, so give them a call to schedule an appointment. Having your recall number is handy, but they can look up recall information through their records, too.
Recalls can be for potentially dangerous issues, so make sure to schedule your car's service as soon as possible. Dealerships typically have shuttle services so you can drop off your car and have them pick you up when it's ready. Your dealer can even arrange for your car to be towed if the recall is for a serious issue.
And keep in mind, it doesn't matter if its software or parts, all repair work made on your car due to recall will be completed for free.
Bonus podcast: 'Internet of things' connected cars will invade your privacy
Cars have become part of the "internet of things." They are connected to our devices, the internet as well as big tech companies. What will your new car know about you? And more importantly, what does that mean to your privacy? Kim gives us an inside look at our future behind the wheel with this free Komando on Demand podcast.