There's no denying it: one of America's favorite pastime activities now is Netflix. In fact, more than one-third of data usage consumed during peak hours in the U.S. is attributed to Netflix video streaming.
There's nothing like chilling at home, searching for that perfect flick to pass the night away. With a solid home internet connection and generous data caps, you can stream to your heart's content.
On mobile, it's a different story. Irregular mobile data connections, scarce Wi-Fi hotspots, and limited data caps are just some of the factors to consider before taking Netflix on the road.
Thankfully, Netflix changed that when it finally introduced downloads for offline playback. With this feature, subscribers can download a large selection of TV shows and movies straight to their gadget for offline viewing.
As long as your gadget's storage space allows it, you can hoard your favorite Netflix originals such as "Stranger Things," "Narcos," "Black Mirror" or "Altered Carbon" and a growing selection of movies.
In this age of mobile streaming, why does this matter, again? Well, it will be a most convenient feature to use on that long commute or road trips where mobile connections are irregular and unreliable or if you have limited data caps.
Preparing for content to watch on those long airplane flights will also be easier with this option, just queue everything up on your gadget while on Wi-Fi and away you binge. It will help you avoid those costly data roaming fees too if you're traveling abroad.
Parents will surely appreciate this feature, as well. Just download the old reliable shows that your kids enjoy and they will always be available for viewing regardless of the data connection quality and limits.
How to download Netflix shows and movies on iOS and Android
1. Tap the "Download" icon on your Netflix app's bottom menu bar.
3. If a TV Show or a movie is available for download, a download icon will be displayed on the movie page or alongside it if it's a TV series episode.
5. You can check your content's Download progress by going back to the Downloads section.
Choose from two quality settings
There are two video quality settings you can choose from: "Standard," which uses a slightly lower resolution, and less storage space so it downloads faster, and the "Higher" setting, which has better quality but takes more space and longer to download.
1. To set your download quality, tap on the three-striped Menu button in the lower left corner.
2. From here, scroll down and select App Settings >> Video Quality.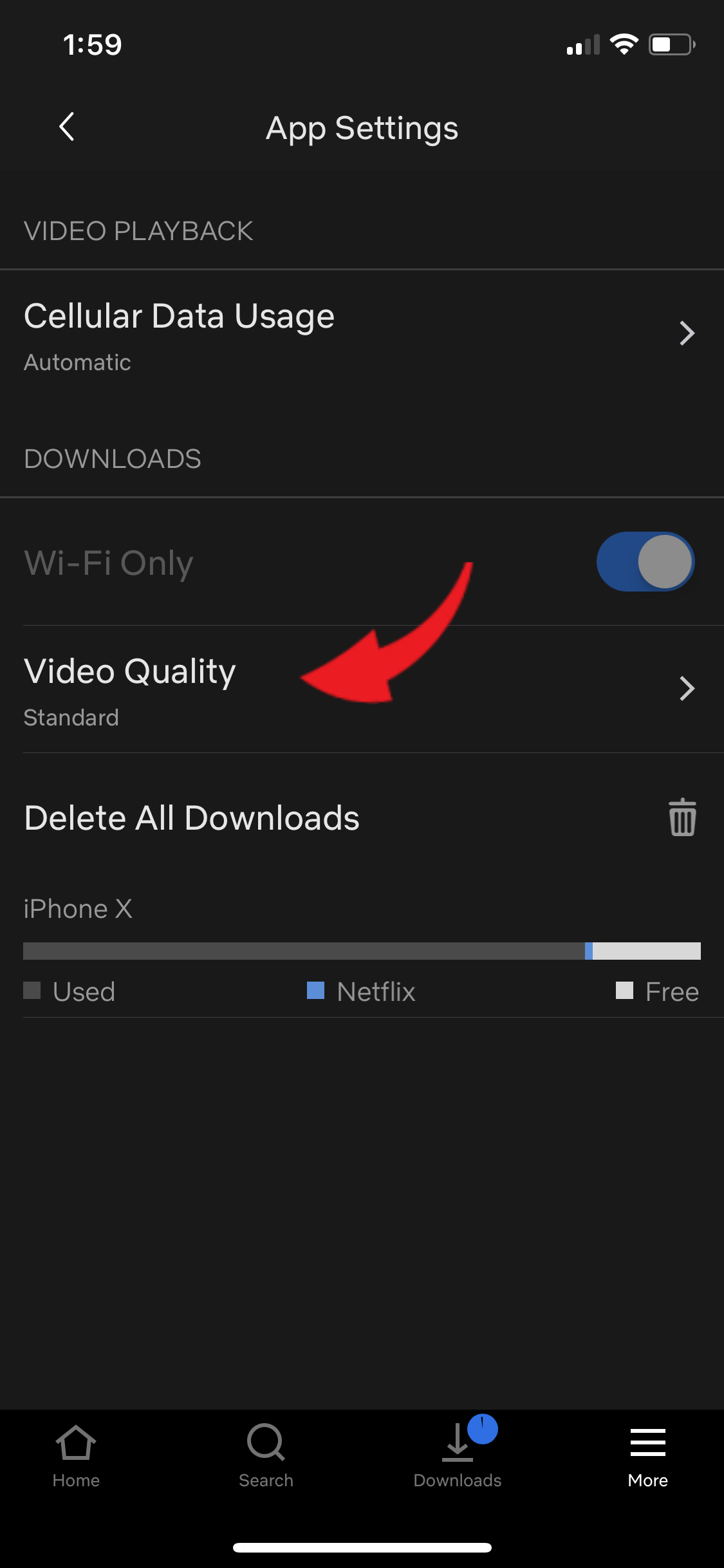 Other download options you can tweak under App Settings are "Wi-Fi Only" downloads, which will prevent you from downloading on your cellular data connection. It's an important setting to review, especially if you have a mobile data cap.
How to download Netflix content on the Windows 10 app
To use this feature, look for the new download button for supported content, click it and it will start downloading to your Windows 10 machine's local storage.
Once it finishes, you can view all your downloaded content by clicking the hamburger menu in the top-left corner of the app then select "My Downloads."
Your mileage may vary, of course, but I tested a Standard quality download of the Netflix Original "Cargo" and it took about 10 minutes to complete the 478.7 MB download (the movie is about an hour and 44 minutes long). For that file size, the quality of Standard is actually good.
And the best thing is, I could watch it without eating through my data plan each time.
There's one caveat, though. You have a limited time to watch content that you've downloaded. The times vary for each piece of content but they're usually from 48 hours after you press play.
You can view how many hours you have left on a particular download on the My Downloads page. However, you can watch a downloaded title as many times as you'd like before it expires.
Renewing an expired title
If a particular movie expires, you can always renew it by tapping the exclamation mark icon then selecting "Renew." The title will reactivate as long as you still have an active Netflix subscription and the title is still available for download.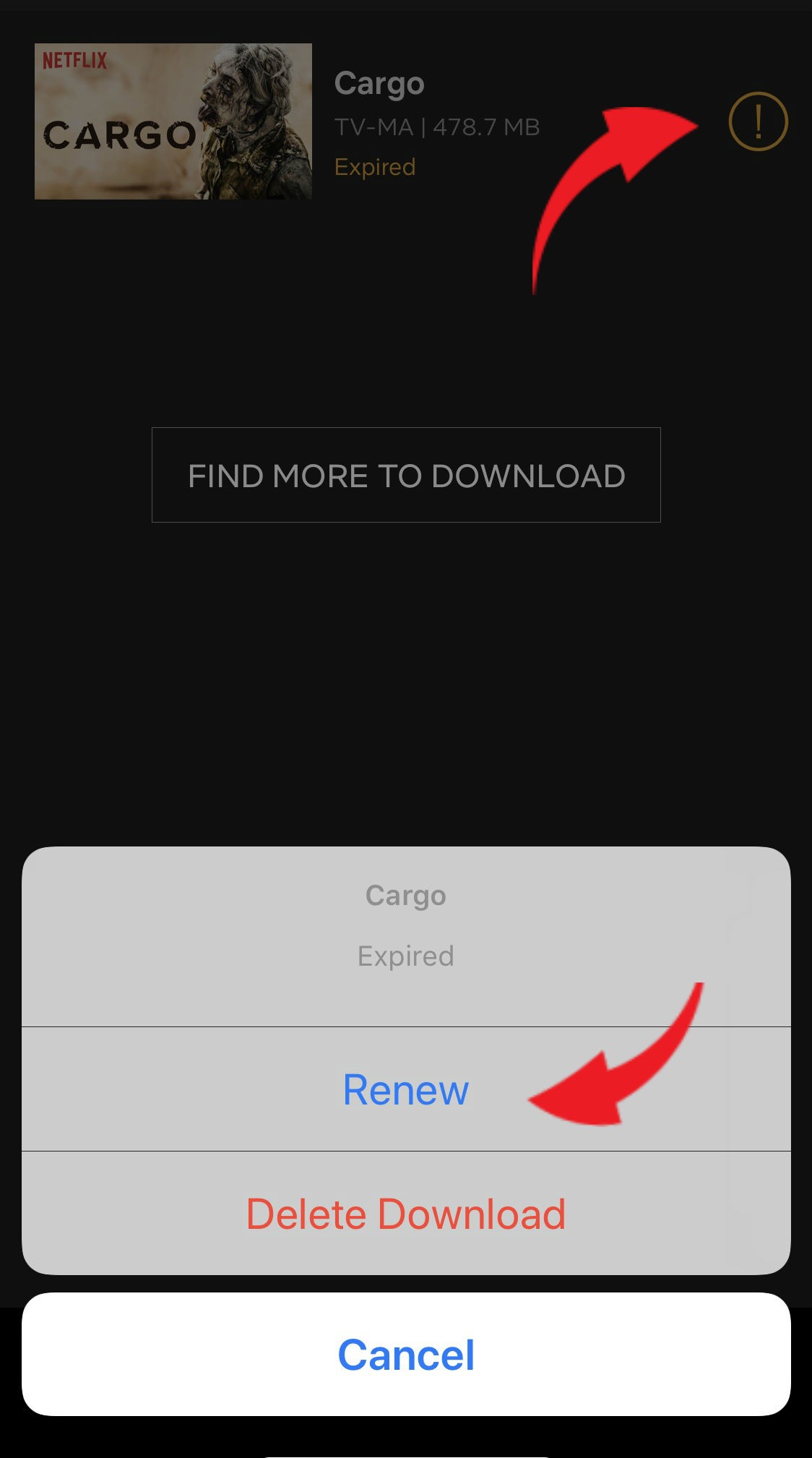 Unfortunately, due to licensing constraints, keep in mind that some titles can only be downloaded a limited number of times.
Device limit
Depending on your Netflix plan, downloads are also limited to either one, two, or four devices only. To download to a new device, you must either delete all the downloaded titles from an existing device or upgrade your current streaming plan.
You can view and delete all the downloads from a particular device remotely by removing it from your Netflix account page.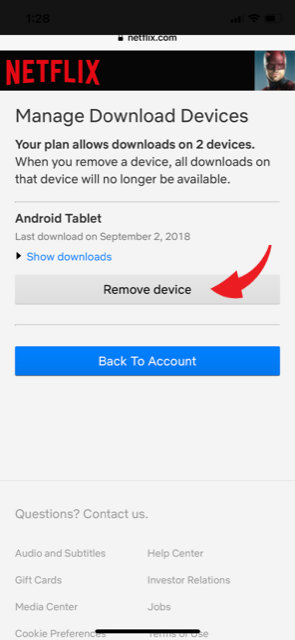 Smart Downloads
Netflix also rolled out out a new automatic management feature for offline binge watchers called Smart Downloads.
With Smart Downloads, whenever you finish watching a downloaded episode it will automatically be deleted, and the next time you connect to Wi-Fi, the next episode in line will be downloaded to replace it.
Netflix says they created this feature because of how annoying it can be to go through individual apps looking to delete files that are no longer needed. Along with that, they figure you want to get to the next episode as soon as you finish the last one.
The Smart Downloads feature is only available on Android right now, but we expect it to roll out to iOS and Windows 10 soon.
Smart Downloads is On by default but if you'd rather keep your watched episodes, you can turn off Smart Downloads using one of the methods below: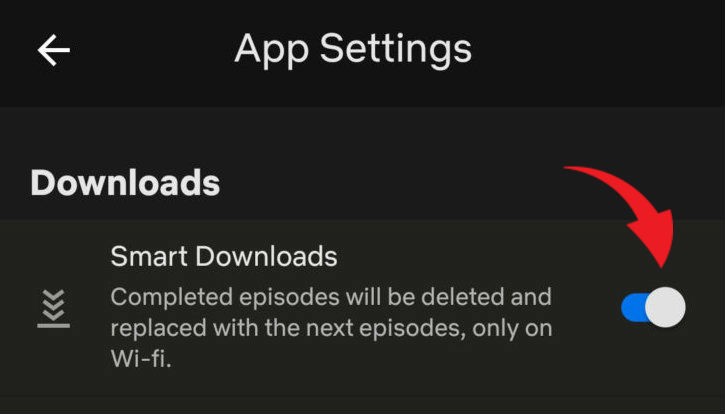 Turn off Smart Downloads from your Downloads section
Tap the 

Downloads

 icon.
From the top of the 

My Downloads

 section, select 

Smart Downloads

.
Use the toggle to turn 

Smart Downloads

 off.
Turn off Smart Downloads from App Settings
Tap the 

Menu

 icon.
Scroll down and select 

App Settings

.
Under the 

Downloads

 heading, use the toggle to turn 

Smart Downloads

 off.