Let's talk about cookies, only not the kind you eat but the ones that store all that information your browser contains from the websites you visit. Cookies contain your logins, personalizations, advertising information and other details about you and your browsing habits.
There are good things about them and one of the main points is keeping you logged into those websites you frequent. But did you know it's good to remove them from time to time?
Removing cookies can benefit you by clearing out ones that cause website issues on your favorite streaming sites or on websites holding onto your data that you'd prefer was left well alone.
What is a cookie and what's the difference between first-party and third-party?
Some cookies, like a first-party cookie, you'll want to keep. Those provide the website owner or publisher valuable information to save settings and helps with defining the user experience. Things such as language, location, settings, layouts and login data are all compiled here.
Cookies that you should be wary of are third-party cookies. These cookies are used for all ad retargeting and behavioral advertising. They allow advertisers to track a user or their device across different websites. It allows user-based targeting based on habits and hobbies, but also can be viewed as an invasion of privacy.
Third-party cookies can also spur bad practices like cookie bombing, incessant retargeting and other spray-and-pray abuse throughout the years. Third-party data is more difficult to police, so these are the ones you'd want to remove or opt-out of.
How do I remove the cookies?
Removing cookies can be achieved in multiple ways depending on the device you use. For mobile browsers such as Mozilla's Firefox and Google's Chrome, you can select the following:
Desktop Shortcut Commands:
In most desktop settings you can quickly bring up the dialog box to clear your internet browsing data.
Simply press, CTRL+Shift+Del on PC and Command+Shift+Del on a Mac.
How do I remove the cookies on mobile?
Firefox:
Tap the Menu (three stacked dots) > Settings > Clear Private Data on Exit > Tap each you'd like to clear > Clear Data
Chrome: 
Tap the Menu (three vertical dots) > Settings > Privacy > Clear Browsing Data > Tap each you'd like to clear > Clear Data
How do I remove the cookies on the desktop?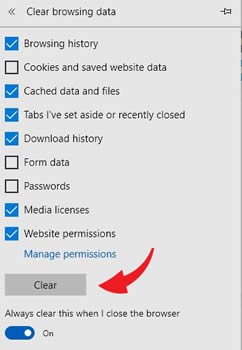 The process here is relatively the same no matter the browser of choice but the visuals and the ways it may be worded. You also have the option to select individual cookies to remove the content you don't want and keep what you do.
Edge: 
Microsoft's current run and replacement for Internet Explorer looks very similar to the others by selecting Click the Menu (three horizontal dots) > Settings > Choose What To Clear > Select Your Options > Clear. The selection of the menu slides out into a sidebar and when selecting the next options it replaces the dialogs in the same areas.
Chrome: 
In Chrome, you have the option to remove based on a time range whether the last 24 hours, 7 days, 4 weeks, All Time. You also can select whether to leave your passwords and sign-in data but still clear the cookies. To start you'll Click the Menu (three horizontal dots) > Settings > Choose What To Clear > Select Your Options > Clear.
Firefox: 
To get started on Firefox you'll want to Click on Menu (three horizontal lines) > Options > Privacy & Security > Cookies and Site Data > Clear Data. The only difference between this method is that it doesn't give you the option to select the Time range. To get the time range option, you'll want to use the keyboard commands listed above.
Safari: 
If you're a Mac user, deleting the cookies is done through selecting Safari > Preferences (or the Cog/Gear in the upper-right hand corner of Safari) > Privacy > Remove will remove the cookies from the browser.
What other methods can I use to browse safely?
There are other methods of avoiding being tracked online. That includes browser-based third-party anti-tracking extensions, incognito or private mode, changing your browser cookie settings, or simply opting out of the ads. There are even Activity tools built into Google to let you know what activities are being documented.
Opting out of behavioral ads is actually getting simpler as the disdain for these third-party cookies is growing. The Network Advertising Initiative has a handy and functional opt-out page where you can learn more about online ads and choose to leave them behind. You can find out more about them and how to automatically scan for these cookies to opt-out here.
Bonus: Cleanup utility software
If you're looking to clean up a little more than your browser cookies, a good utility program to try out is CCleaner. CCleaner allows you to clean temporary internet files, fix the registry errors, uninstall startup programs and clean up all the browsers on your machine all at once. For most users, the "CCleaner Free" will do exactly what you'll need.