Homes are selling like hotcakes. Unbelievably, they are selling on an average of just 13 days nationwide. Some even sell within 48 hours of being listed with offers a few thousand dollars over the asking price.
Needless to say, it's a seller's market. Tap or click here for three proven ways to boost your home's value right now. It's a lot harder for potential homeowners, especially first-time buyers who are jumping off the deep end.
With such stiff competition, you need to get a leg up. Luckily, we know of a strategy that gives homebuyers like you an advantage. Follow these steps to get a notification when your dream home hits the market.
A free way to find new homes
When you're desperate to buy a home, you might start Googling things like, "How do you find a new house?" or "Homes for sale near me." You might research real estate websites and apps that alert you when a new property hits the market.
Save yourself hours you'd otherwise spend investigating nearby houses. Head to Zillow.com, the most popular real estate website in the U.S. There, you can take advantage of an insider secret to getting your foot in the door.
First, create an account so you can save your searches. You can also discover homes listed for sale and rentals available the minute they hit the market. (If you're getting too many emails from Zillow, change the settings to weekly.)
This may give you the edge in finding your dream home
Once you have an account on the website, start shopping for your ideal home. Don't limit yourself to properties that are for sale. You can search for a ton of specifics.
Just type your city (for example, we looked up Surprise, AZ). Then you can tap on Price, so you only see houses within your budget. You can also search by the number of bedrooms and bathrooms as well as the home type.
Want to be even more specific? Hit More and you can search by all sorts of details:
Once your filters are in, Zillow will automatically generate a list of matching houses for you to browse. You'll see the pictures above prices and basic info. Hover over the image, and you'll see a transparent heart. Tap the heart to let Zillow know what you like.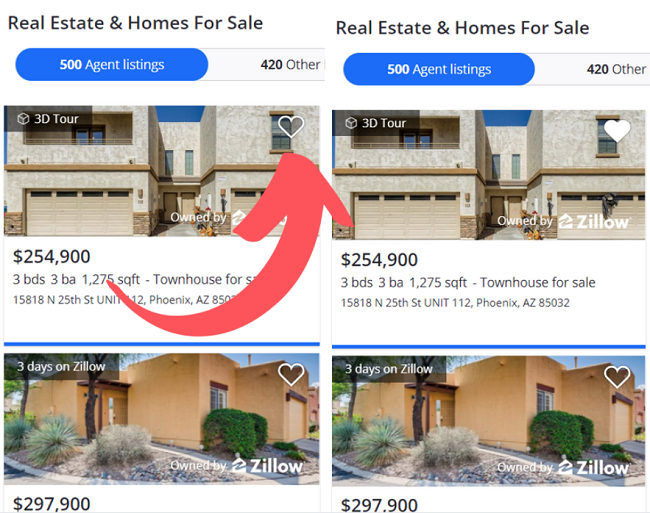 Repeat this as much as you like. Zillow will use this action to find out what you like and recommend similar homes.
You'll also get updates about the properties you like. So if you ever heart a house that isn't for sale, you'll immediately get an alert telling you when the homeowners are looking to sell. You could be the first buyer that swoops in and puts in an offer.
Remember: The more you favorite and share a property, the better Zillow gets at recommendations.
Keep reading
Get $30 off an air purifier that removes viruses from your home and office
Apple's new cleaning cloth is $19 – Or you can buy this pack of 24 for less