If you are an iPhone or iPad person, you certainly appreciate the user-friendly interface and helpful tools; however, there is one tool on your iOS device you may not be taking full advantage of. One that can turn you from a novice at tackling tasks, into a taskmaster.
Not only can this tool take on mundane chores such as scheduling events and setting reminders, but it can search for photos in your gallery, find addresses, play music and more. What is this incredible tool? Apple's virtual personal assistant: Siri. Tap or click here to learn about Siri's potty mouth.
As an intuitive assistant, Siri is able to learn from your previous actions and requests. Every time you interact with it, your words and tone improve the AI's ability to predict and understand your questions and commands.
The best part of using Siri is its simplicity. No need to muddle through numerous steps when completing a goal, the sound of your voice will open up the capabilities of this personal assistant; and it all starts with two simple words: "Hey, Siri."
How to turn Siri on or off
By default, Siri is enabled. "Waking" the assistant is completed by a couple of methods. You can initiate Siri by saying, "Hey Siri," or by pressing down the home button or, if you have a newer iPhone, by pressing down the lock button while the device is unlocked.
If Siri isn't enabled on your smartphone, use the following directions to enable it:
Tap Settings and tap on Siri and Search. In this section, you can enable Siri to activate by the words "Hey Siri" or by pressing home or side button.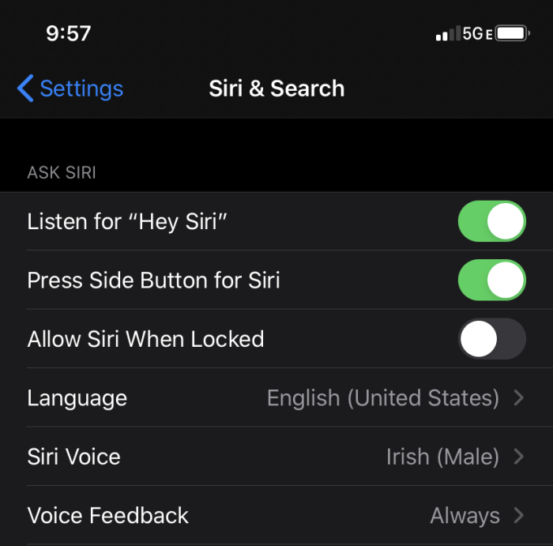 Note: If you own an older model, you will need to go to Settings, tap General and tap Siri to enable or modify its settings.
What can I ask Siri?
Once Siri is enabled, you can ask it almost anything. When asking Siri questions or making requests, you must start with, "Hey Siri," then say what you need.
Here are a couple of examples:
Ask Siri about the weather: "Hey Siri, what's the weather for today?"
If you're looking for a place to eat dinner: "Hey Siri, find the nearest Italian restaurant."
To open a native Apple app: "Hey Siri, open Notes."
To listen to your text messages: "Hey Siri, read new messages."
The list of possibilities you can present to Siri is ever-expanding, so experiment. Although Siri can perform an abundance of tasks for you, there are also hidden ones that can surprise you.
Siri Shortcuts
In addition to asking Siri some basic questions and requests, using Siri shortcuts or suggestions in apps allows you to utilize an app without needing to tap or swipe to open it. One method to make Siri work within an app is to use the Siri Shortcuts app, which you can learn more about in the video below:
A second method of enabling Siri to work with apps is through modifying app settings within your device settings. This method is used for the following Siri tips.
Playing Pandora
Yes, you can ask Siri to play music without subscribing to Apple Music. You can play Pandora through your HomePod or another Bluetooth connected speaker. If you have iOS 13, you can simply use Siri's voice commands. You can use the following commands, among others:
Request to play content: "Hey Siri, play [song title/album name/playlist/podcast] on Pandora."
Control playback: "Hey Siri, [pause/play/resume] this song."
Search for content: "Hey Siri, find [song title/album name/podcast/station] on Pandora."
Note: For older operating sytstems, you will need to adjust settings. To do this, open the Pandora app and tap the menu button in the upper left corner. Select Settings and choose Siri Shortcuts.
Tap the + icon next to a playlist to create the shortcut.
Record your phrase with Siri to launch that playlist.
Finding pins on Pinterest
Are you a Pinterest fan? If so, Siri will help in your search for pins, saving you the time of having to type or scroll through pages and pages. By stating, "Find chicken recipes on Pinterest," Siri will open Pinterest with your search results.
Searching through Amazon Prime Video
When it comes to browsing your Amazon Prime Video watchlist, library and downloads, there's no need to swipe, click or tap your way through your iPhone or iPad. Have Siri do the work for you. Here is how to set Siri up for Amazon Prime Video.
Go to your device's Settings and scroll to the Prime Video app. Tap Siri & Search. In this section, you can allow Siri to be activated when your device screen is locked.
To enable Siri shortcuts, click Shortcuts and choose from the suggested shortcut list. Clicking each one will display a screen where you can record a personalized phrase that will activate the specific shortcut (action).
Grocery shopping made easy
Using Siri and the Grocery-Smart Grocery List app, your trips to the store will be an easier task. Siri is enabled by default in this app; however, you may want to go into the app settings and check out the suggested shortcuts. You can have Siri carry out numerous actions including open the app, import a recipe from your clipboard and view lists and stores.
As with Prime Video, go to Settings, tap on Grocery and click Shortcuts. Choose from any on the list and proceed with your phrases for each.
Although there is a world of cool apps including these that work with Siri, there are tasks the personal assistant can execute without downloading or installing an app. Here are a few actions Siri can perform, no app required.
Searching for a photo in your gallery
If your photo gallery is loaded with thousands of images or screenshots, and you need to find one, Siri can find it for you based on time, location or type of object in the photo.
When asking Siri to explore your gallery for a photo by date say, "Hey Siri, show me pictures from October." Need a specific day? "Hey Siri, Show me pictures from October 1st."
Are you looking for a photo taken from a specific location instead? Unless you have turned off the location services for your device, every photo taken with your iPhone or iPad is automatically stamped by location, thus, is available for search.
To search by location, ask, "Hey Siri, show me photos from Detroit." To search by an object in an image, "Hey Siri, show me images of books." If you do not have any photos in your gallery with that object, Siri will display those she found on the web.
Finding an address
If you can't remember a contact's address or that of a business, ask Siri to find it for you. "Hey Siri, what is Bill Smith's address?" and Siri will tell you. By saying, "Hey Siri, what is Paul's Automotive address?" Siri will provide you with the address and option for navigation to the business.
Calculating the tip
Have you ever found yourself trying to calculate the amount of tip to leave while dining out? With Siri, there's no need to figure the numbers in your head or launch your iPhone's calculator. Ask, "Hey Siri, how much is a 20% tip on $48.76 bill?"
Opening specific settings
Siri can open any settings option on your iOS device without requiring you to click or tap your way through screens. If you need to change any settings, just ask it. Ask, "Hey Siri, open Pandora settings" or any other settings you want to update or modify.
Speaking of personal assistants…
We all can use a good laugh, especially when it comes to dealing with technology and personal assistants like Siri. Good thing she can tell a joke. Need a few more giggles? Check out Kim's humorous podcast about virtual personal assistants. Tap or click here to hear Kim's podcast that will crack you up.