Smartphones are now the ultimate personal communication tools. We use them for voice calls, text messages, chat rooms, emails and even video calls from anywhere we may be – imagine that! We take this perk for granted now but it's nothing short of amazing, really.
Since smartphones keep us connected almost all the time, they can also be critical safety and distress signal tools in emergencies and times of dire need. It's not just a safety beacon you can deploy anytime, it can also divulge important medical data about you that can save your life.
For iOS gadgets, Apple has provided built-in emergency SOS and medical data tools that you can utilize to assist you when the unthinkable happens. Here are hidden iPhone features that may just save your life:
How Emergency SOS Works
Emergency SOS is a feature that will call emergency services and notify your own personal emergency contacts when you need it.
In the U.S., your iPhone will dial 911 and connect you to an operator. After that call concludes, it will then send a text message to your emergency contacts (unless you choose to cancel). It will send your current location to your contacts and also update them if your location changes.
Even if you keep your iPhone's location services turned off, the phone will automatically turn it back on during Emergency SOS.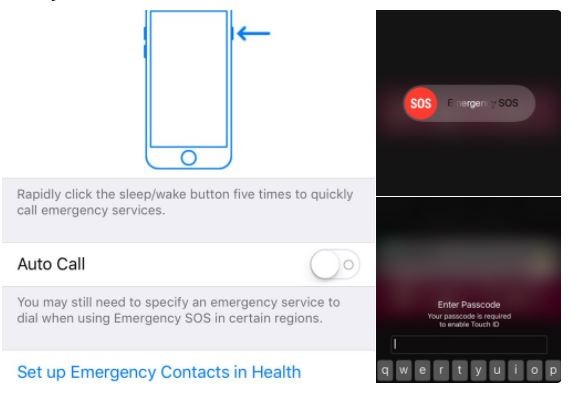 How to Activate Emergency SOS
Previous versions of the iPhone (7 and earlier) let you start SOS mode by pressing the side button five times and dragging the bright red slider over to start the call to 911. This is different with the iPhone 8, 8 Plus and X.
For Apple's latest phones, you will need to press and hold the side button along with one of the volume buttons until you see the Emergency SOS slider appear on the screen.
Now, you have two options. You can manually move the slider to start the call, or you can continue to hold down the buttons. If you choose this second route, the iPhone will automatically call emergency services.
This is handy if you're in a situation where you can't afford to look down at your phone or if you need to dial 911 discreetly.
Countdown Sound
Worried about butt-dialing "Emergency SOS"? You can toggle an option called Countdown Sound to 'On." The Countdown Sound is a handy tool to prevent inadvertent calls to emergency services due to accidental presses.
If you enable this feature, your iPhone will play a warning sound and it will you allow you three seconds to stop it from calling emergency services. Just hit the Stop button and then choose "Stop Calling."
If your situation is resolved, you can open the status bar and choose "Stop sharing emergency location" to end the updates to your contacts. Otherwise, it will keep running for 24 hours.
How to turn off Auto Call
If you're worried about accidentally setting off Emergency SOS, you can always disable the Auto Call feature that starts a countdown timer and then automatically dials 911 when you hold the side and volume buttons down. To do this, open Settings, select Emergency SOS and then toggle the Auto Call slider to off. Even if it's set to off, you can still use the SOS feature by dragging the SOS slider on the screen.
Medical ID
But be sure to also use its Medical ID. This is where you store information that your doctor needs to know, especially in emergencies. If you have any health ailments or you're allergic to any medications that emergency responders need to know, you can store it on your Medical ID.
You can list out the medications you're currently taking. You can input your medical history, weight, height, blood type and more.
Plus, this is the best part.
Do you ever worry about this? Who will notify your family if you're rushed to the hospital or you're in an accident? On Medical ID you can put in the names of your emergency contacts, their phone numbers, and special instructions to call them right away.
All this information can save critical minutes in an emergency.
Here's how to use Apple's Medical ID
Tap on Medical ID >> Edit. Then, and this is really important, turn on Show When Locked. That'll ensure that first responders can see your medical information even when your iPhone screen is locked.
To make an emergency call or to see your Medical ID: Wake up your phone by swiping left to right >> tap Emergency >> make emergency call or tap Medical ID to see the medical information you have stored.
Add emergency contacts
To add emergency contacts, open the Health app and go to the Medical ID settings. Choose to edit and scroll down for emergency contacts. Here you can add your contacts, whether it is a spouse, a family member, or a trusted friend. Select "Done" in the upper right-hand corner to save your changes.
Don't wait to set up your Emergency SOS contacts. Do it now so it's ready to go when you need it. Hopefully, you won't ever find yourself in a situation where you have to use Emergency SOS, but it's good to know it's available if necessary.
New to iOS 11? Discover the best features you will use all the time.
5 apps that can save your life in an emergency
Are you looking for more emergency apps, both for iOS and Android? Here are other SOS and emergency apps you can download and use now in times of dire need.