With more advanced technology getting into the palms of our hands, it's time for better health programs to come with them. Let's face it, when you're going for a job, running at the gym or exercising, it's already rough enough carrying a cellphone.
Don't you wish you could check your heart rate without needing your smartphone and a fitness tracker? Well, now you can with these heart rate apps that can be used via your smartphones or tablets with the portable power of an app.
The best part is a lot of these apps are available for download on iOS, Android and Windows app stores without that extra hardware. We'll be covering those here in this guide just some of what you can find out there.
How do heart apps work?
These apps work by using your device's pre-existing camera and lights to detect your heartbeat. Wild right? As strange as that is, they seem to be getting more reliable for smart examinations of your average heart rate.
Beware of these Touch ID scam apps on the Apple App Store
These aren't the only apps to take advantage of the camera technology though. In the past, they have also been used for checking blood sugar, or heart health. Now your mileage may vary on readings depending on whether you're using a cheaper Android device with lower-quality cameras.
What are the best heart apps?
Accurate Heart Rate Monitor– Cost: Free
This app is for Android smartphones and tablets, but the best thing of all is that it's completely free. Free of ads and limitations, which is a rarity in today's app markets. What is it's capabilities that matter?
It's highly accurate even without the use of the flashlight
Again, it's completely free with unlimited measurements and features
Calculate your target heart rate for the best workout and exercise results
Supports all heart rate zones such as extreme/peak, cardio, fat burn, warm up, resting
Helpful for interval training, cardio training, CrossFit, cycling, running and weight control
Statistical analysis with graphs
Can export your data as a CSV file
Data can't be imported to Fitbit and other similar fitness apps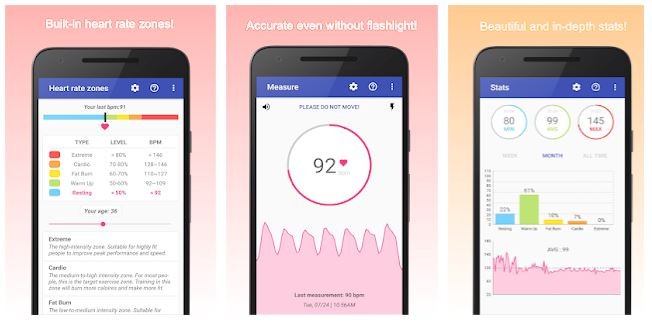 Cardiio: Heart Rate Monitor – Cost: Free
This app is also free but this time for the iOS app store but it also offers in-app purchases. Cardiio's based on technology licensed from MIT and originally developed at the MIT Media Lab. The interesting thing about this app is as your blood flows to your fingers, it causes light to be absorbed. So by using your smartphone camera, it captures tiny changes in reflected light from either your finger or face, thus calculating your heart rate.
It measures your heart rate either by face or finger
Gives insight on how your heart rate relates to your fitness and endurance
Tracks performances through a personal dashboard with stored histories
Allows for you to save, edit, annotate and export your data to CSV
You can also integrate it with the Apple Health App for saving heart rate measurements
Instant Heart Rate: HR Monitor & Pulse Checker – Cost: Free*
This app is actually trusted by top research institutions such as UCSF for cardiology research training, and used in UCSF Health eHeart Study for its accuracy and currently rated as a number one app. You can even measure your pulse and heartbeat after sleeping or during workouts & training.
Available for Android, iOS and Windows Phone

Free for both Android and iOS, although Windows Phone is $1.99 download

Premium subscriptions are available for $9.99 per month or $59.99 per year
Get your heart rate, BPM, in less than 10 seconds
Check your stress levels
Cardio workout monitoring to optimize exercise and track progress pre- and post-workout.
Heart rate training zones (Rest, Fat Burn, Cardio, and Peak)
Google Fit support (heart rate and heartbeat data)
Why not just use an Apple Watch?
Apple recently conducted an eight-month study on their heart rate technology using the Apple Watch to determine whether it accurately detected atrial fibrillation. The problem for researchers was that only a small portion of the population owns an Apple Watch which was the very specific group being looked at.
They posed other red flags with the study stating how those with notifications about AFib didn't get followed up on. They were concerned over false negatives.
Larry Husten of CardioBrief stated that "The idea of screening for obscure medical conditions using the watch is crazy, and will inevitably cause more harm than good." I agree that it's still too early in the studies to even tell at this point.
Trying heart apps vs. seeing a doctor
Although these apps seem to work, they don't make a substitution for seeing an actual physician about your health needs, diet or lifestyle. If you feel symptoms or irregularities, despite what an app or device says, see a doctor.
5 life calculators every person should use
I do think if you're in the market to try out something to keep track of your personal goals and workouts. Plus they don't do take up any physical space unless you count device space, which still makes it more convenient than hulking around another device on your exercises.
That being said, take these readings as they are meant to be and then check with your own doctor.