Are you paying too much for cable or satellite? The cost to simply watch television these days can be outrageous.
It's not just the constantly rising price of channel packages that can break the bank. You also have tons of other fees piled on. Take a look at your monthly statement and you might be surprised at everything you're paying for.
More than likely you're paying monthly fees for each receiver in your home, DVR service and possibly a protection plan, just to name a few. All that, added to your monthly channel package, can cost nearly $200 per month. Yikes!
That's why "cutting the cord" is all the rage. More people than ever are getting rid of cable or satellite TV and turning to online streaming services.
Why millions of Americans are cutting the cord
When done right, cutting the cord is a less expensive alternative to cable that could save you hundreds of dollars a year. However, some people are making a huge mistake when cutting the cord.
They're signing up for too many streaming services. That can end up costing more than their previous cable bill.
Netflix, Hulu, Sling TV and other available streaming services charge a monthly fee. Too many subscriptions can rack up your monthly costs. Take a look at the following chart to see monthly and yearly fees associated with some popular streaming services.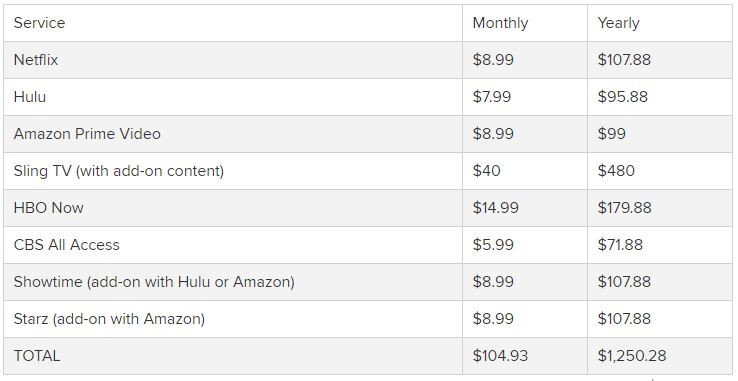 As you can see from the chart, adding all of these services to your system would cost nearly $105 per month and over $1,250 per year. That completely defeats the purpose of cutting the cord to begin with.
That's why it's critical for you to compare services before cutting the cord. Find out which services you need to subscribe to that will give you the channels you want.
Which streaming service is right for you?
Don't worry, we've done some research for you. We've created a comparison chart showing which channels are offered on each service that offers live TV.
Here's a small preview:
That's not all of the channels listed on the chart. The full chart is a massive list with nearly 170 top channels and which streaming services they're available on.
Click here to see the complete list of streaming service channel lineups.
Once you know everything offered by each service, you can make an educated decision on whether cutting the cord is right for you.