When it comes to losing weight and staying healthy, there's a long history of snake oil. They're still out there, but technology is shaking things up for the better.
If you do your homework and are prepared to do the physical work as well, you'll be sure to find high-tech gadgets that will help you get healthy. Some of the gadgets are wearable, others get you moving, but all are aimed at keeping you fit.
We found these high-tech fitness gadgets that live up to their promises. But only if you live up to your goals.
1. So much more than a watch
At first glance, the Fitbit Versa looks like a regular watch. But look again.
For under $200, this item features on-screen workouts, more than 15 exercise modes and personalized reminders. It also tracks the pace, distance and steps you have taken during a run or walk. As for your heart rate, it can monitor it all day, including while you sleep.
If your workout includes swimming, never fear, the Fitbit Versa is waterproof and can track your swim strokes. You can also connect Fitbit Versa to your smartphone to get access to GPS in case you want to check distances. Even more intriguing, the Fitbit Versa provides guided breathing sessions which are great when you're cooling down after a strenuous workout.
You may want to wait a bit before you buy the Fitbit Versa. A new model is expected to be released in mid-September.
2. A stationary bike that takes you places
One of the toughest things about using a stationary bike is that it's very easy to get bored. You won't have that issue with a Peloton bike.
With a Peloton membership, an internet connection and the bike's touchscreen you can take part in group fitness-style classes run by professional trainers right from your home. The screen also shows class stats, how you stack up against others and gives you shout outs when you reach milestones.
If you're just getting back into a workout routine, don't worry. Peloton offers classes ranging from beginners to advanced so you can pick which course is right for you.
You should know, you're making a major investment on a Peloton. Depending on which package you choose, it costs between $2,400 to almost $2,700. Plus, your subscription costs $39 a month.
3. Mirror, mirror who's the fittest of them all?
Its name may simply be Mirror, but it provides a lot for users. Hidden in a sleek-looking mirror, you can turn it on and find an interactive home gym.
You can have your own workout routine, or you can take one of a number of classes such as boxing, yoga, pilates and more. You'll be working interactively with fitness professionals to make sure you are doing the exercises correctly.
Like the Peloton, Mirror requires a subscription and an internet connection to take part in the live workouts and use Mirror's library. You can also see your progress and stats on the Mirror.
The Mirror costs $1,495 and the monthly subscription will run you $39.
4. Easing the pain of the gain
Don't let the aches and pains when you start working out again deter you. With the PowerDot 2.0 – Smart Electric Muscle Stimulator you can massage out the soreness, get relief from pain and even prevent injuries.
Just put the PowerDot pad and the two electro pads wherever you need relief and it will start stimulating that muscle.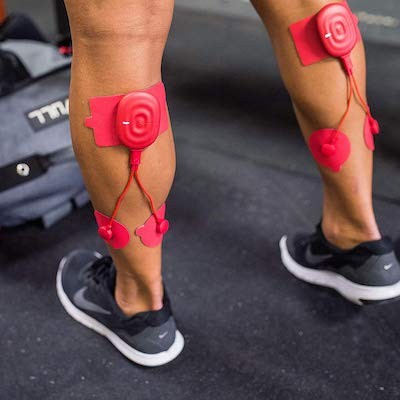 If you buy the basic PowerDot package, it will cost about $200. For about $350, you'll get two PowerDot pads, each with two electro pads as seen above.
To help you use the product correctly, you can download the Smart TENS app that lets you assess your pain score or tolerance. That information is put into an algorithm designed to relieve your pain and monitor your recovery. You can also download the PowerDot App to help you choose, control and track your workouts.
5. It's all right before your eyes
Everysight's Raptor AR Smartglasses provide consumer-focused augmented reality (AR) for cyclists, triathletes and early adopters. For cyclists, in particular, the Raptors enhance performance by using augmented reality to provide riders with the real-time data and information they need to stay fit.
It's Patented BEAM Technology overlays on the lenses sharp, high-resolution, semi-transparent information such as heart rate, speed, power, distance and more throughout the cyclist's ride. These smartglasses are obviously designed with safety in mind.
They come with a built-in GPS and speakers that allow riders to listen to music or receive phone calls without covering their ears. The Raptors also have a built-in, look-and-shoot HD camera so cyclists can capture images and videos of their rides that they can share with family and friends. Riders can also use voice commands.
Depending on how many accessories you buy, the Raptors run from $599 to almost $780.
6. A scale you can't hate
Whelp, if you're going to invest all sorts of money on devices to get and stay fit, you might as well spend a few dollars more to make sure the work has all been worth it. Withings | Body+ – Smart Body Composition Wi-Fi Digital Scale provides easy tracking if you're watching your weight.
In addition, this sleek, modern scale connects to your smartphone via an app. The combination allows you to monitor your body fat percentage. You can also set goals and track nutrition to help you lose weight.
As an added bonus, it also works with Alexa, Apple Watch and other popular health and fitness apps. And it's nice for the price of $79.
As an Amazon Association, Komando.com may earn a commission from qualifying purchases made on Amazon.com.