You're not alone if your monthly internet bill puts a big dent in your bank account. Use this tip to discover three ways to get fast and affordable home internet.
When you're paying for high speeds, you know the frustration of not getting all that you're promised. We'll even show you how to report when your ISP isn't delivering. Tap or click here to report slow internet speeds to the FCC.
What if you are getting the advertised speeds and it's just not enough? That's where gigabit and multi-gig plans come in. Let's break down some of the best super-fast internet plans, from AT&T to Google.
1. Google Fiber
Let's start with the most affordable way to get multi-gigabit internet. Depending on where you live, you could get Google Fiber's 1Gbps and 2Gbps plans. When you sign up for this service, you get Wi-Fi 6 equipment — plus unlimited data without contracts.
If you aren't sure which plan you need, here's a tip. Take a glance at this graphic for some overall distinctions between the two best affordable two multi-gig internet plans:
Maybe you need more information before biting the bullet. Google put together a helpful chart you can use to see what you'll get with each plan. We pasted the chart onto our site for your easy access, but you can click the caption to go to the original data:
1 Gig
2 Gig
Download speed up to
1 gigabit per second
2 gigabits per second
Upload speed up to
1 gigabit per second
1 gigabit per second
Time to download a 2.5-hour movie
(1080p, 6Mbps encoding)
56.9 seconds
28.5 seconds
Time to download a 2.5-hour movie
(4K, 15Mbps encoding)
2.4 minutes
1.2 minutes
Time to download 30 5-minute songs
(MP3@190kbps)
1.8 seconds
.9 seconds
Time to download a 10GB game
1.5 minutes
42.2 seconds
Included equipment
1 Gig comes with a Google Wi-Fi router, or you can use your own
Wi-Fi 6 Router, Tri-band Mesh Extender
Chart from Google.com.
Keep this in mind
As you can tell, these plans let you quickly download the content you need, from videos and songs to photos and games. Plus, you get a free upgrade to Wi-Fi 6 if you aren't using it already. We'll give you the facts if you want to learn more about this powerful home wireless network.
In 2020, the FCC approved Wi-Fi 6 as the new wireless standard. With it, your home network can run more gadgets simultaneously. If you haven't upgraded already, tap or click here for a few reasons why you should buy a Wi-Fi 6 router.
Wi-Fi 6 is designed to end dead zones. With it, you don't have to worry about random dropoffs or walls getting in the way of your connection. That's because it provides multiple points of internet access around your house.
Check your city to see if you can get Google Fiber
Before you get too excited, you need to know one major drawback. At the time of writing, Google Fiber is only available in Alabama, California, Georgia, Iowa, Kansas, Missouri, North Carolina, Tennessee, Texas and Utah. Google plans to expand the program in the future, though.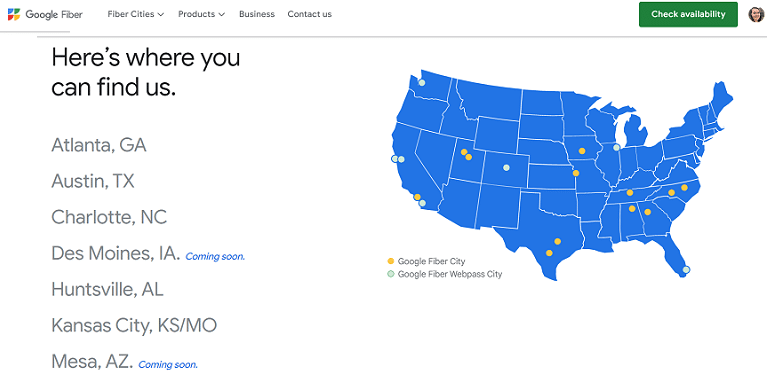 If you live in one of these states, check the list below to see if you're eligible. You can get Google Fiber in these cities:
If you live in Iowa or Arizona, here's some good news. Google Fiber is soon coming to Des Moines and Mesa.
Want more options than Google? We'll break down two other gigabit internet plans in this guide. Trust us, they're worth checking out. Just scroll down for two more high-speed internet offerings at your fingertips.
RELATED: Think Big Tech knows a lot? Your internet service provider is just as bad
2. Check out AT&T Fiber for fast and affordable home internet
AT&T's 5Gbps speed is just one of three options. You can also get 2Gbps of speed and another plan with speeds up to 1Gbps. Plus, you get a $200 reward card with each signup.
Here are the details, straight from AT&T's site:
| | | | |
| --- | --- | --- | --- |
| Speed | Up to 1Gbps | 2Gbps | 5 Gbps |
| Cost | $80/mo | $110/mo | $180/mo |
| Features | 25x faster upload speeds than cable. Even faster online speeds for almost seamless connectivity, digital collaboration and pro-level gaming. | Ultra-fast online speeds to support smart home activities, from at-home learning and work-from-home demands and more. For the powerfully connected smart home. | AT&T's fastest online speed to support cutting-edge technology such as elite gaming and immersive digital experiences. Engage, stream videos and connect at unsurpassed speed. |
| Availability | Check here | Check here | Check here |
Information from AT&T's website.
Of course, getting this plan depends on where you live. Unlike Google Fiber, though, AT&T Fiber is more widespread. You can use it in more than just 12 states. If you want multi-gig plans, AT&T's plan covers 21 states.
Check out this map below! You'll see little location pins all across the U.S.
We also listed the 21 states you can get AT&T Fiber in below. Scroll down and look for your state on the list. Tap or click the name and we'll take you straight to a page with more information on how to sign up.
A few more reasons why this is one of the best fast and affordable home internet plans
On top of the price and coverage, AT&T Fiber customers have a few extra perks to look forward to. For example, you get a $200 gift card when you sign up. Also, you get peace of mind: You won't have to deal with random price increases after 12 months.
Plus, there aren't monthly equipment fees, annual contracts or data caps. You also get AT&T ActiveArmor, the company's free internet security system. Just know that you might have to pay an installation fee when you sign up.
RELATED: 5 ways to speed up your internet connection now
3. Comcast/Xfinity Gigabit 2x plan
This plan is newer than the other two, but we have high hopes. Xfinity plans to roll out a 10G plan in 2023.
In preparation, it just released 2Gbps internet service in the U.S. There's one drawback: It's only available in four cities now. 
Augusta, GA
Colorado Springs, CO
Panama City Beach, FL
Philadelphia, PA
Things will change soon, according to company officials. Before the end of the year, people in 34 cities will be able to use this service. But even if you don't pay for the new Gigabit 2x service plan, you could still experience speed boosts. 
Currently, the plan puts some limits on customers. You can only upload files at 200Mbps. But next year, you'll be able to upload even faster. It's still a work in progress, but we're supportive of any plan that offers fast and affordable home internet.