It never fails when you're traveling. No, we're not talking about forgetting to pack a toothbrush or your favorite pair of walking shoes.
No matter where you go, whether it's the gorgeous beaches in Hawaii or a camping trip to the mountains, it always happens. Someone else has a really cool gadget that would have made your trip so much better!
That could be a portable phone charger or colorful luggage that's easy to spot on the airport carousel. It's OK, we understand feeling envious.
But, hold on! Before you head off for your summer vacation, don't leave home without these accessories. They're handy, they'll make your trip more pleasurable and other travelers will feel envious of you.
Here are five travel gadgets for 2017 that we love. But be sure to tell us and other Komando.com readers about your favorite travel gadgets in the comments section.
Note: Don't skip No. 5 – It can save you hundreds of dollars!
1. PowerCord Go iPhone/Micro
Let's face it. In 2017, none of us can enjoy traveling without a smartphone or tablet.
It's almost unimaginable these days to go to Europe, the beach, Disney World or anywhere else without posting photos to Instagram or videos on Facebook Live. It's fun and makes your trip more enjoyable.
So, be sure to prevent your smartphone and tablet from dying. This portable power cord clips on your purse, backpack or belt loop.
Find more portable chargers for iPhone, iPad and Android devices at Amazon.
2. Chipolo
We've been telling you a lot about tracking devices that help you find lost phones, your car and your family members. These devices can pose some privacy issues. But, when used properly, they can save the day on your next trip.
With a tracker like Chipolo, you can find your smartphone, your luggage, your family and more. You just need the free app for Apple or Android and a Chipolo chip, which is about the size of a quarter.
You clip Chipolo onto your bags or place it inside your wallet. If you lose anything, use the app to set off a loud noise so you can find it.
It will show you where your belongings are on a map. If you lose your smartphone, press the Chipolo to find it.
3. TriFlex Mini Tripod
Argh! You know how frustrating it can be to take a photograph without getting a shaky image.
You dig your elbows into your stomach, but your hands are still shaking a little bit. Or what about trying to take a picture of yourself?
Say you're traveling solo to Paris and you're in front of the Eiffel Tower. "Pardon me, can you take my picture?" That can be awkward, especially when there's a language barrier between the locals and you.
Here's a better idea. The three-legged KobraTech TriFlex Mini Tripod. It works with any smartphone and most digital cameras. It's portable, too.
You adjust the easy-to-move legs until you have the image you want. Plus, there's a remote control so you can take shots from up to 30 feet away.
5. Oaxis AirScale
It seems everyone complains these days about traveling by plane, and with good reason. It can be a hassle.
You could be patted down by a TSA agent. You might stand in line at customs for hours. Worse, you might get socked with hundreds of dollars in surprise fees.
You may have already suffered this shocking expense. Of course, when you're leaving your house, you know how much your luggage weighs. You just pull out the bathroom scale and put your bag on it.
These days, you'll be paying $50 or so to check-in luggage up to 40 pounds. But what happens when you're leaving your hotel to go home?
You end up nervously hoping that all the gifts you bought for your family and friends haven't pushed your luggage over the weight limit. That extra weight can easily set you back $100 or more for just one or two overweight bags.
To prevent that, hook up the portable Oaxis AirScale to weigh your luggage. Now, that's a gadget you definitely don't want to leave home without.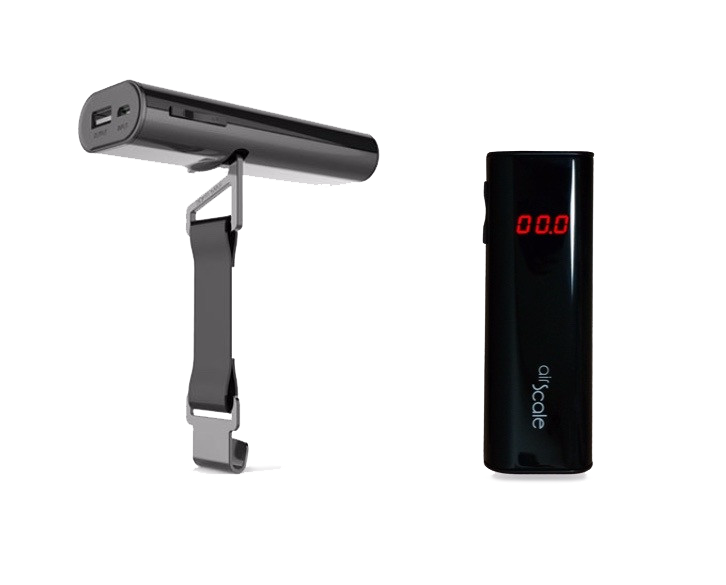 More Stories You Can't Miss:
10 apps and gadgets for your European adventure
6 must-have travel tech accessories