We all used to have digital cameras to take photos of our adventures. Though, most shots weren't of excellent quality unless you invested in an expensive camera and some lessons on using it.
When smartphones came around, the ability to take a great picture was available to everyone. Modern devices like iPhone 13 and Google Pixel can take spectacular snaps. Even the most amateur photographer can take an excellent photo. Tap or click here for a pro trick to find any photo on your phone in seconds.
But what if you want to touch up a few flaws or adjust the lighting and have zero editing skills? Well, here are five photo apps that will make your pics better without any Photoshop skills at all.
Picsart
With both a free and pro version, you can't find a better array of tools than Picsart. You can edit both videos and photos with the app, and it comes with fun extras if you enjoy posting to social media:
iMessage Stickers
Paint with Stickers
Object Removal
One Tap Magic
Stick with the free version or go pro with a 3-day free trial and $11.99/month after that. It's available for both Android and iOS.
You may also like: 9 photos you should always have on your phone at your fingertips
Pixlr
Not only is Pixlr free on Android and iOS, but it also has some neat borders you won't find in other editing apps. You'll discover Dirt, Flowery, and Rustic, giving your photos an edge that looks professional. You can also create a custom collage or make easy edits with its standard tools:
Blur
Smooth
Auto Contrast
Heal and Redeye Removal
TouchRetouch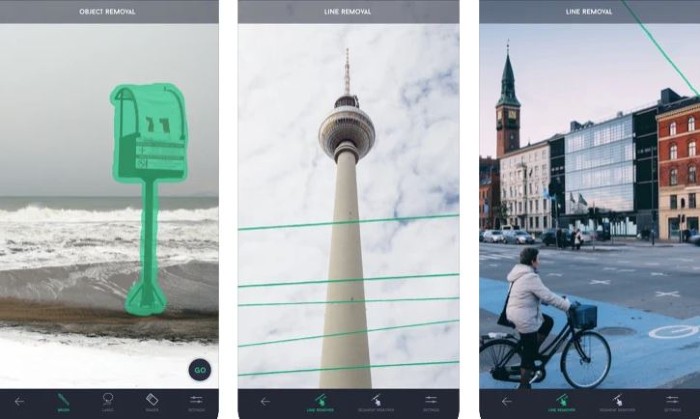 One of the few apps on this list without a free version, a download on Android or iOS will cost you about $2, but it's well worth the purchase. With advanced options like object removal and quick repair, you can ensure you are the only focus in your photograph.
Snapseed
Snapseed is free and available for both iOS and Android. It's a Google product acquired to keep up with Instagram's photo capabilities. The app is suitable for both amateurs and professionals, with a long list of editing capabilities that everyone can use:
Healing brush to remove those stubborn facial impurities
Glamour Glow filters to look your best in your selfies
Rotate and Crop images
Filters for specific times of photographs including portraits and selfies
Adjustments to the saturation of the image
Adobe Photoshop Express
If you want a Photoshop-like experience without technical education, Photoshop Express should be on your download list. It makes the editing process a breeze.
You may also like: How to remove pictures you don't want popping up in Google Photos
Handle routine adjustments like red-eye and blemish removal while accomplishing complex edits like cutouts, noise reduction and creating collages. There's a free option for iOS and Android, but you can also upgrade to the premium level for just $34.99 a year or $4.99 a month.