Watching TV shows and movies on a mobile device is a great way to keep you and the family occupied during long flights, between sightseeing or just for quick entertainment on a rainy day.
That means planning ahead and using your subscription service(s) to download what you want to watch onto your smartphone, tablet or computer before you leave. Why before you leave? Partially so you can keep an eye on your internet data cap. Tap or click here to learn which is better: unlimited data or a capped plan.
Don't stream movies while you're out and about. It's a surefire way to chew through your wireless data plan — and that's if you're fortunate enough to even have stable coverage along the way.
Got Wi-Fi access away from home? That's great, but it's a good rule of thumb to avoid public Wi-Fi whenever possible. Tap or click here to see why you shouldn't connect to public Wi-Fi without extra layers of protection.
Here's what to do to make sure your devices are ready for those big-file video downloads and also how to download from Disney +, Netflix, Prime Video and a few other streaming sites.
How to check your phone, tablet and laptop's storage
The first thing you need to do before you load up your phone, tablet or laptop with videos is make sure you have enough storage space. Keep in mind that a full-length movie can take up 500MB on your device. That's about the same size as the Netflix app.
The steps to check your device's available storage may vary slightly depending on what make, model and operating system you have, so we advise you do this at home, well before it's time to head out.
iPhone and iPad:
Settings >> General >> iPhone (or iPad) Storage.
Android devices:
Settings >> Storage. You'll see how much storage space you have at the top of the screen.
Laptop – Mac
Apple >> About this Mac >> Storage tab
Laptop – PC
Start (Windows icon) >> Settings (Gear icon) >> System >> Storage
How to download content from Netflix
To download shows and movies from Netflix, you'll need to have a Netflix account and make sure you're connected to Wi-Fi. We recommend doing this from home because that's likely your most secure network.
Depending on your mobile device, these are the minimum system requirements for downloading from the Netflix app:
iPhone, iPad, iPod touch with iOS 9.0 or later
Android phone or tablet running 4.4.2 or later
Amazon Fire running Fire OS 4.0 or later
A tablet or laptop running Windows 10 version 1607 (Anniversary update) or later
The latest version of the Netflix app
The last point is important. If you don't have the app installed on your device, you won't be able to download and save the video. Sad news for Mac users; there is no downloadable app for Netflix, so you won't be able to download videos to watch on your laptop unless you have an Intel-powered Mac that runs Windows.
Once you've signed into your Netflix app from your mobile device, choose the Downloads option at the bottom of your screen. This is what you should see the first time you visit this tab:
Anything that's a Netflix Original, you should be OK to download. Everything else (movies and TV shows) depends on licensing and other types of agreements Netflix has with the content source. If you see a downward arrow on the description page of a movie or show, you're in business.
Licensing will play a factor after a download is complete. Some titles will expire within 48 hours after you tap play. For others that don't expire as quickly, Netflix will display the amount of time left when it drops below the seven day mark. This and additional info can be found on the Downloads page of the app.
Once you've downloaded a movie or show, you can explore more on Netflix and continue to download show episodes, movies and Originals. Once an episode or film is done downloading, the download icon turns into a blue iPhone with a check mark.
If you want to conserve storage space on your device, swipe left when you've finished watching a show or movie, then tap the "X" and it will be removed from your phone or tablet.
And you should have enough programs to watch. Netflix allows a maximum of 100 titles to be stored on a single device at any given time.
Netflix's Smart Downloads feature manages your downloaded TV shows. When you finish watching a downloaded episode, it will automatically delete it and download the next episode. This feature will only work if you are connected to Wi-Fi, so you don't have to worry about going over your data limit.
How to download movies and TV from Amazon
If you're an Amazon Prime subscriber, then you have access to everything Prime Video has to offer. Similar to Netflix, Prime Video has a fairly wide variety of movies and TV shows, along with its own original programming.
To watch it on your iPhone, iPad, tablet or Android device, you'll need to download the app. Even if you purchase the video and add it to your Prime Video library, you need the app to view the title.
Another similarity is that not everything is available to download. It's still all about rights and licensing agreements. When you find a title you'd like to watch offline, open the video details in Prime Video and look for the download icon.
In the image above you'll see there are a couple of downloading options for a TV series. You can either download the entire season of a series at once or download one episode at a time.
If you tap on the Settings tab on the bottom right of the app, you can decide the download quality, streaming quality and whether you'd like to download and stream only when you're connected to Wi-Fi.
How to download from Disney +
Disney + is a popular new streaming service that will likely remain popular forever. Disney has original content, classic films, Pixar shorts and more. To access these titles, simply sign in to the app and choose a title.
To download any of the content, simply tap the download arrow next to the movie title, episode or season number. You can download entire seasons at once or choose which episodes you want.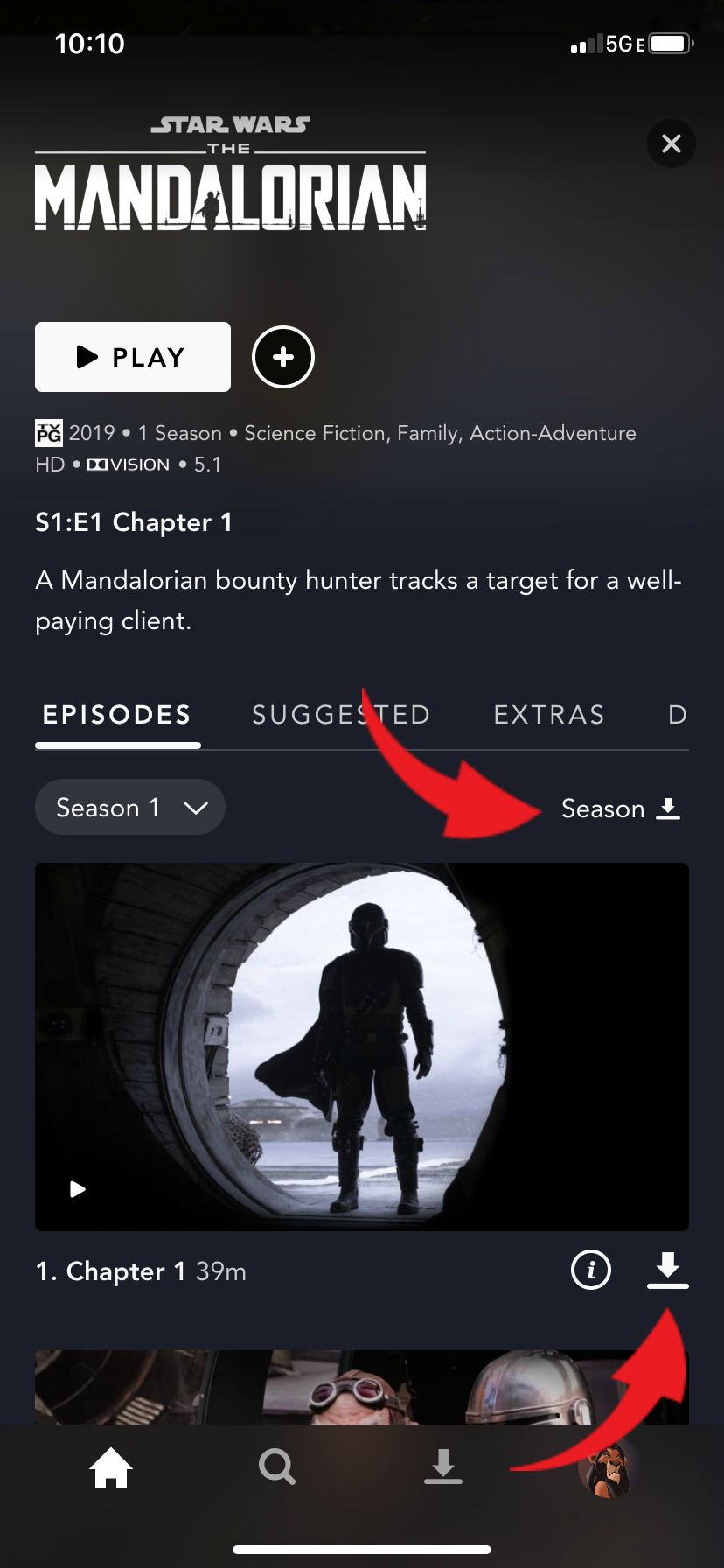 If you want to adjust the download settings, such as video quality and cellular data usage, tap on your profile icon on the bottom right of the screen and tap App Settings. You can then toggle your settings according to your liking.
How to download from Hulu
If you subscribe to Hulu, you know you have access to original content, great movies and TV shows. To download content, simply sign in and tap the Downloads tab.
From here, you can tap "See what's downloadable" and the app will take you to the "Downloadable" page. Here, you can browse for TV shows and movies be genre.
To download a title, simply tap on the movie or show you want and tap the download option from its title page.
To adjust your settings, tap the Account button on the bottom right. From this page, tap Settings. Here, you can adjust the autoplay toggle, cellular data usage and download preferences.
How to download from Apple TV
If you're subscribed to Apple TV, all you need to do is log in to your account and look up the title you'd like to download. If it's available for download, you will see a little download arrow within a cloud. Tap it to download the content you want.
To adjust your settings, tap your icon on the top right of the screen. This will open a menu that allows you to clear your play history, if you don't want to admit you got ahead on that show before your significant other could watch it with you, redeem a gift card or code, manage your subscriptions and other account-related settings.
How to download programming from other sites
If you purchase digital movies, you can access them via Vudu (through Walmart.com) or Movies Anywhere. To learn how, visit Vudu's download and purchase PDF.
There are also other apps, such as Prime Video, that allow you to simply download your shows to your device by tapping "Download" or the download icon. This moves the content from digital storage straight to your device.
Don't forget some channels offer apps where you can stream content, but not all allow you to download and view later. Some of these channels include:
AT&T TV Now – Currently only allows cloud storage with the app.
CBS All Access – Learn how to download here.
HBO Now – Currently does not offer the ability to download content.
Starz – You can download movies and TV series. Learn how here.
YouTube Premium – You can download ad-free videos to your devices. Visit Google's support page to learn how.
Download something different to your devices
Feeling like you'd like to listen to a lecture and maybe learn something or be inspired? TED Talks allows you to download their videos to the app installed on your iPhone, iPad or Android phone or tablet. Sorry, no downloads from their website to your laptop, either PC or Mac.
Here's a site we're pretty sure you never considered: the Library of Congress. The Library of Congress has a huge library of video content that is in the public domain. Tap or click here to learn more.
You won't find new releases here, but you'll find fun things like a silent-film documentary featuring Thomas Edison and how he invented the lightbulb. Tap or click to check out our Show Picks page to check it out. Or you can go to loc.gov and select films, videos and browse and download from its library.
Hopefully, most of your vacation will be so exciting you won't need to see much of what you have downloaded. But if you do, we have you covered.