What do you love most about Thanksgiving? Is it a turkey dinner with mashed potatoes, stuffing, gravy and cranberry sauce?
Is it watching football games or dog shows on TV with your family and friends? Maybe you love heading out after dinner to see a blockbuster movie, go bowling or go downtown to watch a parade.
Whatever your family's Thanksgiving traditions are, and no matter what you love most about this American holiday, there is one thing everyone can agree on. The best part about Thanksgiving is spending time with your family and friends.
Of course, there's a downside to every holiday, but especially Thanksgiving: traveling. You might be one of the tens of millions of Americans who get on a plane, train, bus or car.
In fact, this year will be the busiest Thanksgiving since 2005, according to AAA. Nearly 51 million people will travel at least 50 miles to get to their destination.
Of those, more than 45 million Americans will travel by car. Which can mean just one thing: You'll get stuck in traffic if you don't know how to avoid it.
We've got some travel tips that will save you a lot of time and aggravation. The best part is, by following these travel tips, you'll get to spend more time with your family. You'll have more time to eat Thanksgiving dinner, watch football and, of course, take a post-Thanksgiving-dinner nap.
Heaviest Thanksgiving Traffic
You get stuck in traffic at some point each week, no matter where you live. It might be on weekday mornings when people are heading to school and work, and in the evening when they're going home.
But holiday travelers mess up normal traffic patterns. Do you know when Thanksgiving traffic is heaviest by you?
Well, Google does. Google Maps looked at traffic patterns in cities around the country last Thanksgiving to help you avoid getting stuck in traffic this year.
Nationally, almost every city sees the worst traffic after the workday on the Wednesday before Thanksgiving. The best times to travel are on Thanksgiving day.
Traffic is also a lot heavier than normal on Thanksgiving night and into Friday morning as shoppers head out to snag Black Friday bargains. Traffic picks up again on Sunday afternoon, as traffic surges above normal levels when people go home.
But, while national traffic patterns are helpful, it's more helpful to know when traffic spikes where you live. For instance, in the New York metro, traffic surges on Thanksgiving afternoon when people are going to, and coming home from Macy's Thanksgiving Day Parade.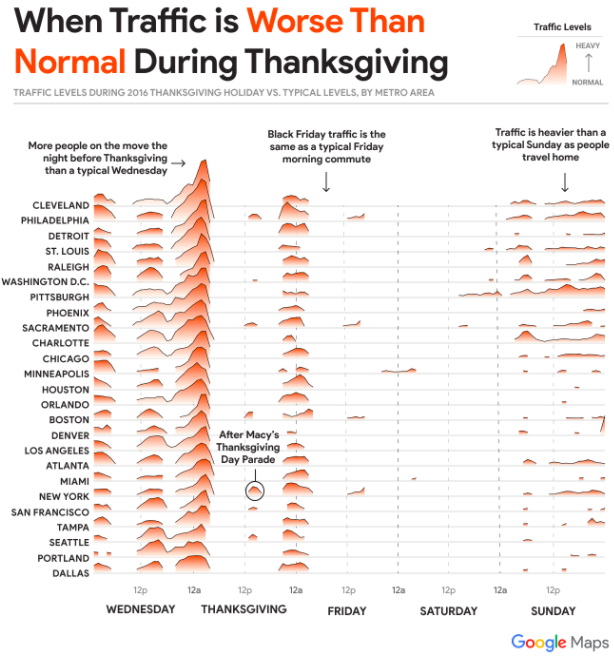 Avoid Traffic
How can you avoid heavy holiday traffic where you live? Google looked at traffic patterns in metro areas around the country.
Click on this link, then scroll down to When Should I Leave? Select the city you'll be traveling in to find out the best time to avoid getting stuck in traffic and the best time to go home.
Places to Avoid
"Where are all these people going?" It happens every holiday, no matter where you live or where you're spending the holiday.
You're driving along at a nice clip and then, slam! You brake for bumper-to-bumper traffic. Traffic stops for no logical reason, or at least it seems that way.
But, as it turns out, people just like you visit specific locations, like stores and entertainment venues, a lot more than they would on a typical day. Those locations vary by city.
For instance, in Los Angeles, people are a lot more likely than normal to visit bakeries, barbecue restaurants and health food stores on Thanksgiving. That's based on Google search terms.
Where does traffic stall where you live? Find out by clicking here and scrolling down to Uniquely Popular Local Searches.
Real-Time Updates
It happens every Thanksgiving. Heck, it happens every holiday, birthday, wedding or any event when you're spending time with your family and friends.
Someone is always running late. Don't be that person!
It's frustrating to be a host waiting for guests to arrive. You've spent the day roasting a turkey. You were up early baking bread, pumpkin pie and cooking side dishes, like green bean casserole.
Then, after a day of cooking and cleaning and prepping, your guests arrive. Well, almost everyone arrives.
Invariably, someone is running late and spoils Thanksgiving for everyone else. You sit there waiting and waiting for that late guest, so you can all enjoy the holiday together.
Now, no one has to be wondering when you'll get there. You can share your location with your Thanksgiving host, and anyone else you want, with Google Maps.
You can share your location in real time. That way, your Thanksgiving hosts know you'll be there in 15 minutes! That's the perfect amount of time to give your waiting guests some hot apple cider!
How to load up with free movies to watch while traveling
You're going to get stuck in traffic this Thanksgiving if you're traveling across the country or across town. Here is one great way to alleviate that frustration.
You can download FREE movies to watch on the plane or for your kids in the backseat. The best part? You won't eat up your data plan to do it.
Click here to find out how you can watch FREE movies while traveling this Thanksgiving!