In theory, our smartphones are incredible resources that should help us reach our full potential. Just look at all of the productivity apps: built-in timers, calendars and contact books promise to help us stay on top of our work. In reality, though, many of us don't keep our digital lives very tidy.
Before you know it, you type a name in to start a new text message or send an email, and you're met with a ton of results — and the person you actually want to contact is way down at the bottom.
Here's a fast, simple way to clean up your Google contacts. If you're a Gmail user, don't miss this.
To cut down on clutter, clear out the duplicates
If your smartphone is more cluttered than a pack of sardines, you should cast a wary eye toward your Contacts app. Over time, we tend to accumulate many names, phone numbers and email addresses we don't even need.
(Sure, you want to keep in contact with people just in case — but remember that the human brain can only keep track of so many relationships. So if you have 500 contacts, we recommend clearing out the data for people you no longer call. If there are any names you flat-out don't recognize, use those as your starting point.)
SPEAKING OF WHICH…Gmail storage suddenly full? This could be the reason why
Aside from that, we're willing to bet your Google Contacts app is stuffed to the gills with duplicates. Maybe you even have multiple entries for the same person. That's why we recommend tackling the issue of duplicates: Not only is it incredibly easy to do, but you get a lot of good work done in a snap.
Basically, it's a great first step for cleaning up your address book.
Follow these steps to merge duplicate contacts
First, you can check out a free app like Smart Merge Pro, which searches your contact book for duplicates. It merges those unnecessary entries. (Make sure you backup your contacts — just to be safe.)
Don't want to download any software? Just head to Google Contacts. The page looks something like this:
On the left side of the screen, select Merge & fix. It will look like this: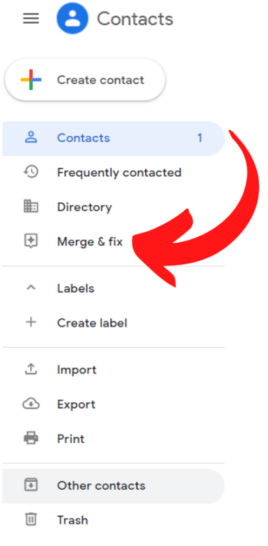 Depending on the number of duplicates you have, you can click Merge all. If you want to take extra time to be thorough, just review each duplicate and then click Merge.
Now that you've removed duplicates, you should find it much more efficient to search through your contacts. If you want more ways to make the most out of your email, we have some cool tricks that will help you save time and increase privacy and security. Tap or click here for 10 buried settings and features to try.