Look up the most popular video editing software, and you'll find enormous price tags. If you have to edit videos for work, you need something affordable and dependable — preferably without the high costs. DaVinci Resolve 18 is a great free option that works just as well as expensive apps from Adobe or Corel.
Why DaVinci Resolve 18 is the best free video editing software
Firstly, it's compatible with Mac, Windows and Linux operating systems. Secondly, DaVinci Resolve 18 uses innovative smart technology that allows you to edit video clips or packages quickly. Plus, it works well for teams who need to access the same project from anywhere, thanks to its shared project libraries and remote monitoring streaming.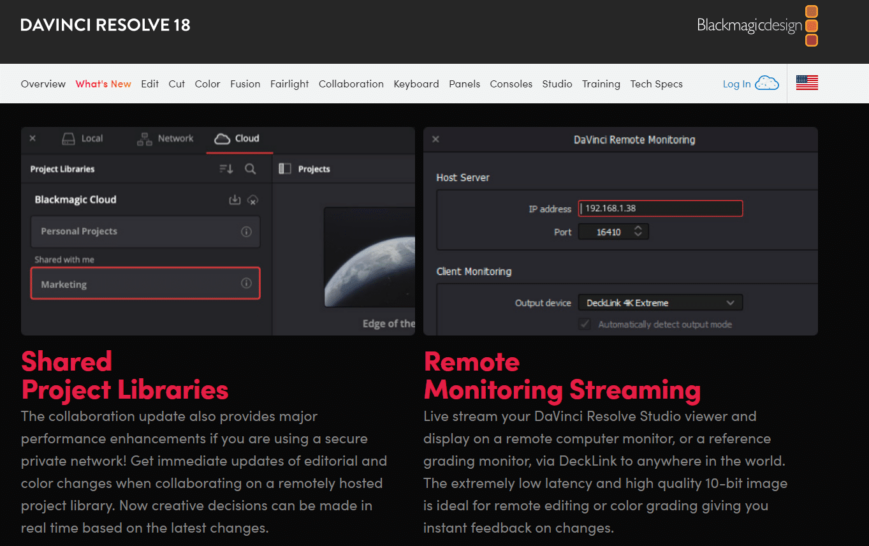 The cut page is DaVinci's central editing hub and was created for faster workflow. From here, you can adjust video and audio in addition to organizing clip files (bins).
Although many of its features are similar to ones from Final Cut and Premiere, its AI features make it unique. Get this: DaVinci Resolve 18 has incredible smart technology to help you create masterpieces. To be more specific:
This free app comes with artificial intelligence (AI) and smart detection technology.
It can also highlight certain people or objects in video clips. You can remove them entirely without causing damage to the rest of the clip!
Also, the AI can identify faces in clips and organize them automatically into smart folders.
Here's what it looks like in action:
If you have to edit crummy audio, get this. The AI-based voice isolation track FX lets you remove loud sounds from voice recordings. You can remove background noises like airplanes or screaming children. This feature is perfect for interviews or videos from noisy places.
Want to learn more about how AI helps Hollywood? Kim lifts the curtain on robot stars, AI scripts and high-tech SFX in this Kim Komando Today podcast.
Editing made easy
Want to add captions, title cards or other pieces of text to your videos? DaVinci Resolve 18 makes it easy. You can use text installs and visual editing all on the cut page. It's easy to find since the effects bar is to the left of the timeline.
If you have a large clip that needs to be layered with other videos, you can add smooth transition effects to eliminate jump cuts in your finished product. Some other super cool effects DaVinci provides are contrast pop, lens reflection and the stylizing effect. You can also add text and traditional transitions to any clip.
Color correcting is also supplied, which is handy if your camera hasn't been calibrated or adjusted to the correct lighting setting.
Aside from the visual editing aspect of DaVinci, the download also has excellent audio editing features. For one, all video clips containing audio are portrayed as one item on your timeline.
Audio can be edited with mixers and meters, which makes it easy to see where your levels are and what needs to be adjusted. DaVinci also has tape-style audio scrubbing that allows you to correct audio pitch.
Easy to use interface and upload files
The best part of DaVinci Resolve 18 is its simplicity. Everything from your media pool to the editing features to the timeline is all on one page. It's very organized and helps you keep things in place with the folders feature it uses.
It also has excellent post-production tools and renders videos quickly. Once you've completed your editing and production, you can upload your finished piece to YouTube directly from the editing tool.
Try DaVinci Resolve 18 for free
Like any other downloadable software, there will be a learning curve, which might be the biggest downside to DaVinci 18. You may not have experienced DaVinci's editing software yet, but it works like Premiere and Final Cut.
The best way to learn the program and work out the technical kinks is by downloading it and trying the editing technology. It's free to download and use, so check it out and see how it works differently than the programs you might pay a lot of money for.
Once on the DaVinci site, click the Free Download Now button. Then, select which version you want. Choose from macOS X, Windows, or Linux.