What is the quickest way to get the opinion of several people? Sure, you could rope everybody into a WhatsApp group and ask there, but that can get confusing quickly.
Bulk emails and mass messages are also a sure-fire way for people not to give you insight into what you need. Luckily there is a much faster, more convenient solution.
Google Forms lets you create customized surveys and questionnaires in minutes, and you don't need any coding knowledge. It is free to use for any Google account holder, and you can share it with as many people as you want.
Why you'd want to create a survey
Here are a few scenarios where a custom survey will come in handy:
Feedback on an event or activity can provide you with vital information on what visitors enjoyed, what else they would like to see, or if they have suggestions.
A survey can gather demographical information on your neighborhood, business or website.
You can use it to collect options, choices or opinions on an event you are planning. Say, if you want to go on a trip with friends, a survey can determine where most people want to travel to, what they want to do or determine the overall budget.
Creating a custom survey
The steps to creating a custom survey are relatively straightforward. After you sign in to your Google account on the Google Forms page, you will notice a template gallery at the top.
This is an excellent place to start if you have a rough idea of the questionnaire you want. You can choose from several templates like RSVP, party invitations, event registration, customer feedback or collecting information.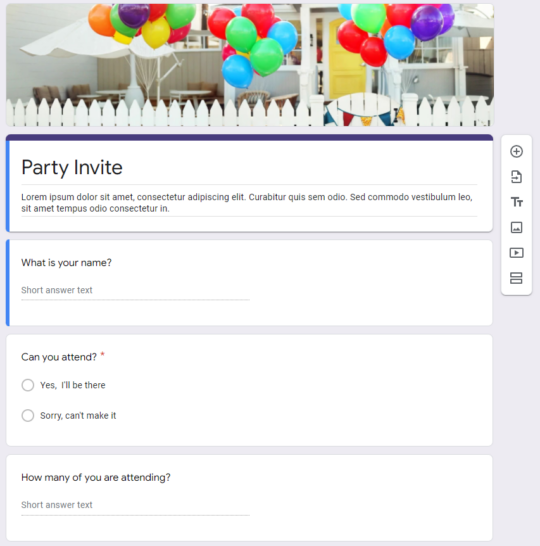 Or, if you want to go at it yourself, you can click on the blank page to start from scratch. Here's how you can set up an introductory survey:
In the top section, give your survey a name and briefly explain in the section underneath what it is about. The more detail you include, the more likely people will be to fill it in.
To modify and add questions, click on the first one. Then, type your question into the space provided, and select on the right side the question type. Here you can choose multiple choice, checkboxes, dropdown, scales and grids or text-based answers.
Depending on the question ask, you must add answers that people can choose from. To do this, click on Option 1 to change the text. Click on Add option to add as many answers as you like.
Click on the + icon to add the following question when you are done.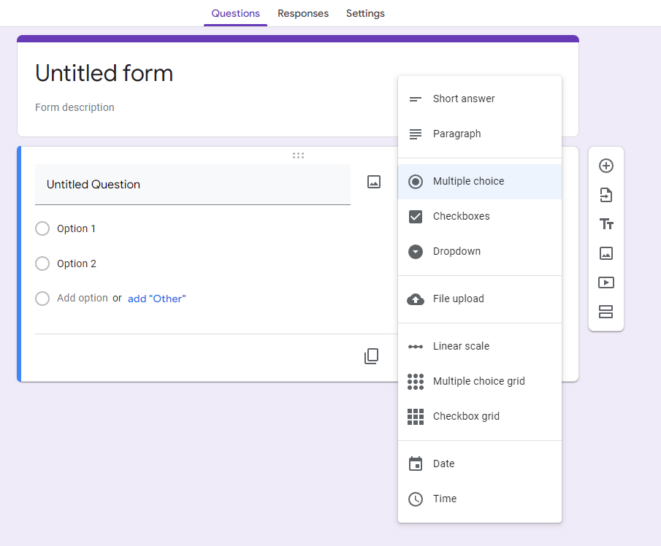 You can also divide the survey into sections by clicking on the two straight lines on the right-side panel. You can use this panel to import questions from previous surveys, add titles and descriptions, images and videos.
Collecting responses
Google Forms has a robust reporting function after mailing or sharing the survey with people. For example, click on Responses at the top, and the page will show you what answers the respondents gave.
You also can filter responses by question, by a respondent or see a general overview. The Google Sheets icon lets you export your survey's answers to Google's online version of Microsoft Excel.
Keep reading
Skip the keyboard: How to dictate in Microsoft Word and Google Docs
Locked out of your Google account? Here's how to get back in