With a world of sites churning out information at incredible speeds, it can be challenging to keep pace with the latest updates. Whether it's breaking news from Komando.com, sale alerts from eBay or the newest post from your much-loved blogger, there's an easy way to prevent you from losing ground.
No need to keep checking each site for your up-to-the-minute rundown as your browser is here to help you out with push notifications. In a nutshell, these nifty alerts will provide you with the scoop that you want and help reduce any fears of missing out.
Here's the rundown on what push notifications are, how they work and how to set them up.
What are browser push notifications?
Push notifications are messages that appear on your browser regardless of the device you are using. To be clear, push notifications are not those pesky, constant pop-up ads we all detest. How can you tell the difference? You have to subscribe or consent to receive push notifications from a website.
Moreover, although similar in nature to app notifications, browser push notifications do not require any download or installation of an application, beyond your browser. How do you know it's a push notification? They typically contain messages, links, and images, along with the name of the site.
When visiting a website that provides push notifications, you will notice a dialogue box asking if you would like to see future notifications. If you click Allow you are good to go and will start receiving immediate content updates.
If for whatever reason you didn't receive the initial opt-in message or chose Block or Not Allow and changed your mind, a quick tour through settings will enable push notifications.
Note: Instructions may vary according to the operating system and web browser version.
RELATED: HOW TO MANAGE YOUR NOTIFICATIONS IN WINDOWS 10
Setting up push notifications on a desktop
Setting up push notifications requires a few steps and can be used for any website that provides the feature on your desktop or mobile device. The browsers that currently support push notifications include Chrome, Firefox, Opera and Safari.
For desktop Chrome users, click the three-dot icon in the upper right corner of your browser and tap on Settings.
Click on Advanced then choose the Privacy and security option.
Tap on Site Settings and All sites.
The All sites menu will list out the websites you have visited. Select the site you want to modify and in the drop-down menu next to notifications click Allow.
For desktop setup instructions for Firefox users visit Mozilla's support page.
Desktop Opera user? The directions for setting up notifications using the desktop version of Opera is the same as Chrome, except for the initial menu icon. Instead of the three-dot menu found in Chrome, Opera users will click on the three-line menu in the upper right corner of the browser.
Similar to the other browsers, when using Safari to visit a website that sends notifications, you will notice a pop-up asking for your permission.
You can go into settings to enable this feature as well. Click on the Safari option and tap on Preferences. Tap on the Website icon, scroll down and click Notifications. Choose the site(s) you wish to receive push notifications and click Allow from the drop-down menu.
How to set up notifications on mobile devices
For Chrome on Android devices, setting up push notifications is simple. As with the desktop version, you should receive a pop-up message when you visit a site requesting permission to send you notifications. If you don't see the message, click the three-dot menu at the top right corner of the browser and choose Settings. Tap on Notifications.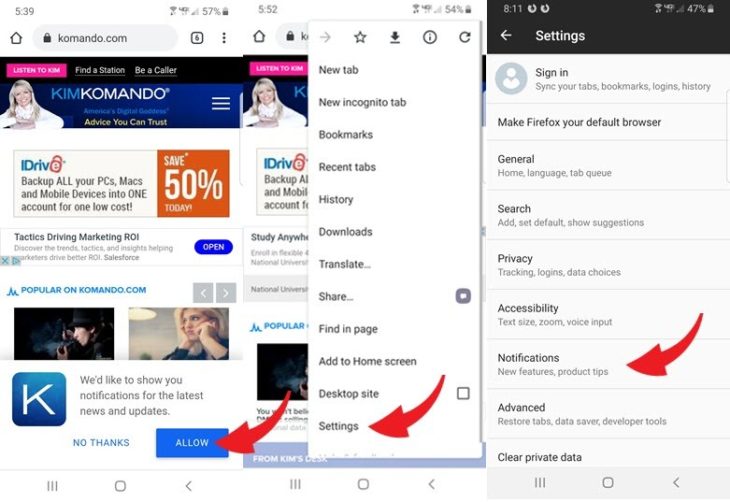 Under Chrome app notifications you must enable Show notifications then scroll down and tap on your desired website. Turn on notifications.
If you use Firefox as your browser on your mobile device, setting up push notifications on your desktop will ensure they are synced with your mobile device. Click the site information(i) icon and tap on the Permissions tab. Choose Allowed.
Once you have set up the notification feature you need to sync with your Firefox mobile browser. Click the three-line menu in the upper right corner and click Sync.
Here is a quick tutorial for setting up the feature when using the mobile Opera browser.
Safari for iOS does not permit push notifications. Apple is very particular about the information that is sent to you from the internet and, thus, does not support browser push notifications. What to do if you use an iOS mobile device and want to enjoy the latest content from your favorite sites? You will need to download the site's related app, such as the Komando.com app.
To disable or block notifications, revisit the individual settings and choose the remove, disable or block option.
RELATED: IF YOU USE THIS BROWSER, DOWNLOAD THIS EMERGENCY UPDATE NOW
As with any activity on the internet, you need to heed caution. While push notifications are meant to keep you up to date with a site's material, you must be vigilant and only choose to receive push notifications from websites you trust. This practice will help ensure you do not click on any malicious links embedded in the site's notifications.