One of the best things about owning an Apple product (outside of the beautiful design, build quality and ease of use) is the ability to get help for your product from a live person. Sure, nearly every device manufacturer offers some kind of service options, but only Apple has taken this idea to its logical conclusion with an entire segment of its stores dedicated to repairs and support.
But despite working well in theory, anyone who's taken a trip to an Apple Store knows how massive the crowds can be and how extremely specific nuances can determine the fate of your warranty. Plus, not everyone in the country lives near an Apple Store, so what's a person to do when their iPhone is broken and a certified Apple Genius is nowhere in sight?
If you've found yourself with a broken iPhone, iPad, or Mac, don't fret! There's a wide range of options to get your device up and running without breaking the bank (or your patience, for that matter). Here's our guide on the best ways to get your Apple devices repaired or serviced — and what you can do to make the process even smoother.
Never leave home without an appointment
If you've ever tried to walk into an Apple Store for support, you're probably familiar with that sinking feeling you get when the greeter tells you that there's a three-hour wait to be seen by support. Believe it or not, this is an average wait time at many stores. And for Macs, it's often even longer.
To Apple's credit, the waits aren't as ridiculous as they might seem at face value. Thousands of folks visit Apple Stores for service and repairs every month, and often times, many of the questions could easily be answered via research, phone support, or talking with a technician over chat.
If everyone visiting for support knew of the many options Apple offers, the wait times would probably be far shorter. In fact, you can even book appointments ahead of time online, so you don't even have to wait in the store in the first place.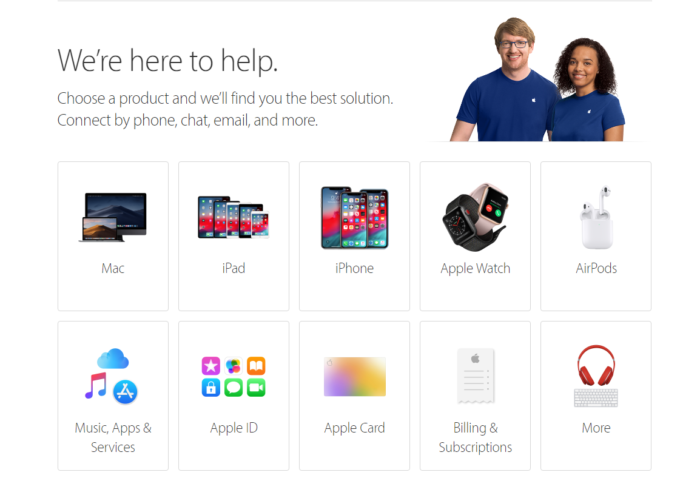 Thankfully, Apple is taking steps to ease the burden on their customers by offering support through a convenient portal at getsupport.apple.com.
This website is your destination for troubleshooting and repair, so all you'll need to proceed are your Apple ID and password. This will associate a name with your device, so nobody else can claim to be you when making a claim or checking in for an appointment.
To begin, select your product. You'll then be taken to a screen where you'll specify the details of the issue you're having. This step is key because it determines what type of service you'll be eligible for online.
For simple questions, how to's, and software related troubleshooting. If you absolutely must speak to an Apple Genius in person or otherwise need a physical repair of some kind, make sure to select Repairs & Physical Damage from this menu. This will allow you to set up a date and time to bring your device to an Apple Store to get checked out.
If your device does not require physical repair or evaluation, the system will automatically redirect you to the menu you see above. This will attempt to put you in touch with an Apple Genius, either over the phone or via chat — but don't worry, this isn't a bad thing.
Despite the reputation that tech support call centers tend to have, Apple plays by its own rules in this category. The company's phone and chat support is notable for providing excellent service, quality technicians and the vast majority of these workers are based locally here in the U.S.
Best of all, each one is an officially trained and vetted Apple employee, so you can expect the same kind of help you'd get from a Genius at the Bar.
Don't try this at home
Keep in mind, there are several factors that can render your device ineligible for service — or free service, rather. The first, and most obvious, is an expired warranty. Apple typically offers one year of free service for non-accidental issues with every device it sells, and this warranty can be extended for additional years by purchasing an AppleCare plan.
If you finance your phone through your carrier, you might already have this extended warranty enabled. If not, it's still worth checking to see what kind of service you're eligible for.
To check the status of your warranty, Apple has another web portal you can visit at checkcoverage.apple.com. Here, once you enter your serial number, you'll be greeted with coverage options specific to your device and warranty status.
Plus, you can see how much time is left before your warranty expires. The site even links you directly back to the support page we mentioned above, so you can get the help you need even quicker.
Outside of an expired warranty, the biggest factor preventing you from getting service is any kind of third-party or self-induced repair.
If you attempted to replace your own phone speaker, for example, Apple considers the device "damaged" and may require you to pay out of pocket for a replacement device. These replacement devices aren't sold at the full retail price, but can still cost several hundreds of dollars.
We've previously covered Apple's crusade against user repairs, and whether you agree with it or not, the point stands that it's a much safer bet to visit the Genius Bar for repair than a third-party repair place. Nothing hurts worse than finding out you shot your own warranty, so don't give yourself the chance to make that mistake.
No Apple Store? No problem!
Speaking of third-party repair shops, it is worth mentioning that not everyone has an Apple Store nearby. In fact, a good chunk of rural America isn't even within spitting distance of an Apple Store, so how the heck is anyone in the countryside supposed to get their screen fixed when it breaks?
Surprisingly, Apple has thought of this too — and its solution is what it calls "Authorized Service Providers." All this means is that Apple allows you to visit third-party repair shops that meet its rigorous quality standards. Essentially, it views it the same way as visiting the Genius Bar, so you won't have to worry about voiding your warranty here.
To check for a third-party repair shop near you, just follow the Repairs & Physical Damage steps we mentioned above and enter your ZIP code when prompted. You'll be connected with local Authorized Service Providers if no Apple Stores are nearby.
If you have a Best Buy in your town, Apple has also partnered with them for expanded retail service options. According to Apple, this move puts some form of Apple Support within 20 minutes of 8 out of 10 Apple customers. Not bad at all.
And if you just happen to be far enough away from any Authorized Service Providers, Apple still gives you the option to ship your device in for repairs directly. But since you'll be without your device for the duration of the repair, this might be an option you should save for last.
With more people buying Apple products every year, it's heartening to see the company still taking its repairs and support seriously. Genius Bar wait times have grown, no doubt, but taking advantage of Apple's many at-home options will not only get you the support you need — it might even save you from taking a trip to the most crowded store in your local mall.
That's a fair trade-off if there ever was one.