Has your phone been ringing more often than usual? Are you getting bombarded with calls from numbers you don't recognize? You're certainly not the only one.
It turns out that these unwanted calls, which include illegal and spoofed robocalls, are the FCC's top consumer complaint and have taken top priority. This has led people to take action with tools/apps that enable call blocking technology.
So, if you want to put an end to those annoying, unwanted calls and potential scammers, call blocking is your best option. Here are a few tips on how to stop these calls in their tracks before they can even reach you.
Block calls on your cellphone
Downloading a call blocking app is probably your best option for stopping unwanted calls on your cellphone. Think of a call blocking app like a filter.
The technology uses previously gathered information from users and other resources in order to distinguish between scam calls and legit calls. If you get a call that seems like a scam, the app will attempt to catch them before they ring through.
There are apps that will typically let you choose how to respond to calls that are identified as scams. Calls can be stopped, go straight to your voicemail, or go silent and not ring at all.
They can help you to block calls based on the area code and geographical origin of the caller as well. Certain apps give you the option to send prewritten texts to callers or even complaints directly to the FTC if you wish.
Related: Great tactic to block spam calls on your smartphone
In some cases, you may not need to access the app store to find suitable call blocking tools. Most cell phones come with menu options that allow you to block calls from certain numbers, however, there might be a limit to how many numbers you can block.
Getting spam/scam calls while you're at work or in a meeting can be even more annoying. Cell phones typically have features like 'Do Not Disturb', which allows you to set time parameters in which calls from specific or unknown numbers will automatically go straight to voicemail.
Block calls on a landline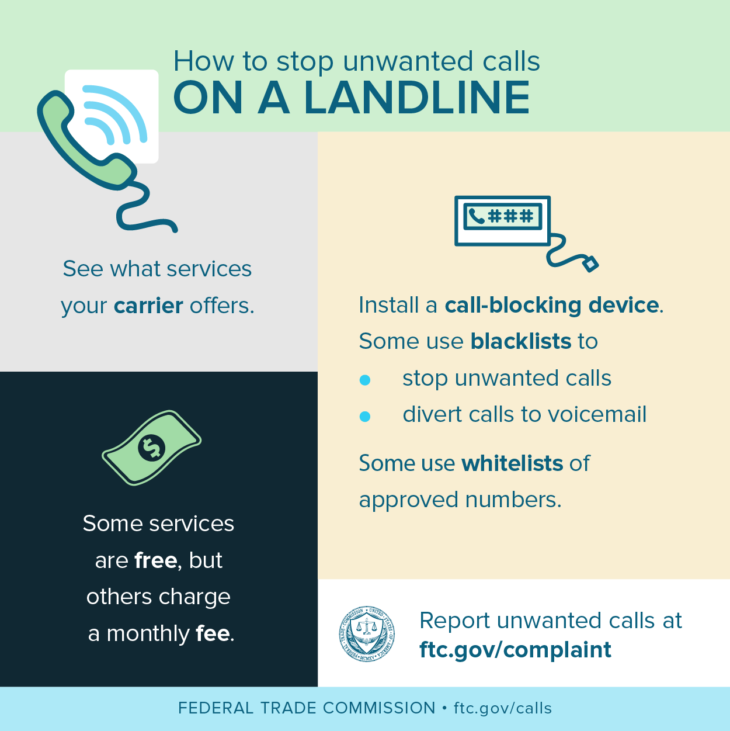 If you're one of the few who still has a landline, no worries, there are ways for you to block unwanted calls, too. For traditional landlines that don't work via the internet (VoIP), you can buy and install a separate call blocking device. The devices are usually small boxes that can be attached to your phone.
Some devices operate by utilizing blacklist databases of known scam numbers that have popped up across the grid, but they also let you add specific numbers that you may want to be blocked. Other devices strictly depend on you to create and update your own customized blacklist of numbers to block.
Related: How to block robocallers on your home phone
A few devices work by using the inverse method of blacklist call blocking, which is known as the whitelist, or filtering based on approved numbers of your choice. This helps you to limit which calls get through, or, much like your cell phone, lets you set up "do not disturb" hours during which calls go straight to voicemail.
There are even call blocking devices that work to identify robocalls by playing a prerecorded message prompting callers to press a number or take a specific action in order for the call to be continued.
Block calls on an internet phone
If you have an internet or digital-based telephone, it's possible you have VoIP (Voice over Internet Protocol) service on your home phone and don't even know it. This means that your phone makes calls over the internet, instead of over the traditional phone lines. If you're not sure how your calls are routed, you should check with your carrier.
Internet-based call blocking services are capable of blocking unwanted calls on phones that use the internet. Your carrier might be able to recommend a specific service. Or, you can do some digging yourself and search online for any expert and previous customer reviews.
Much like mobile apps available on mobile devices, some internet-based services require all calls to be routed through their service, where they are instantly analyzed and screened for any sign of illegitimacy.
You may have choices about how unwanted calls are handled. For example, unwanted calls can be set to ring silently, be routed to a separate voicemail, sent to a spam folder, or stopped altogether.