If you haven't heard already, the new Android Auto update has been released, and with it comes several long overdue adjustments. These improvements may seem minimal at first glance, but each will ultimately lead users to a better overall experience.
Users no longer have to rely on car manufacturers to upgrade or enhance their stock-installed software. Android Auto brings its technology to your car and weaves them together to create a more enjoyable, convenient setting while you drive.
Whether your current car supports Android Auto or you just use it on your phone, here are a few tips and hidden features that can help make the most of your experience.
1. Dark theme
Going dark. Android has recognized dashboard displays should be able to change in different lighting. Prior to this update, the dark theme was only automatically enabled at night. Makes sense; however, Android has considered how different brightness settings, accents and fonts make content easier to read.
Additionally, the automatic dark theme allows users to choose specific times of the day to either activate or deactivate the theme. By default, the system will turn on the eye-soothing mode at 10 p.m. and will switch back to light at 7 a.m. You can adjust this time setting to fit your schedule.
Dark theme was introduced in Android 10. Tap or click here to learn how to activate it on your device.
2. Hands-free
This is probably the most basic feature you can use with Android Auto, but at the same time it's the safest and most convenient. Talking and texting while driving has become a serious concern for possible car accidents. In order to avoid this kind of danger, a majority of users have taken advantage of Android Auto's hands-free feature.
By saying, "Ok Google," drivers will activate the Google Assistant, which will allow them to call anyone in their phone's contact list by saying "Call [Name]." There's no need to even touch your phone while Android Auto is enabled in your car.
3. Navigation bar
The redesigned navigation bar makes background tasks and getting from points A to B much easier to manage. For example, you can now see ongoing turn-by-turn navigation directions and still be able to control any other activity that's operating in the background.
Multitasking is difficult enough while you're driving, but now everything you need is readily accessible and available at your fingertips.
So, while you're using the map for directions, the navigation bar will also display playback controls for music or entertainment apps. If you switch to the app and your next turn is coming up, the system will automatically return to the map to show the upcoming turn instead. This makes the entire heads up display feel more alive and less static, unlike previous versions.
4. Google Assistant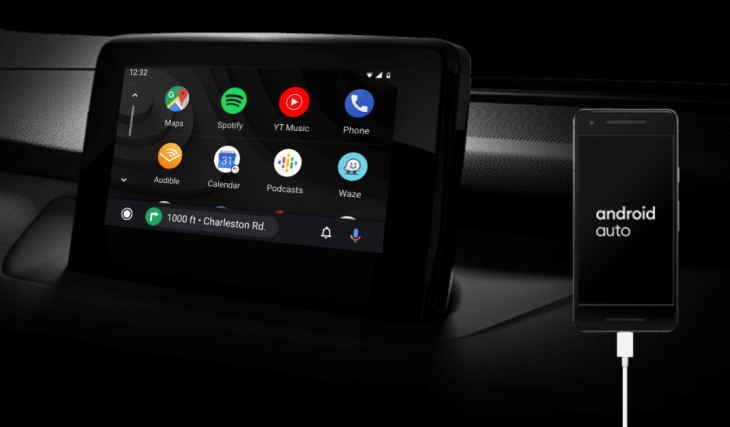 Google Assistant has been established as the best Android-based voice assistant, by far. Tap or click here to learn 5 amazing things you can do with Google Assistant.
Being able to control all aspects of our phone's capabilities with just our voice is nothing short of amazing. And with Android Auto, we get that same capability while we're in our cars. With Android Auto, you can ask Google questions or save to-dos like, "What's trending in the news?," "What's the weather going to be like at 5:00?" or "Remind me to pick up eggs later."
5. Auto reply
It's become almost second nature to pick up or look at our phones, no matter where we are or what we're doing. It's understandable, but glancing, talking and texting on our phones while we drive has become a danger for everyone on the road. So, Android Auto has stepped in to help keep you from distracted driving with Auto Reply.
The Auto Reply feature allows you to set a generic or custom response that will be sent back to the people who text or call you while you're driving. You can even choose to have text messages read aloud, that way you don't have to take your eyes off the road to glance at them.
You can enable this feature by simply going to your Android Auto settings menu and switching Auto Reply to ON.
6. Enhanced music setting
While the built-in sound system in most cars is good, they seem to lack certain features for equalizers and other key settings for enjoying music. Smart phones come with dedicated equalizer settings for easy listening. So, when you connect your phone to Android Auto, you get the same sound settings on your phone in your car.
Overall, this is meant to enhance your listening experience and enables your car's sound system to perform at its fullest potential.
Did you like this list? We dig up the best Android tips and deliver them to your inbox, free of charge. Tap or click here to sign up for Kim's weekly Android Updates newsletter for news, tips and tricks, and the coolest new apps.