Whether you use Windows or Apple, both major players constantly update and advance what they offer to customers. Tap or click here for details on Windows 11 features you need to try.
Microsoft's recent Windows 11 update brought several significant upgrades to PC, seeking to outpace Apple. But, the most significant change was to the app store.
From games to social media platforms, your PC just became your second smartphone. You can now launch Android apps in Windows 11. Here's how.
The rollout
The Windows 11 update has been available for some time, but the ability to launch Android apps was initially only available to Windows Insiders. The feature became available to all Windows users on Feb. 15, 2022.
RELATED: 7 things you didn't know your Android could do
The feature started with access to around 50 apps and has since been increased to 100. While the feature will be available in more countries later, it's currently only available to U.S. users.
What do you need to make it work?
Having a PC that runs Windows 11 is, of course, the first step, but there are a few more details you'll need to have in order before you can start running apps on your PC.
First, you'll need to have an Amazon account. You don't need to be a Prime member, but you need an account. If you don't, you can create one here.
Second, you'll need to ensure your Windows 11 PC is up to date and running the latest version. You can do so by following these steps:
Hit the Start key.
Type in Windows Update.
Click Check for Updates.
If there is one available, download and install it.
Once it's finished, restart your PC.
Next, make sure the Microsoft Store app is updated. Here's how:
Updating the Microsoft Store
Open the Microsoft Store app.
Go to the Library section of the app.
Choose Get Updates at the top of the screen.
How to run Android apps on your PC
Once your Microsoft Store and Windows 11 are up to date, it's easy to start running Android apps. You'll need to search for the Amazon Appstore app in the Microsoft Store.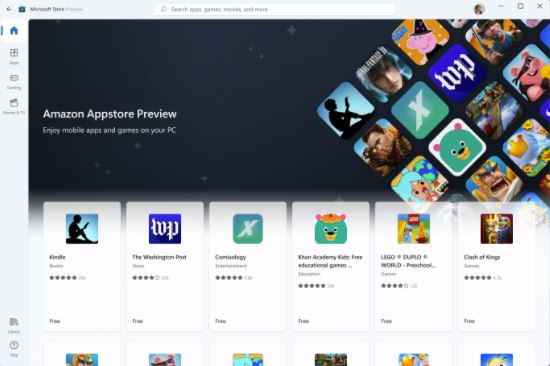 This may sound confusing, an app store within an app store? But it's pretty easy. Here's how to access the Amazon Appstore.
Open the Microsoft Store app.
Select the Amazon Appstore banner or search for the Amazon Appstore.
Select Get Started or Install.
Once installed, launch the app and sign into your Amazon account.
Once you've downloaded the Amazon Appstore, launch it from your PC and use it the same way you would on your Android phone.
Here are some of the available apps:
BBC
A large variety of games
Kindle
Khan Academy
Lego Duplo
You may also like: 12 smart Android tips and tricks you should be using