Do you dream of becoming the next big YouTuber or vlogger? Or, do you have more down-to-earth video aspirations, like filming a scenic walk or family gatherings? No matter your goals when it comes to taking videos with an iPhone, you can create masterful footage.
The complexities of videography can have many enthusiasts shying away from experimenting with their iPhone lens. However, smartphones have evolved to make filming less complicated than anticipated.
Whether you are new to the iPhone family or a long-time user who has tested out your smartphone's camera(s), there is one simple change that will help improve your videos, which requires little effort on your part.
NOTE: Instructions may vary depending on the model and operating system. The following steps were used for an iPhone XR running iOS 12.2.
Taking videos using 4K
Utilizing the 4K video setting on your iPhone is essential for transforming your average videos into more professional-looking work. Though by default, 4K video is disabled, it is simple to change.
Go into your iPhone Settings, scroll down and tap on the Camera option. Choose Record Video.
Here, you will find a selection of formats, indicated by their resolutions and frames-per-second (fps). Although all the options are technically high-definition, they vary in quality, starting with the standard 720p and 1080p at 30fps (default setting) on up to 4K at 60fps, which provides a higher, smoother resolution.
Related: 9 iPhone tricks you'll use all the time
It is important to know the higher the quality, the larger the file. So, if your goal is to capture video using 4K at 60fps ensure you have storage space as a one minute video requires approximately 400MB worth of space.
Need more room to store your videos? Turning on iCloud Photos will allow you to save your videos in iCloud at their original formats and full resolution.
Because the camera settings will automatically reset to Photo mode after shooting your video, enabling Camera Mode will preserve the last mode you used.
Go into Settings, click on Camera. Tap on the Preserve Settings option and toggle on Camera Mode.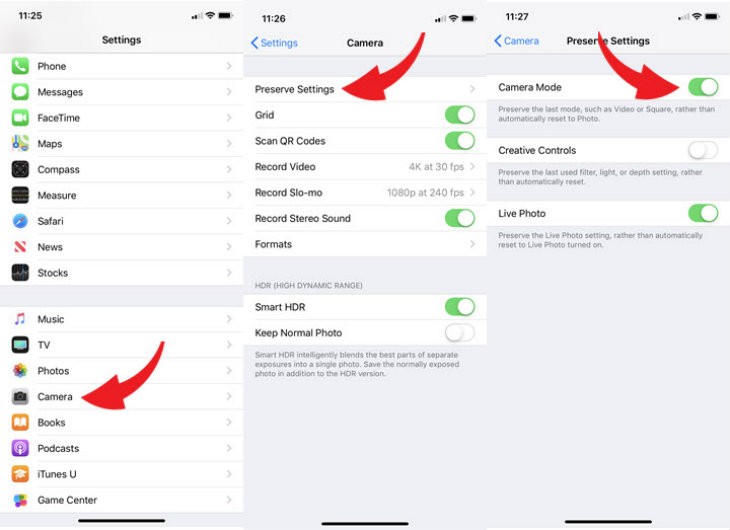 The importance of resolution and frames per second
To help you understand the importance of resolution when shooting on your iPhone here is a quick rundown of these settings.
While all the Record Video settings on your iPhone are considered HD, 4K offers twice the resolution (3840 pixels x 2160 lines) of the standard 1080p (1920 x 1080). Shooting your subject from a great distance using 4K, will offer you the ability to zoom in without losing resolution during the editing phase.
Next up, frames-per-second. Videos are a collection of single images taken in succession that quickly display on a screen giving the viewer the perception of movement. This assortment of images is referred to as frames-per-second or fps.
The standard number of shots taken by your camera is 30 fps. However, if you wish to create footage that appears to occur in slow motion, you want to increase the frames-per-second to 60, which will allow you to slow down the footage by 50%, thus, producing smoother, more professional-looking motion.
Now that you have adjusted your 4K setting, and have some insight into its significance, you are well on your way to filming exceptional footage. To further enhance your recordings here are a few tips.
How to improve iPhone videos
Shoot your video horizontally as this will make taking the video easier and have it looking better when played back on a computer monitor or TV screen.
Use a stabilizer such as a stand, tripod, or gimbal to prevent shaky videos.
Have a battery pack or outlet nearby because shooting videos can drain a fully-charged battery rather quickly.
Consider purchasing a microphone to help ensure bad audio does not ruin your video.
Try some third-party apps to help make better videos and pictures.
When it comes to photography or videography, continued practice will improve your skills and results. There are plenty of tutorials, videos, and online classes available to help with any troublesome areas of the process.
You'll also like: Have fun with photos and create keepsakes with these apps
Need some inspiration?
Sometimes it can be a challenge when deciding what material or subject will make for great footage. If you need some inspiration, there are several behind-the-scenes YouTube videos from Apple that demonstrate the incredible possibilities your iPhone camera possesses.
Shooting through the lens of an iPhone XS, the following video provides extraordinary views of common elements, such as water, fire, and metal. The exquisite mesmerizing scenes are sure to inspire.
Experiments in 4K, Slo-mo, and Time-lapse — Apple