One of the great promises of Amazon's lineup of Alexa gadgets is that they can help bring your house a step closer to the Jetsons' and Star Trek-style future we all covet.
You can simply speak up to turn down your heater, trigger a groovy music playlist, or bathe your living room in soft mood lighting.
Some of these capabilities require buying specialized tech gadgets like thermostats, hubs, and smart light bulbs.
But there's an easy and cheap way to dip your toes into the world of Alexa smart home voice controls: TanTan smart plugs.
What is a smart plug?
Think about everything in your house that just simply plugs into an electric socket. You might have lamps, colorful string lights, a stereo, a coffee maker, or a fan.
When you want to turn them on, you walk over and flip a switch. Now imagine flipping that switch with your voice or an app instead.
A smart plug simply plugs into an electrical outlet. You plug your lamp or another device into the smart plug and then control it with your digital voice assistant or phone.
Check out the best Alexa commands to try with your new Echo.
TanTan smart plugs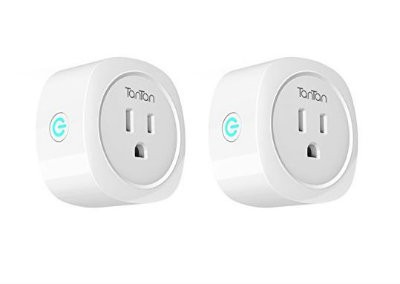 TanTan isn't the only brand of Alexa-compatible smart plugs, but it's one of the most affordable and it has garnered a 4.5-star rating from over 700 Amazon reviews.
A single plug costs $16, while a two-pack goes for $30, though you can keep an eye out for special promotions that bring the cost of multiple plugs down even further.
One advantage of the TanTan plug is that it's small enough to leave your other outlet open on a normal two-plug electrical outlet. Some other smart plugs are on the bulky side.
If you're a Google Home user (or have both Home and Alexa), you're still in good shape. The TanTan plugs also work with Google's voice assistant. Purchase one today while you're thinking about it by clicking the link we've provided below.
[amazon_link asins='B075Z17987′ template='KomandoButton' store='komandocom-20′ marketplace='US' link_id='be4f1676-1106-11e8-9532-ef5deeb8db86′]
Smart Life app
The TanTan plugs require downloading the Smart Life iOS or Android app. Smart Life gives you the ability to name and remotely control your plugs from your smartphone. Use the app to configure the plugs before setting them up to work with Alexa.
The app lets you schedule individual plugs to go on and off at specific times, or you can set up an Away Mode to turn on lights or a stereo while you're gone on a business trip or on vacation.
A "scenes" feature lets you automate multiple plugs at once. For example, you could set your living room and bedroom lamps to both come on at sunset.
Once your plugs are installed and the Smart Life app is set up to control them, it's time to make it all work with your voice. To connect your plugs with Alexa, open the Alexa app, search for the "Smart Life" skill, and enable it. You will need to provide the Smart Life account information you used for the app.
Next, say "Alexa, discover devices" and wait until your Amazon gadget searches and acknowledges discovery. Now, you can ask Alexa to do things like "turn on my bedroom lamp" or "turn off the kitchen fan."
You won't believe these strange smart home gadgets actually exist.
Other smart plugs
If you search Amazon, you will find other Smart Life app-compatible plugs sold under different brand names like Tonbux, iFymei, and Bolun. These are all pretty much the same smart plugs with similar review ratings to the TanTan plugs.
You can also check out some different styles of smart plugs from TP-Link, Wemo, and Etekcity. If you're shopping on price alone, then the TanTan and related plugs are hard to beat.
Are smart homes all they're cracked up to be?
We're in the midst of a smart home revolution. There are many perks to going smart, but you also need to be aware of the risks.
Click here to learn about the potential dangers of making your home a smart home.