Have you ever received a PDF file and wanted to sign or edit it but don't have the right software? It can be frustrating. Thankfully there is a way to do it without shelling out big bucks on expensive programs. Tap or click here for a safe way to sign PDFs and convert them to different formats.
Adobe created the Portable Document Format (PDF) in the late 1990s and quickly became a hit with companies and individuals. Anybody who opens a PDF file has limited actions that they can perform, but through a subscription to Adobe's software, you can amend, edit or even split files.
In addition to Acrobat DC, the Adobe Creative Cloud subscription gives you access to other Adobe products like Photoshop, Lightroom and Illustrator. But the $52.99 a month price tag might be a bit steep for users who don't need all the creative tools. Keep reading for a more affordable option.
Creating content for free
The company realized this and released Adobe Creative Cloud Express. The free tool is available as an online platform, and you only need an internet connection to use it.
In addition, it gives you access to a wealth of creative tools to make flyers, social media posts, logos and, of course, PDF files. There is a Premium subscription, but more on that below.
Since the platform is relatively new, many PDF functions you would use in the paid-for Adobe Creative Cloud aren't there. However, that doesn't make it an unappealing offer, as the quick actions at launch let you convert documents to and from PDFs.
Adding new functions
A recent update to the service added new features that many users would find handy. Adobe added more quick actions to combine files into one PDF and organize pages.
For those hoping to edit files directly in Adobe Creative Cloud Express, you'll have to wait a little bit longer. In the blog post, Adobe recognized that it's a function many users want, but while it's not in this update, they "are working hard on these direct PDF editing features."
Typically, you would need a Premium $9.99 subscription to Adobe Creative Cloud Express to access the new features, but that's not the case now, although there are some limitations. However, the Premium subscription still includes many tools not available in the free version.
Organize pages
Simply drop PDF, Excel, PowerPoint, or Word documents into the pop-up to organize pages. If you like, you can also add images and photos. Then, the tool lets you reorder, delete, rotate, insert or extract pages.
Finally, you can download the completed file to your computer when you are done organizing. All Creative Cloud Express users get one free PDF quick action download per week.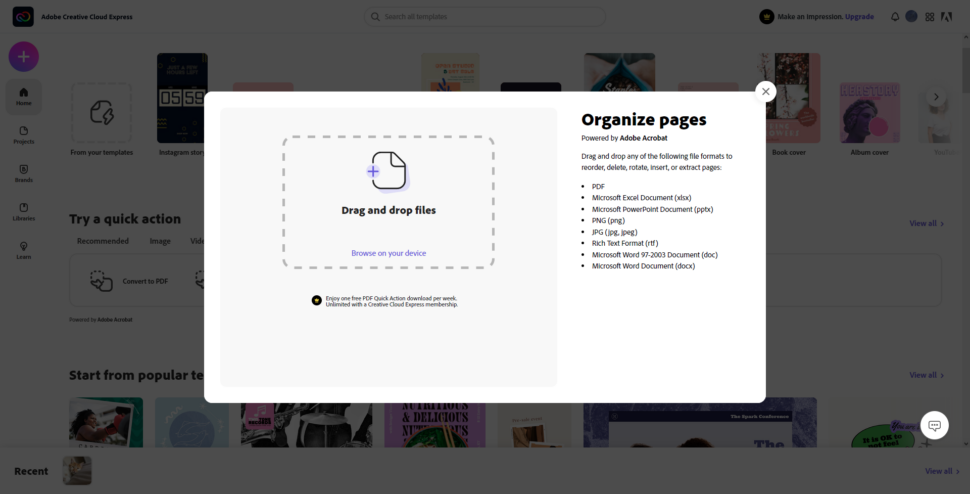 Combine files into one PDF
Create a single PDF by bringing together files in various formats or that started in different programs. You might have a proposal that includes a PNG photo, an Excel spreadsheet table, and a few Word documents.
Upload these files using the new quick action that combines them into one PDF document. You'll never have to worry about converting individual files and stitching them together later. Do it using a quick action from your Creative Cloud Express home tab.
Edit text and images
This feature is for PDFs that need minor but vital updates. For example, are the prices on your sales sheets no longer correct, or do you need to change the date on a party flyer? Edit your existing PDF files by adding or changing text and rotating or resizing images in Creative Cloud Express.
Keep reading
How to save a webpage as a PDF (as is or without the ads)
Hackers have a clever new way to steal your login details – Don't open this PDF!