Christmas is getting closer, and chances are you're one of the many millions of people getting ready to spend time with loved ones. And if you don't see your extended family very often, the holidays are the perfect time to catch up and share stories of your recent adventures.
And while it can be wonderful to catch up on your relatives' current events, how much do you know about their past? Go beyond that and ask yourself, how much do you really even know about your family tree?
Websites like Ancestry.com have sparked interest over the years, leading many people to piece their family's history together through records. But you can take a different approach and not only learn more about your family members' pasts, but preserve that information in a digital archive of interviews to share with others for years to come. And with these ideas from The New York Times, it only takes a few steps.
Step 1: Plan ahead
At this point, the date is probably already set for your family holiday gathering, so you have time to plan.
Get your questions ready for family members you're about to see, particularly those who have decades of memories to share. If you don't know the best questions to ask, help is available via a number of sites with samples. Check out Ancestry.com, The Genealogy Guide and The Center for Oral History Research at the University of California, Los Angeles.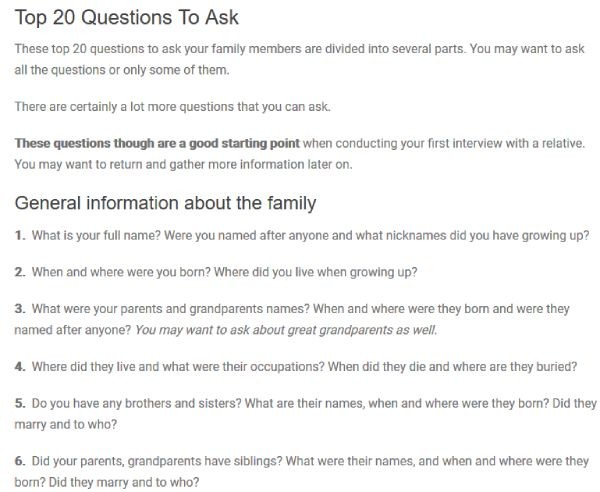 Keep your family in the loop about your plans so you don't come off like a paparazzo. Let them know you want to ask them questions when you see them. Some might even want to see your questions in advance to better prepare.
Decide what method you'll use to document their oral histories. Will you use video, audio or both?
Step 2:  Video interviews
You don't need a high-end video camera or DSLR at your disposal to create a polished entry for your archive. A modern smartphone should do the trick, but consider a couple of add-ons. First and foremost, invest in a tripod. That will prevent shaky video while allowing you to keep attention focused on your family members. It's up to you if you prefer a full-size model or tabletop version. You'll still need an adapter to mount your smartphone to the tripod, and there are quite a few affordable options like this one on Amazon.
Another item to consider is a lavalier microphone, such as this noise-canceling model available on Amazon. You'll get much better sound quality with less potential background noise by going this route.
Step 3: Be ready for audio-only recordings
There could be family members who may not be comfortable to go on camera, so be prepared to conduct an audio-only interview. Keep that lavalier mic on hand, and use either a native voice memo app that's built into your smartphone or find a reputable app you can download.
If you're concerned about storage on your device, you can also opt for a pocket digital voice recorder with a USB connector that plug into your computer. They come in a wide range of options and prices.
A third option is to plug the mic into laptop and record the interview like a podcast.
Step 4: Combine the old with the new
Although much easier now, personal audio and video recordings have been a staple over the years for many families. Look for any old home videos that would add to your efforts, like VHS tapes or film reels if you're really going back a few years.
If you have access to a working VCR, kits are available to convert those tapes to DVD or other digital formats. You can find a service to convert film to video (such as 8mm or Super 8), or you can purchase a converter for that as well. If you prefer the latter, Amazon has many to choose from under $100. But if you're looking for more of a professional experience, check out this Wolverine converter.
Step 5: Edit and share with family
Once you have everything you need, put it all together using video editing software such as DaVinci Resolve 15 or Adobe Premiere Pro (paid), or take a look at some free options like VSDC, Lightworks and OpenShot. When finished, upload the file(s) to a file-sharing account such as Google Drive or Dropbox. There, you can create a shareable link for family members to view or download your digital archive. For those who prefer a hard copy, you could also burn the file(s) to a DVD.
Whichever method you choose, your efforts will ensure that your family members' voice and experiences will live on for years to come.