For years, if you wanted to play with graphic design or create beautiful photos, you needed to be an Adobe Photoshop expert. Tap or click here for free templates to create digital photo collages. This brings us back to the era of needing an expensive camera to get quality photographs.
The smartphone changed our ability to take professional photos. The design world has also changed. Since Adobe Photoshop first premiered, many free or more affordable platforms have emerged to allow anyone to design like a pro. One of the best platforms is Canva.
If you need to create photos, collages, or designs of any kind and haven't looked into Canva, it's time you did. Here's how to ace graphic design like a pro with simple Canva tricks.
Canva is for everyone
A look into Canva shows that it can help you create just about anything. From Instagram posts to flyers to posters, if you need to design something, Canva can help. If you aren't a pro, Canva houses pre-made templates in each of its categories, so you never have to start from scratch.
RELATED: 5 photo apps that make your pics better without any Photoshop skills
Canva offers two plans: a free version that packs a ton of templates and options, and its pro version will cost you $12.99 a month or $119.99 per year. Both offer tons of features, but you can only access a few with the pro plan.
Upgrading to pro is best for individuals who need more creative freedom and tools when designing projects or greater access to stock photos. While the free version has many stock photos and videos to choose from, the premium option offers thousands more.
Canva can be used on Windows, Mac, iOS and Android devices. You can download the app for iOS devices here. Or get it for Android here.
We've compiled some of the top features of Canva that will help you create projects you'd never dream of without a graphic designer. Some features are available in the free version, and others require an upgrade.
Create stunning layouts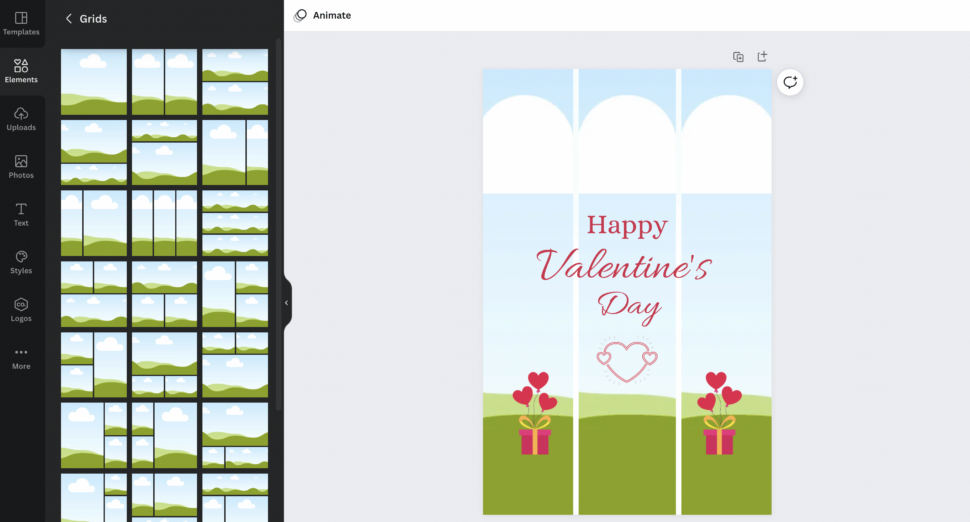 With so many elements and options, you might be terrified to begin a project. A great way to create an appealing layout is by using templates. This feature can be found here.
It provides dozens of options to group photos and designs in a prearranged way without doing the cutting and positioning yourself. Simply pick a template you like, apply it, and drop in your images and designs.
Pick fonts with high contrast
Picking a font matters more than you may think. Fonts give your project life and character, just like colors and elements do. An excellent choice to make a design pop is to choose two fonts that contrast each other. The rule of thumb here is not to pick two fonts from the same class and avoid using more than two fonts in one project.
More than two will make graphics look cluttered or busy, while choosing two fonts that contrast and complement each other will make your design pop.
Group elements
When you start playing with multiple elements in one design, things can get confusing. Canva takes this confusion out and allows you to arrange and group elements in several ways with just a few clicks.
At the top of the toolbar, you can send elements backward and forward based on which position you'd like them to have. Or you can pick the elements you want to control and select Group on the toolbar to group them.
Use the image background remover
A feature only available with Canva pro, the image background remover makes touching up a photo a breeze. With just a few easy steps, you can remove the background of any photo to highlight the portion that matters to your design. Here's how to use it:
Select an image
Click Edit Image at the top of the screen
Choose Background Remover
Don't wait, animate
You can animate pretty much anything in Canva, and there are various choices in how you do so. You can choose to animate a single element of your design or the entire project. You can also animate each element differently or choose from pre-created animations inside Canva.
To animate an element, click on it and click the Animate button at the top of the screen to choose an option.
You may also like: Take better photos with these genius tips