The days of shaky cameras and clumsily edited family videos are a thing of the past. Once tapes were replaced with digital footage, it became easier and easier to make a polished "movie" or presentation. With Apple, you get iMovie on Macs and with Windows, you have Movie Editor Feature to create a memorable project.
You can also go online and download video editing programs that might offer extras you can't get from the ones already installed in your computer. Once your movie is edited or presentation is completed, the missing component is music.
You may want to use a song that is popular on the radio, but you want to avoid any copyright issues. Here is a list of 5 sites where you can download royalty-free music to put that finishing touch on your project.
1. YouTube Audio Library
You want to upload your finished project to YouTube, but you still don't have music. Well, YouTube's Audio Library has a healthy collection of royalty-free songs that you can use and download for free.
These songs are all instrumentals and are from a variety of genres. YouTube lets you filter the songs by mood, genre, instrument, duration and whether the song requires attribution.
On the same screen, there is a second tab where you can download sound effects, such as "aggressive zombie snarls." Why you would need that, I don't know, but hey, it's your project.
At the top of the music and sounds lists, there is a blue bar that you can click on to learn about copyright laws and policies. YouTube gives you a basic tutorial and lets you know it is not at fault if you get busted for using someone else's music without their permission.
So, you might want to re-think using Green Day's "Good Riddance (Time of Your Life)" in your kid's graduation video.
 2. Soundstripe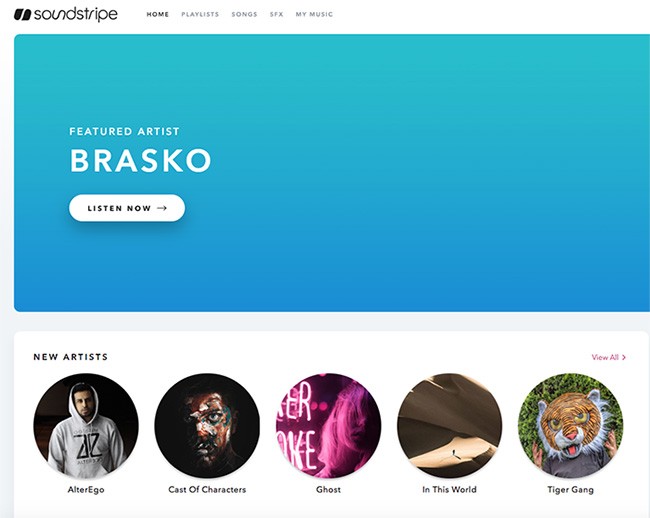 Soundstripe isn't just about royalty free music. It's about connecting people to help you with your project. First, it offers exclusive music from real producers, artists and composers who are carefully selected. It filters music by genre, mood, instruments, duration and more. No synth imitators here.
New songs are uploaded every week, so the list is fresh whenever you go back to find music for another project. And you can also talk to a real live human to help you find the right song, create custom playlists and answer questions.
Membership costs between $11 to $21 a month. Membership covers you to use any music in Soundstripe's library for your video production. Even better, any license you received while a member is valid in perpetuity even if you cancel your membership.
3. CCMixter
The music on CCMixter has more variety, i.e., fewer synthesizers. The way the site works is musicians upload music and users just download the product for free. The music is royalty-free and can be used in personal projects, commercial projects, and video games. You must credit the musicians if the music is used for a commercial or personal project.
Using the tag search function, you can filter music by genre, instrument, and style. You have to register on the site in order to pick whether you want to use a commercial or personal license. All you are asked to do is donate money to the site.
There is another license called TuneTrack, which runs from $22 to $222. What makes this license different is that you can use the music on for-profit projects. Before you buy, read the fine print.
4. Free-Loops
This is a frill-free site, but you can find what you need. Free-Loops offers exactly what it says — loops. The advantage of loops is they can encompass the length of any project or better still, create a mix using other loops.
You can pick from a variety of categories that include vocal, bass and, yes, synth. The free loops are covered under Creative Commons Audio. Again, read the fine print, because, while the music may be free you might have to give credit to the artist.
5. Audionautix
Audionautix is absolutely free, free, free. Although they will nicely ask you to donate. You don't have to register, you don't have to sign up for or buy a license. They're cool like that.
Making the site even better is that it has a variety of genres to choose from and the music isn't just sad synthesizer imitations. You want hard rock, you get hard rock.
Even better, Audionautix is YouTube friendly. That means it has an agreement with YouTube in which the video giant will not silence our pull down your video if the music comes from Audionautix.
There is some fine print — nothing too serious — but you should take the time to read it so you can stay on good footing with this site.
Note: CCMixter and Free Loops are housed on unsecured HTTP sites. But don't fret; we can help out. Here's how you can turn HTTP sites into secure HTTPS sites.