Do not book an airline flight the old-fashioned way. No, we're not talking about driving to your travel agent and spending hours watching him or her try to piece together a vacation for you.
We're talking about staring at your laptop for hours trying to find cheap flights. Just a few years ago, you'd visit airline websites in search of flights and vacation packages.
You know the drill! Then, you'd spend another few hours going to other airline sites to see if you can get a better deal. Then, it's a few more hours checking out the big travel sites like Expedia and Kayak.
Prepare for travel issues
Before you know it, it's impossible to remember where you saw the best deal. Your night is shot and possibly your entire weekend – wasted time and you still don't have a booked trip.
We've been telling you a lot about Google Flights for a reason. It's the best way to start your travel search, hands down.
All you have to do is type your travel destination into Google. You already use Google and you just need to type a general search into your laptop or smartphone, like "flights from Los Angeles to Rome."
You'll see loads of information about trip prices, dates and times. But don't stop there! Keep reading: We've got 5 secret tips to save you lots of money on your next trip by using Google Flights' money-saving features.
1. Price Alerts
Google Flights has an easy-to-use trick to alert you to price changes to your destination. Start by turning on its Track Prices feature. Note the S after Price (see red arrow below.)
You put in all the information about the trip you'd like to take. You'll receive alerts when prices have changed for that trip. Easy, right?
Note: You may be asked to sign up for a Google account if you don't already have one.
2. Let Google tell you the best flights
One of the best things about Google Flights is that it does a lot of the work for you. For instance, it will tell you what it thinks are the best flights.
Google Flights' Best Flights (see below) considers a lot more than just price. It will list out flights, starting with the best deals, based on its criteria: "We chose these itineraries to give you the best trade-off between price, duration, number of stops, and sometimes other factors such as amenities and baggage fees."
3. Be flexible in your travel dates
If you travel a lot for business or you're a seasoned traveler, you know there are a couple of tricks-of-the-trade to save money. One is, if you have more than one nearby airport, be sure to check out all of them.
You'll often find cheaper fares at smaller airlines in small, regional airports. Plus, you might discover that you save money on parking, too.
Two, be flexible on your travel dates. We know! If you're traveling for business and need to be at a conference on a specific day, you may not have much flexibility. The airlines count on that because if you're traveling at peak times to popular locations, you're paying big bucks for that.
However, if you have some flexibility on dates, do not book a flight until you do some research. In the recent past, that was a hassle. But with Google Flights you just use the right and left arrow keys next to the dates to make nearly instant adjustments.
Bonus: Look for Date Tip. It's Google Flights' way of advising you on days when you'll save more money.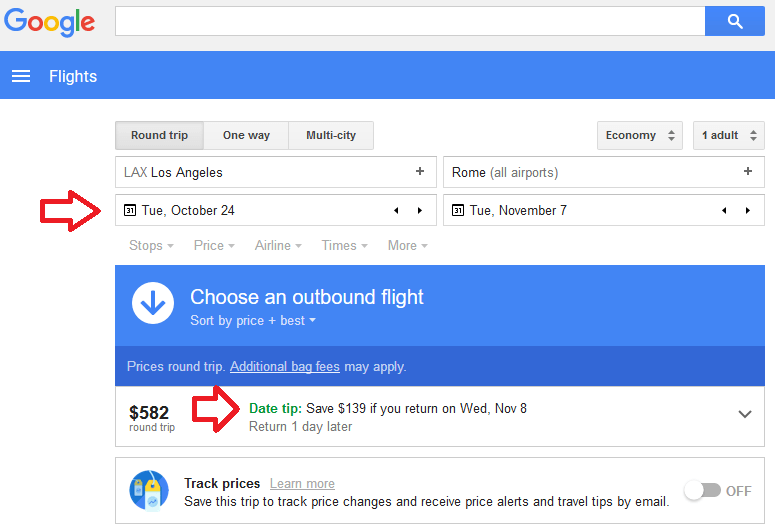 4. Track price trends
Google Flights' Track Price Trends is different than No. 1 above, Track Prices. Trace Price is a way to watch price changes on a specific flight.
You choose your flight. Then, click on Track Price.
5. Know when to buy and the "secret" formula
Have you heard that there's a secret formula to find out if you're paying too much? When it comes to airfares, you never seem to know if you're getting a good deal or a bad one.
But there is a trick to determine just that: Multiply your trip's roundtrip miles by $0.032. Add $230. That'll give you the average airfare for domestic trips, according to Adobe Digital Index.
For international flights, multiply those miles by $0.08 and then add $200. Pretty cool, huh?
7 simple ways to save money online
Don't waste money! We've got insider tricks about saving money online that only the most skilled shoppers know about. You'll be shocked by No. 7!