When you want Netflix, Hulu, YouTube—any of the best streaming sites—all accessible from your TV, Amazon's Fire TV stick is the device for you. The Fire TV stick lets you put the Internet, and all of its best video offerings, right in your living room, and with our handy tips and tricks for using it, you'll never want to part with it. Tap or click here to compare the Fire TV Stick, Fire TV Stick 4k and the Fire TV Cube.
The Fire TV stick comes with all sorts of features you might not be immediately familiar with. Along with the hundreds of apps available to you, and the 500,000 TV episodes and movies to watch, as well as the access to live TV, Amazon's Fire TV stick comes with some technological features that make it one of the best things for streaming, period, let alone one of the best ways to stream on your television.
We've assembled a list of our 5 favorite features and tips for the Fire TV stick below. Read on to see what you can be doing with your device, or to see if this is the device for you. We're confident you'll like what you find!
1. Voice search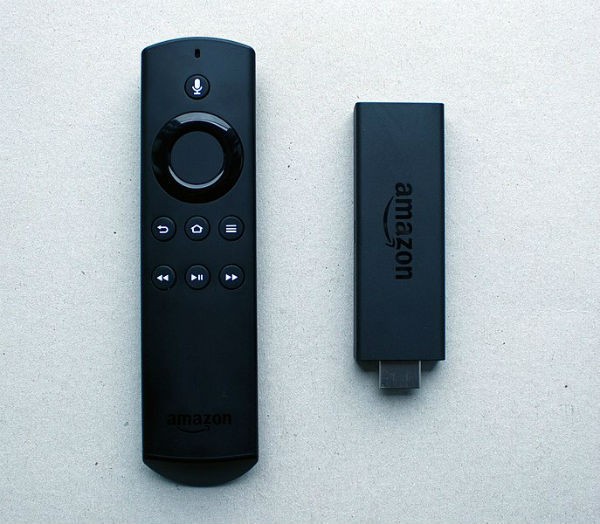 One of the few tough parts of using a streaming device with your TV is typing. Most people don't have a keyboard that's compatible with their TV, so they have to type letter by letter using their remote. That's not the case with the latest Fire TV stick. With the Voice button at the top of the remote, you bring up any show or app you want to watch, just by asking!
With the Voice search function, your Fire TV stick gives you access to Alexa, Amazon's AI that generally exists in their Echo products. Alexa can search your Fire TV for any app you might want, or find a TV show or movie you want to watch within any of those apps, and even find a specific episode or something, or a list of options based off a genre you say aloud.
The Voice functions also let you pause, rewind, fast-forward, or play an episode, all without using your remote. You can even play music through your Fire TV stick, and control it with the Voice function, and get food through it. Yes, using the Voice search, you can put snacks in your Amazon cart, and even order a pizza right from Dominos. Basically, the Voice button alone can give you an amazing movie night—and we're only on the first tip.
Related: Roku vs Amazon Fire TV vs Apple TV vs Chromecast vs the other TV streamer boxes
2. Use Alexa
Don't have the Voice button on your Amazon Fire TV remote, but still want all of those cool Voice button functions? No need to get a whole new Fire TV stick—just connect your Amazon Echo device to your Fire TV!
Just make sure your Alexa app and your Fire TV stick have the latest software updates, and follow the directions here for linking your devices. Once they're linked, you can speak to Alexa and have her search for movies for you, find specific series, control playback while you watch. Alexa can also switch between channels for you when you watch live TV within Fire TV apps, and can open gaming apps you have downloaded too.
Obviously this tip is very tied to the first one, but it's great to know you can upgrade your Fire TV experience with products you already own, and it's just a super handy feature. Plus when you're using an Alexa device instead of a remote, you never have to worry if you lost your remote. You'll always have access to your TV! And if that isn't an incentive for you, you're clearly better at keeping track of your things than most of us.
Related: 7 Alexa commands you should be using right now
3. Turn off targeted advertising
Streaming devices in general let viewers cut down on commercials, but it doesn't eliminate them entirely. For many apps, ad revenue is how they survive, so there's just an amount we all have to tolerate them.
However, Amazon has now made it possible to make this ad viewing a little more private on the Fire TV stick. As of the 5.2.1.1 software update, you can now opt-out of interest-based ads, or ads that are played to you based on what you're watching in different apps. What you watch allows advertisers to form a profile on you to predict what you'd like, which can lead to lots of repeating ads while you stream, and overall make your viewing less private.
For more privacy, make sure your Fire TV stick is updated to the correct software, and turn "Interest-based Ads" in your Settings to "Off." With that gone, your ads will be more random, and there will be less data to mine from you in the world. If you like privacy, this is an excellent option to have in a streaming device.
Related: Opt-out of online targeted advertising networks and companies
4. Set up parental controls
Your Fire TV stick has so many shows and movies available to you and your family—including your little ones, who perhaps need a few more years before they watch something rated R. Thankfully, Amazon allows you to set up parental controls right on your Fire TV stick.
Fire TV parental controls let you make certain apps inaccessible without a PIN that you determine, and they can block movies and TV shows with particular ratings from within Amazon, and a few other streaming services. So if you want to keep rated R or Mature films from playing without supervision, you can make that happen—just follow the instructions for setting that up that here.
If you just want to keep your young ones from spending too much money on film and TV rentals and purchases, parental controls can also make all purchases require a PIN. This PIN can carry over into your kids buying physical items from Amazon as well, so that can save you from some unexpected costs and purchases in the long run.
A note on this feature: Once parental controls are enabled, purchases are automatically PIN protected, and content rated Teen and Mature is automatically blocked. Any of this can be adjusted in the parental control settings, but it's good to know what to expect when you first turn it on—especially if you're trying to watch a show on your own after the little ones are in bed.
Related: Parental control app lets you set healthy boundaries for kids
5. Use your photos as your TV's screen saver
With the Fire TV stick, you can access your Amazon Photos, which you can store in the Amazon cloud as part of your Amazon Prime subscription. To see your photos on your Fire TV the way you see them on your computer, or phone, just go into the Settings for the Amazon Photos app, an app that comes pre-downloaded to your Fire TV stick. Select "Access Amazon Photos," then "Enable Amazon Photos" to see the pictures attached to the Amazon account logged in to your Fire TV stick.
Once these pictures are accessed, you can play them at any time as a slideshow in the Amazon Photos app. This can be great to show off vacation pictures to your friends and family, but you can also have the photos act your screen saver when your Fire TV is on, but not currently in use. Just go to Settings, then "Display & Sounds." Select "Screen Saver," and "Album" to select what series of photos will play when you stop watching for a minute, or have Amazon Music playing through your TV.
You can even set how long the screen saver stops on photos, what the transitions look like, and how long it takes for the screen saver to turn on. And you can shuffle the pictures in the album, so it's never the same twice. This can be a fun feature at parties, or just a way to appreciate your pictures more often—and maybe make you want to take pictures more often.
Bonus: Calibrate your display
The Fire TV stick has so many cool features, we couldn't stop at just five. Another great thing it can do is calibrate your TV's display to make viewing the best that it can be.
Sometimes, you might find you're missing sections of the screen while you watch something. The video might be too wide, or things seem to get lost at the top and bottom. You can use the Fire TV stick's Calibrate Display tool to fix this. You can find the tool in your Settings, under "Display & Sounds." Select "Display," then "Calibrate Display" to start messing around.
There will be four gray arrows on your screen, or at least a few of them. Press the up and down buttons on your Fire TV remote until those gray arrows all appear, and touch the very edges of your screen. That should make anything you play on your Fire TV stick now work perfectly with your screen, with no more automatic scaling.
These calibrations can also be made with voice commands. Just follow the on-screen instructions once you've opened the Calibrate Display tool via talking through your remote or your Alexa device, and you'll be good to go!