We all like to stay connected. We sync up our gadgets and phones. We use smart technology in our places of work, and even in our homes. And guess what? That same connectivity and convenience are quickly becoming a standard feature in our cars too.
In fact, with all their features, functions, sensors and connections, newer smart cars are like big tech gadgets themselves!
Of course, cars have come a long way since the Ford Model T. Bluetooth capabilities, rear-view cameras, navigation systems and zoned temperature controls are just a few of the ways our vehicles have improved in the past few years.
But as usual, better technology means better options. As car technology constantly improves, connected cars are now offering even more exciting features that you won't believe.
If you're in the market for a connected smart car, here are five essential features to consider:
1. Telematics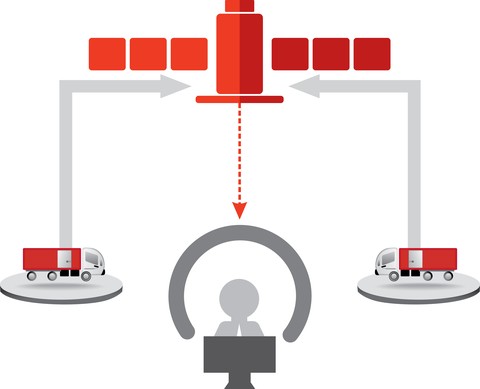 One of the current buzzwords for connected cars is something called telematics.
What is telematics? Simply put, it's a connected system that can monitor your vehicle's behavior remotely.
With the help of a GPS system, computers, sensors, onboard diagnostic systems and telecommunication technology (like the one you use for your cellphone), telematics can collect and send your car's vital data to a centralized management network.
In fact, telematics is already being widely used by various industries like delivery, towing, and public transport to monitor entire fleets of vehicles.
This data may include your car's location, speed, mileage, tire pressure, fuel use, braking, engine/battery status, driver behavior and more.
You might think that this is just another way for car insurance companies and law enforcement to keep tabs on your driving (which can lower your premiums if you drive safely) but telematics has real-world benefits for the average consumer.
With real-time location tracking, your car's dashboard can display pertinent data like live weather conditions, traffic updates and parking lot information.
Telematics can also inform your dealer if your car may be in need of service soon or alert and send your exact location and car diagnostics to roadside assistance companies like AAA if your car ever breaks down.
As with any piece of emerging technology, some may scoff at the thought of an always-connected car but the benefits may far outweigh its perceived disadvantages.
Do you know what else is in the works? Digital license plates! Click here to read more about the perks and drawbacks of this new piece of car gadgetry.
2. Audio Streaming and Apps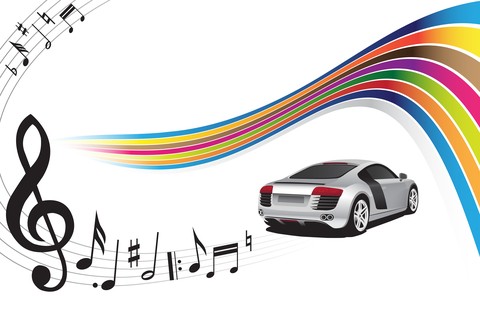 If you're like me, you love streaming music, especially when you're driving home after a long day at work. Sometimes, whether or not you want to admit it, there's nothing like a little car Karaoke session to take the edge off a long commute.
Now that the days of hauling your whole CD collection to the car are virtually gone, you probably have a music streaming service of choice.
Of course, you can simply pair your smartphone via Bluetooth or connect it via its headphone jack (if your smartphone still has one, that is) but navigating an app via its touchscreen is clunky (and dangerous.)
Fortunately, most car infotainment systems have their own dedicated music streaming apps integrated, too. Even better, in-car smartphone syncing systems like Android Auto and Apple CarPlay will display the streaming app's interface on the dashboard itself.
What apps are available? There are the usual suspects like Spotify, Pandora, Google Play, Amazon Music and Apple Music for music streaming, Stitcher and Pocket Casts for podcasts, and Audible for audiobooks on the go.
Keep in mind that you will need an active subscription for most of these apps before you can stream music and content in your car.
3. Hands-free Texting and Calling
Thousands of lives have been lost due to distracted-driving related accidents in the U.S. with the National Highway Traffic Safety Administration (NHTSA) citing 3,477 deaths over the course of a single year in 2015.
Texting while driving is the most dangerous distraction since sending or reading a text takes your eyes off the road for an average of 5 seconds. And at 55 mph, that's like driving the length of an entire football field with your eyes closed.
Even though recent studies show that even hands-free phone use can still be distracting (so it's still wise to avoid it as much as possible), if you do need to make that important phone call while driving, there are plenty of ways to go hands-free.
Newer infotainment systems let you pair up your smartphone via Bluetooth so you can take calls over the car's audio system.
While connected, you can also use your phone's virtual assistant like Android's "OK, Google" or Apple's Siri to read your recent text messages and even shoot a quick reply via voice.
However, it's still much safer to avoid all phone distractions while driving so we recommend that we turn on your phone's "Do Not Disturb while Driving" modes and set up auto-reply text messages instead.
Here are more ways to avoid the temptation of distracted driving.
4. Bluetooth and USB Power Ports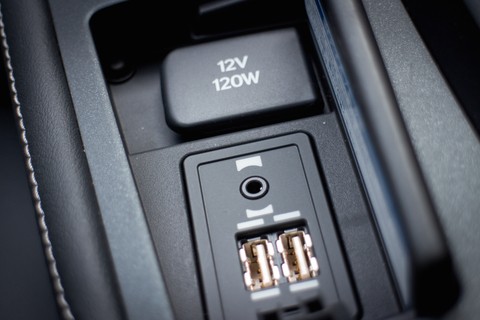 Car technology has evolved rapidly over the years and chances are, if you have a newer model car, you'll at least have some of the modern tech perks available right now.
Take Bluetooth connectivity, for example. We sometimes take it for granted but the convenience of having your smartphone automatically connect to your car's audio system without lifting a finger is definitely something that's a must-have for many people.
Aside from hands-free calling, you can use your car's Bluetooth wireless connection for audio playback, data tethering and infotainment system integration (like Apple Car Play and Android Auto, which we'll tackle next.)
And of course, another essential you should look for are USB Ports for syncing and charging your smartphone and other gadgets on the go. These physical USB connections can also be used in place of Bluetooth connections if you want to conserve your phone's battery life.
5. Apple Car Play or Android Auto
One of the more common innovations found in new vehicles is a touch-screen computer display on the center console. They are "infotainment" systems that can deliver information and entertainment content.
Now, by partnering with tech companies like Google and Apple, your smartphone can link up with your infotainment system via Android Auto or Apple CarPlay.
These two systems are similar. They automatically sync up your smartphone with your car for music, navigation, streaming audio and myriad communications. They have been a hit with consumers, and they will likely become standard features in the coming years.
Apple Carplay
Apple CarPlay is designed to automatically sync with your iPhone so that you can safely use your phone in your car.
Basically, CarPlay allows drivers to use certain apps through an in-dash display, rather than on the phone itself. In fact, the system syncs up to the designated phone without having to remove it from your purse or pocket.
You can get directions, make phone calls, send and receive messages, and listen to music. This allows you to use your iPhone while staying safe and focusing on the road. All you have to do is connect your phone with a USB cable.
CarPlay features Siri voice control and is designed for driving scenarios. It also works with the car's controls, buttons, knobs, touchpad or touchscreen. Apps themselves have also been redesigned for the car, so you can use them while you're driving.
Click here to learn more about Apple CarPlay.
Android Auto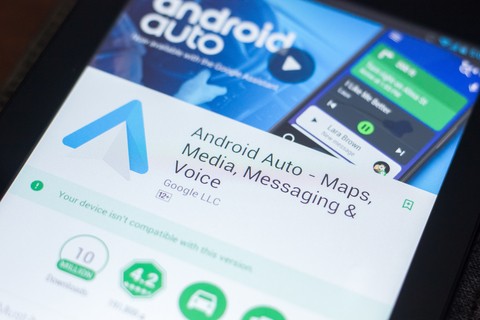 If you have an Android smartphone, version 5.0 or higher, you can transform your car into your phone with an Android Auto compatible system.
Android Auto isn't actually a standalone unit; your car may have come with an Android Auto on its dashboard display screen, or you may have purchased a stereo with a display screen.
You will need the Android Auto app. It's free in the Google Play Store. Similar to Apple CarPlay, you have to link up an Android gadget with a USB cable to make it work.
Once your gadget is plugged in, you can control it via the touch screen, dashboard and steering wheel buttons and voice commands.
The screen displays a driver-friendly version of the Android apps you want to use while driving. Even the GPS on your phone works with Android Auto and you don't have to pay a fee for updated maps.
Android Auto has a simpler, cleaner look than your smartphone. So, instead of scanning dozens of apps for the one you want, there are just a couple of easy-to-see functions on Android Auto screens.
Click here to learn more about Android Auto.
Click here for more must-have gadgets that can give your older car the hi-tech treatment it deserves!