The one piece of technology millions cannot live without these days is their Android phone. With our daily demands, we look to these devices to help us with tasks, store personal data and stay connected with others. Because we regard this piece of technology with such value it is understandable why one becomes distraught when (s)he loses their Android smartphone.
Here's the distressing situation; one minute your device is safely tucked away in your pocket, the next minute it goes M.I.A. and you begin wondering where you could have misplaced or lost it. You also contemplate the worst case scenario; someone stole your Android phone. Regardless of how it was lost, there are a few clever ways to find your device.
Using Android's feature Find My Device you can track your lost phone or tablet. Although Find My Device is automatically enabled when you sign into your Google account on your device, it is suggested you review settings to ensure it is on.
Setting up Find My Device
With the variety of settings on an Android phone, it is easy sometimes to overlook whether specific settings are toggled on or off. To confirm Find My Device is running requires only a few steps.
Open Settings and tap on Lock Screen and Security, this option may be labeled differently, such as Security & Location, depending on the make and model of your device. Scroll to Find My Device option and tap on it. If the feature is set to On you are good, otherwise, toggle to the right to turn it on.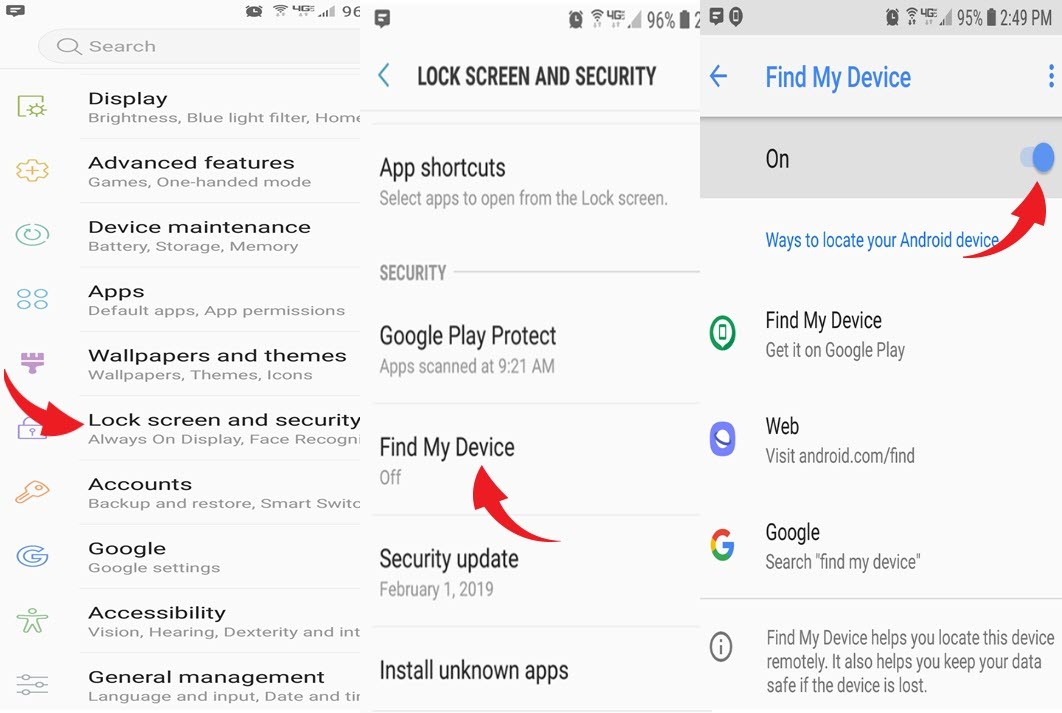 One last step. Open your browser and go to play.google.com/settings. Locate your device on the page and make certain the visibility box next to it is checked. Without this option marked your Android phone will not show in Find My Device.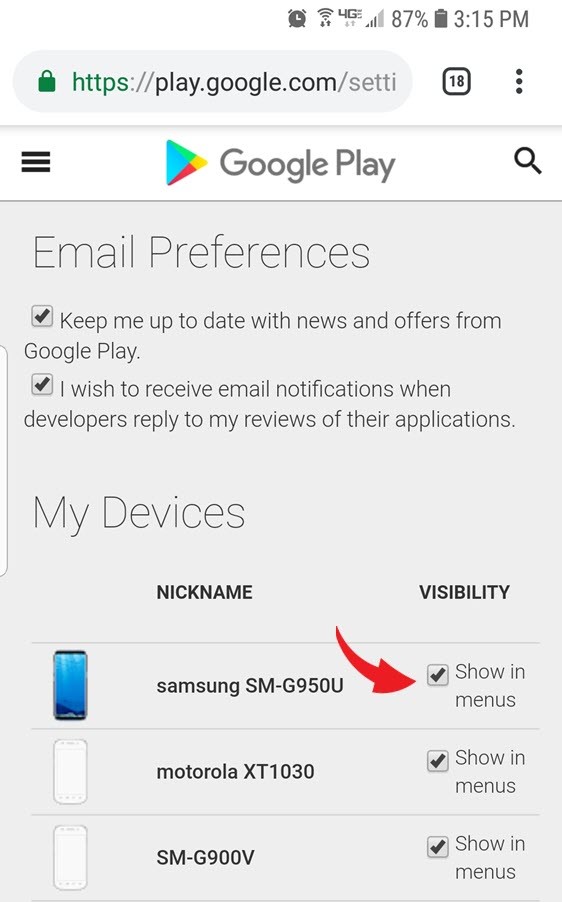 It is necessary that your location setting is turned on for Find My Device to function correctly. Note: If the location is turned off on your device, Google cannot display real-time data on your phone's location.
Finding your lost phone using Android's website
One way to locate your phone is by going to android.com/find, using any browser, and sign into your Google account if you are not logged in. The search engine will disclose the last known location of your device on a map. Google will also display your device's remaining battery life.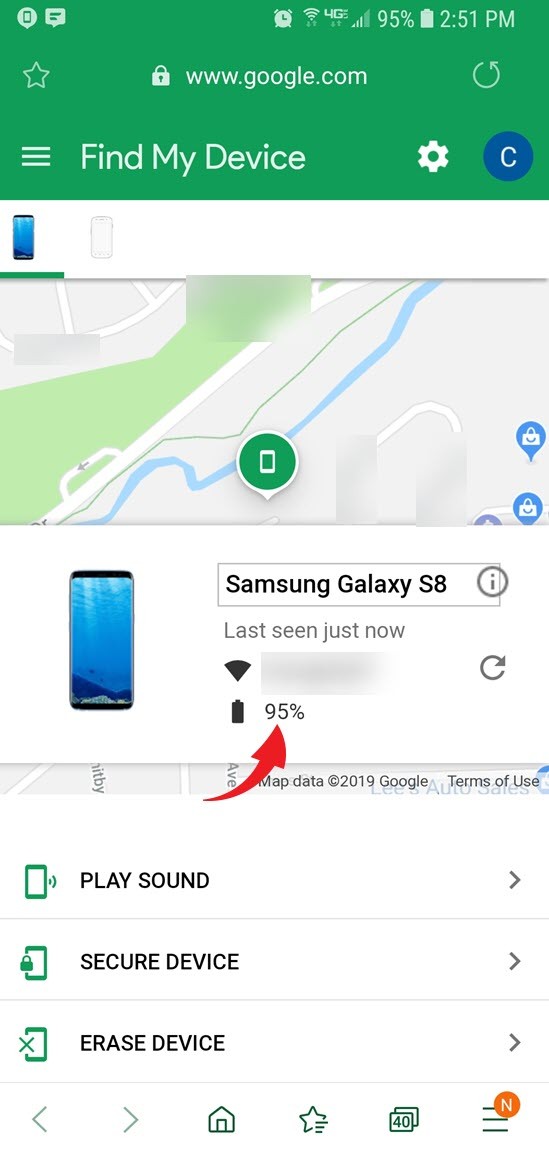 The website will provide you three options to help you find your phone. If you believe your device is somewhere near you select Play Sound. This option will cause your phone to ring for 5 minutes, even if the gadget is set to silent mode.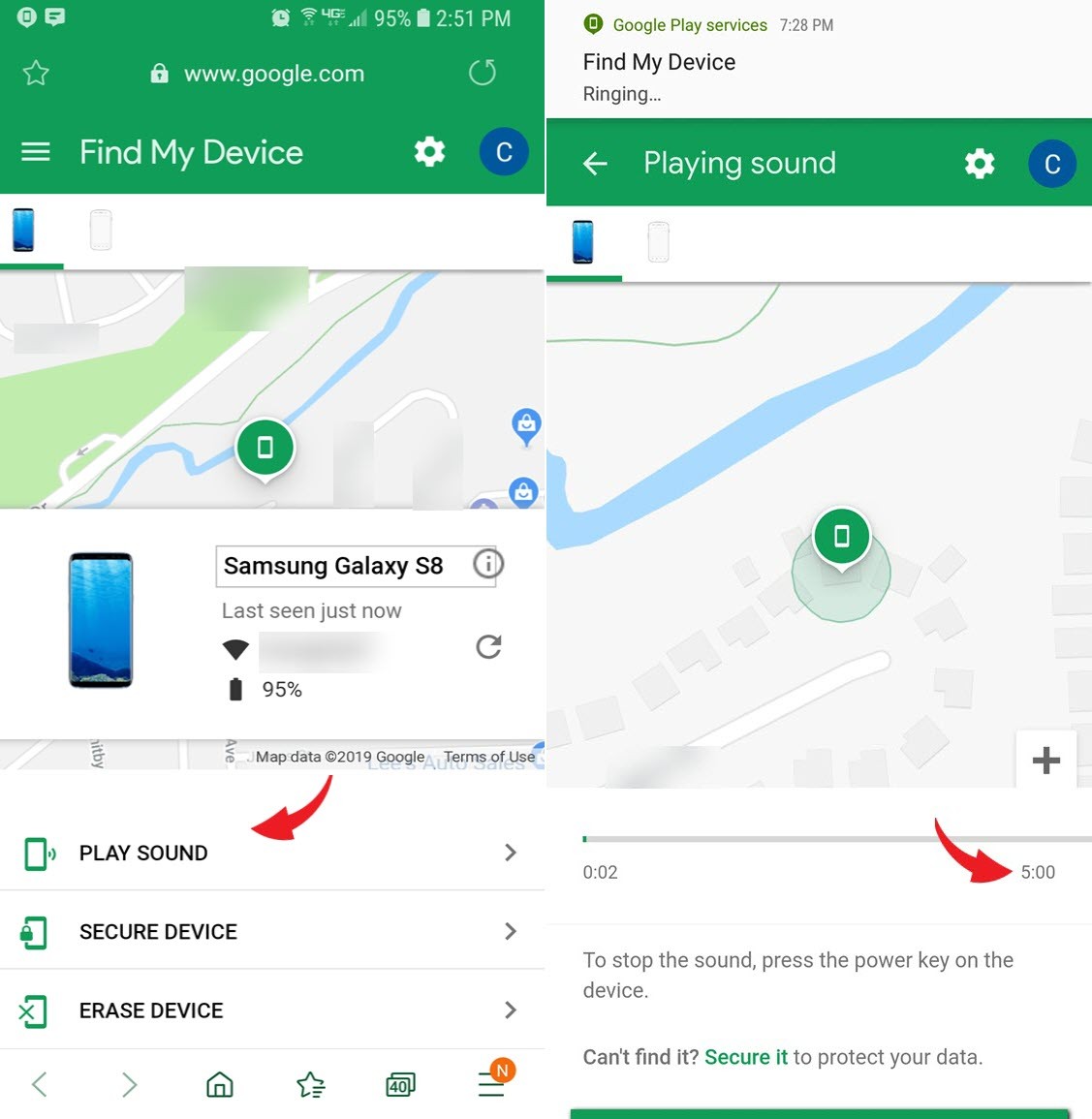 The two remaining options are to help protect your Android. Selecting Secure Device locks your phone and allows you to display an optional recovery message and a contact phone number in case your phone is found.
If you are concerned about someone stealing your Android device and putting your personal information at risk, Erase Device is an option. Be warned, choosing this option will erase all content on your phone. While this prevents anyone from stealing your info, it also prohibits Find My Device from locating the phone.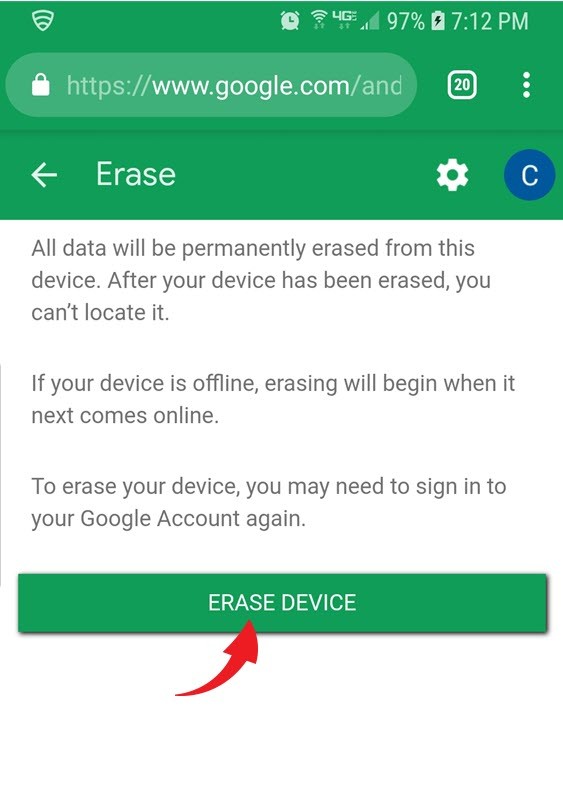 Tracking down your device using Google search
Android's website isn't the only method of locating your device. Here is how you can perform the search using the Google homepage:
Go to google.com and in the search bar type in 'find my device' or 'find my phone.' Google will instantly show you the device's last known location and allow you to ring the phone with a tap of a button.
Another option offered using this approach is to Recover. Selecting Recover will present additional information regarding your Android phone including recent security events.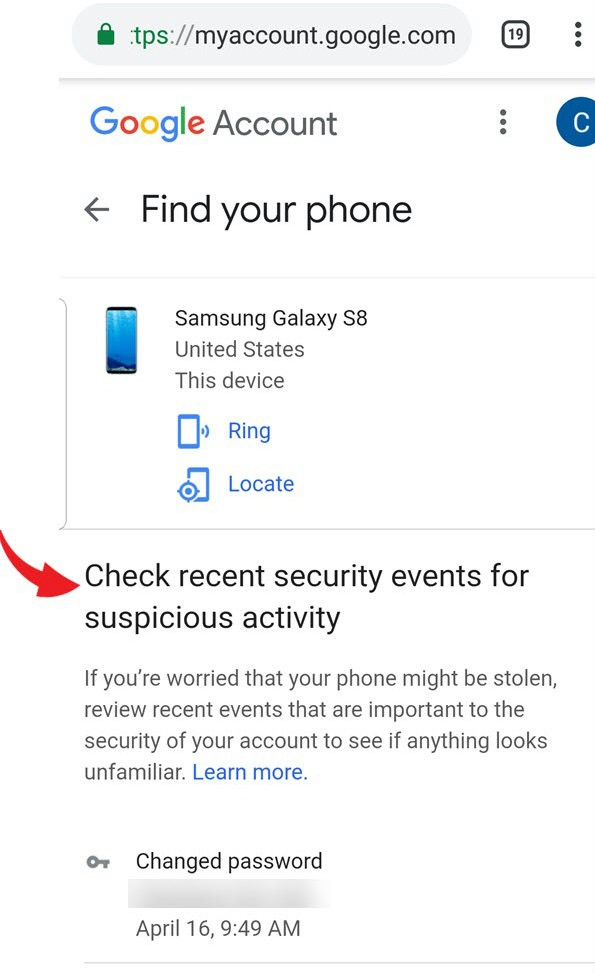 Detecting an Android phone's location using Find My Device app
If you happen to have a secondary device, you may want to search for your lost phone using the Find My Device app. Similar to locating your phone using the Android website, the app will require you to sign into your Google account.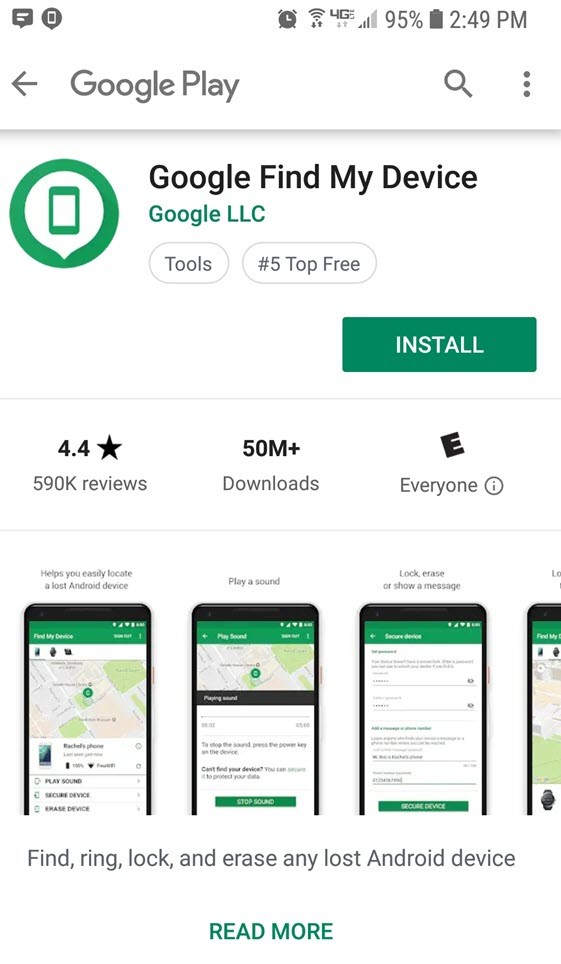 As with the Android site method, the Find My Device app offers the same three options ring, secure or erase the phone.
Tracing your lost device using Google Maps
Think your Android phone was taken? Don't despair. Luckily, Google Maps may be able to help trace your phone. For this feature to work your device must be turned on, have access to Wi-Fi or cellular data and location services must be enabled.
Open Google Maps and sign into your Google account. Click on the menu icon in the upper left corner and select Your Timeline.
Once in your timeline, you can choose the date, month and year to view the location history for the day you lost your device.
Locating an Android phone using Lookout Security & Antivirus app
Using the Lookout Security & Antivirus app is an additional option if you are concerned about your Android device being in the hands of a thief. Once downloaded and installed from the Google Play Store, this app can locate your phone and sound an alarm, even if the device is set to silent mode.
Lookout Security & Antivirus can also send you an email with your device's location, plus a photo of the person who may have stolen it. Its Signal Flare feature will send the email, even after your phone dies. Although these services are included in the free basic account, there is a Lock and Wipe feature available similar to the Google option with a Premium account.
After downloading and installing the Lookout Security & Antivirus app, sign up for a free basic account and sign in. Then, give permission to access your files, location, and phone and you can tap continue.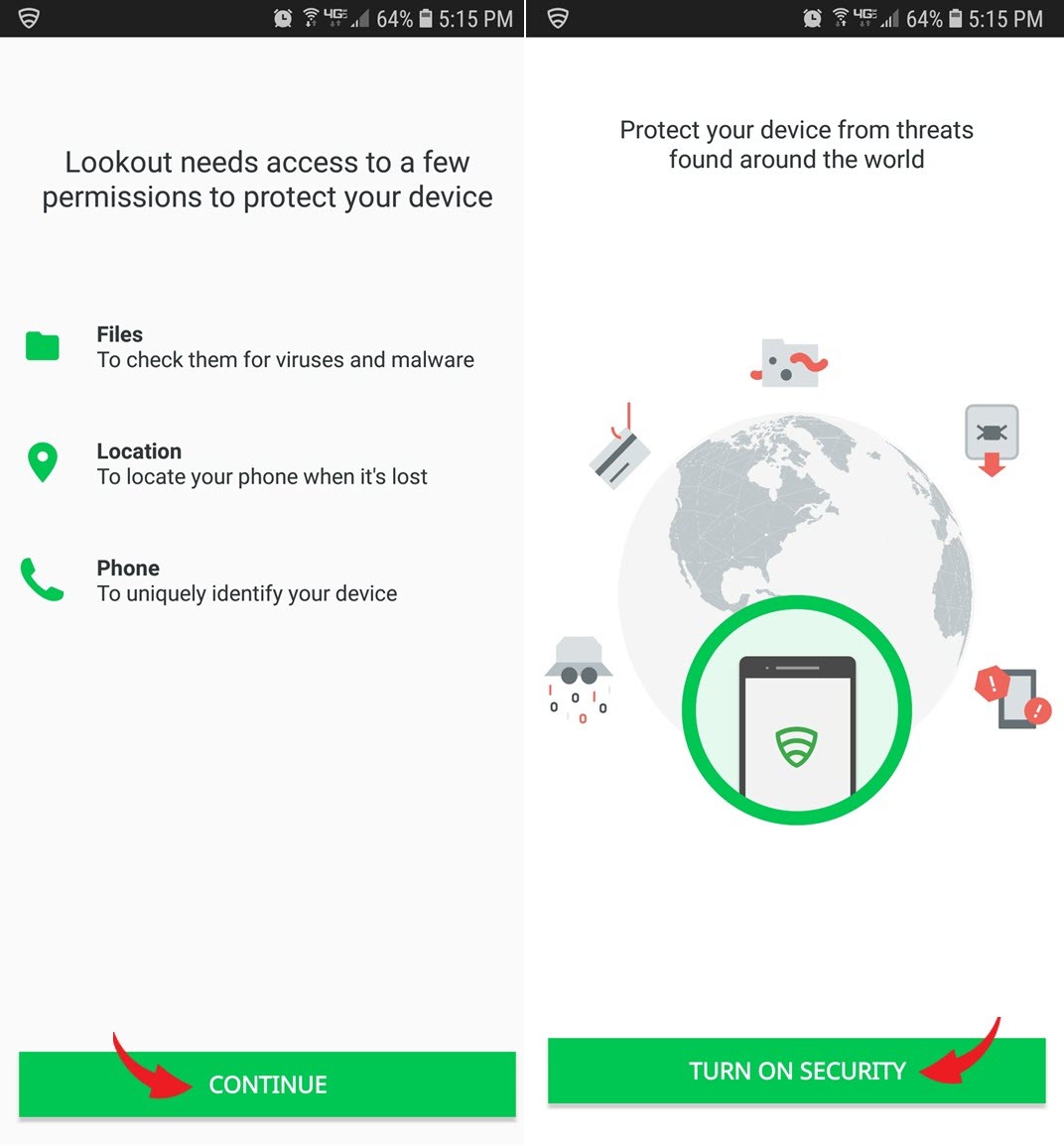 Once in the app, you can turn on Locate and Scream. If your device is ever stolen, you can log in to Lookout.com to locate your device. Allowing the app to run in the background will identify where your device is even when it has been sleeping for long periods.
Remember to confirm your settings are enabled and these features or apps are turned on before you venture out. That way they can help find your phone in the event it is lost or stolen. Never attempt to recover your phone by confronting the thief if it was stolen, notify authorities.