If you're anything like me, you love summer! Why? It's a great time to get away from everyday life.
If you have kids, their long summer break is a good excuse to pack your bags, head to the airport and luxuriate on a white sandy beach with a cocktail in your hand. If you don't have kids, or they're grown, summer is still the very best time to hit the road.
Many companies slow down in the summer. Local customers are on vacation, too. So, the pace of life drops down a notch.
Of course, there's good news and bad news when it comes to traveling. The good news is it's a wonderful way to refresh your mind and body, and reconnect with your family. You can let all the stresses of your life slip away as you dip your toes into the bright-blue water, as you trudge up a mountain or stroll through the streets of an exotic city.
The bad news is, your budget takes a beating. If you've been saving up for your summer vacation, it's gone when you get home. If you're traveling on a whim, you'll come home to a stack of credit card bills.
At Komando.com, we love to travel. But we love FREE stuff even more. So, why not try entering to win a free summer vacation?
Tip: 4 ways to keep your vacation home safe from thieves
Sandals and Beaches giveaway
Sand, sun and beaches! And free meals and free everything else. Now, that's a summer vacation sweepstakes.
The all-inclusive resorts, Sandals and Beaches, are giving away a free, 4-day, 3-night Caribbean vacation to any of their resorts. (As long as the resort has room for more guests.)
Here's the best part. This giveaway includes many benefits like all your meals and drinks. Plus, it pays for a hotel for two people, tips, and activities such as scuba diving. It does NOT include airfare. Enter to win here.
Note: Please read the official rules for all sweepstakes. The Sandals and Beaches giveaway rules are here.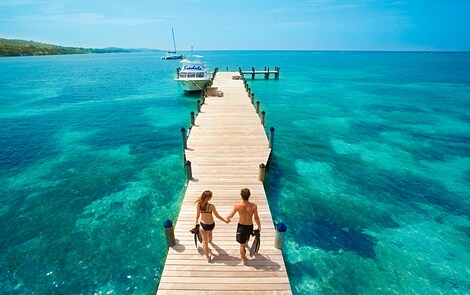 Tip in a tip: Please note that no matter which contest or sweepstakes you're entering, you are usually giving a company your name, email address, phone number and other contact information.
Your Choice: Disney or Universal Resorts
If you love to have fun, or have kids or grandchildren who want to have the time of their lives, you can't beat Orlando, Florida. After all, it's a lot more than a warm-weather, sunny destination. It's home to, and surrounded by the world's most famous theme parks, like Walt Disney World and Universal Studios.
These sweepstakes are for four people. You get round-trip airfare to Orlando. The prize includes two-day tickets to Disney, Universal or SeaWorld Orlando. Plus, you get a rental car for five days and a hotel for five days and four nights.
Sunny Day Giveaway
If your dream vacation isn't easily defined by a single destination, Sunny Day Giveaway from Quicken Loans is for you. Do you want to go on a staycation in a luxury hotel close to home? You can.
Do you want to pack your bags, head to the airport and book the first trip that's available? Do you want to spend a long weekend in Paris? You can.
Whatever your idea is of a great vacation, you can take it for FREE. Actually, the Sunny Day Giveaway grand prize winner will receive a check for $4,000. You can use it as you wish! Plus, a couple of runner-ups will win $250 each.
Enter to win here, read all the contest rules here.
More stories you can't miss:
One critical step before you leave or enter the U.S. with your gadgets
10 apps and gadgets for your European adventure