You know Google. Everyone knows Google. In fact, Google is so popular that "Google" has become synonymous with web searches.

Just how many people use Google for search is a bit of a mystery. According to Internet Live Stats, Google now processes over 40,000 search queries globally every second on the average.
But the number of searches isn't Google's only secret. In fact, Google owns dozens of products and services. You've used many of them, like Google Maps, Earth, the web browser Google Chrome, Gmail and many others.
Still, there are Google products you've never heard of, or used, but you probably should.
Here are 20 Google products and tricks you've probably never heard of, and what they do. You'll love these.
1. Google Keep
Ever wanted to organize your favorite webpages, web quotes, images and video links?
Google Keep is a free note-taking service included with your Google account that lets you save a variety of content like text, images, audio and videos for quick access.
You can then view all your saved notes across your devices via the Google Keep apps for Android or iOS or via its webpage.
2. Google Timer

Here's a nifty trick. Ever needed a quick timer in a pinch?
Google will set a timer for you if you type your desired duration followed by the word "timer" on your search bar. 
An old-school alarm will then sound off when the time is up. 
3. Google Sky
Do you want to explore the remote reaches of the universe from the comforts of your own browser? With Google Sky Maps, you can.
With hi-res images culled straight from NASA satellites, the Hubble Telescope and the Sloan Digital Sky Survey, Google Sky is a space map that shows you detailed images of objects like stars, constellations, galaxies, planets, or the Earth's moon.
4. 

Google Books nGram Viewer
Google Books Ngram Viewer is an interesting tool that lets you graph how much a word or a string of words have been used within the 5.2 million published books between 1500 and 2008.
5. Spell out numbers
If you ever want to see a number completely spelled out, just type its digits on your search bar then add "=english" at the end.
Great for pronunciation practice or learning English.
6. Translate symbols
If you want to translate written symbols or your freehand cursive writing, you can turn on Google Translate's manual "handwriting" feature by clicking that little pencil icon.
It's quite handy for learning Japanese or Chinese characters, too.
7. Google Translate Input Tools
Another useful translation feature is Google Input Tools. With these tools, you can use a special on-screen keyboard to type in over 80 different languages.
8. Free Fonts
Did you know that Google has its very own site for free fonts?
Google Fonts is a collection of free fonts that you can download and use for free. From exotic to edgy fonts, Google has you covered!
9. Google Scholar
Doing extensive research for a paper or a report? With Google Scholar, you can search through academic papers and professional journals for any keyword.
10. Use Explore to discover art and culture
To examine the world's famous artworks in great detail, use Google Art & Culture's Explore tool.
With Explore, you can zoom in on high-definition paintings, tour famous sites and landmarks via Street View and even view 360-degree videos of famous museums.
11. Think with Google
Are you interested in marketing trends? Then you ought to try Think with Google.
Think with Google is a great resource for the latest marketing trends throughout the industry. It has detailed data reports, infographics and relevant articles for all things marketing.
12. Google Trends
Similar to Think for Google, Google Trends is another great resource for people looking for the most popular trends around the world at any given time.
13. Track popular search terms
Better yet, Google Trends will also let you track and graph how any search term does at any point in time.
You can even plot how different search terms have waxed or waned over time.
14. Google Express
Google Express is Google's online shopping service that lets you get same-day or overnight delivery for several categories like groceries, electronics, books, and a lot more.
The service is now available all throughout the continental United States.
15. Identify songs instantly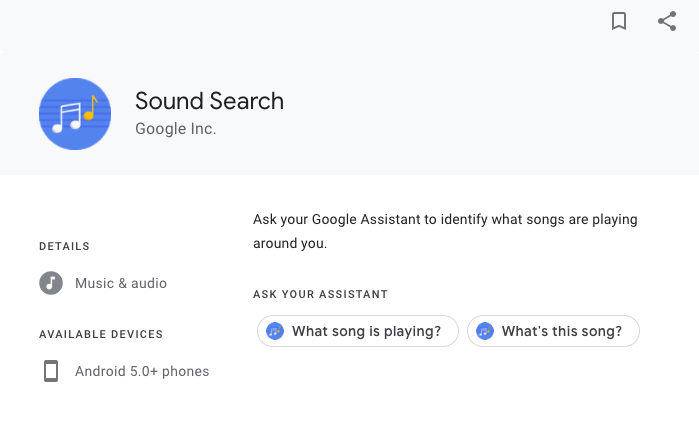 Are you familiar with Shazam, the service that can identify any song it hears?
Well, Google has its own equivalent service called Sound Search. With the help of Google Assistant, you can have it name any song it hears via your gadget's mic.
16. Listen to animal sounds
Have you ever wondered what an anteater or a humpback whale sounds like?
Just search for "animal sounds" or the name of a specific animal and Google's results will include a quick sound clip.
17. Gboard keyboard
To quickly launch a Google search straight from your iPhone's keyboard, try the GBoard app.
GBoard lets you glide through your keys (ala Swype), pull GIFs, emojis and Google search all from within the keyboard.
18. Google One Today
Are you looking for a worthwhile cause? Google's One Today app for iOS and Android makes it easy to find nonprofit charities you can support.
Google One Today has photos, articles and explanations of how your donations actually help.
19. Gmailify
Have you ever wanted to use Gmail's interface and features on non-Gmail accounts like Yahoo or Outlook?
Then Gmailify is for you! With this Google tool, you can now integrate any email into Gmail and use its features like spam protection and inbox organization.
20. Google Project Sunroof
One of the hurdles for the mass adoption of solar energy is its perceived cost.
This is why Google's Project Sunroof can be a big boost to the solar panel industry by providing tools that can calculate the money you'd save by installing solar panels (based on your location.)
Try it out and see if solar energy is something you can invest in.
Bonus: Google Clips
Do you want a tiny clever camera you can carry around? The newly launched Google Clips camera is a small smart camera that uses artificial intelligence to automatically capture short clips and photos of your family.