We're going all out with this list of the most exotic vacation home rentals we could find on VRBO (Vacation Rentals By Owner).
Our list covers four continents, 12 countries and even includes a schooner (that's a boat).
Suspend reality for a moment and put aside the usual "How much can I afford?" Instead, change it to "Let's see how much we can spend." So here's a look at some of the most exotic and expensive vacation rentals available on VRBO.
1. Gated estate on 11 acres
Want to keep it domestic? Check out the massive Hacienda in Monterey, California. From the VRBO description:
"Situated on a hilltop of 11 acres overlooking Carmel and Pebble Beach, the 6,500 square-foot palatial home is surrounded by terraced gardens and patios, studded with antiquities from exotic places. Here is a bit of paradise on Jack's Peak that is one mile from Highway One and the gate to Pebble Beach, or a mere five-minute drive to Carmel and Monterey."
Bonus: 7 best beaches in the world
If you're looking to book it, it's average is $1,133 a night. Take a look at the listing by clicking or tapping here.
2. Luxury Mexican estate with secluded beach
Now let's head south but keep it on the continent. Go big or go home with this 28,000 square-foot villa called Casa En Las Rocas, in Troncones, Mexico, a seaside fishing village. The seven-bedroom villa is on a semi-private 40-meter beach and has an infinity pool with its own beaches for stunning views of the Pacific Ocean.
It's got space for you and about 20 of your friends. The average nightly rate is $1,289 and the full listing can be found by clicking or tapping here.
3. Island home in New Zealand
Check out the Fossil Cove luxury estate on Waiheke Island, Auckland, New Zealand. From the listing:
"Fossil Cove exudes elegance in a peaceful Waiheke Island setting. This luxurious home features sophisticated tribal interiors set within an amazing coastal headland of 12 acres, has access to its own private beach, native forest, manicured gardens, helipad and 17 meter (50 foot) heated infinity pool."
Yep, it's got its own helipad so you can arrive in style. And you can even gaze upon an extinct volcano from the home, but those views don't come cheap. You're looking at a $4,437 average per night. Click or tap here for the listing.
4. A mountain view chalet
Now let's head to Alberta, Canada. The Silvertip All Peaks Lodge is west of Calgary and offers endless mountain peak views.
"This spectacular architecturally crafted lodge's use of natural woods and beautiful stonework honours [sic] alpine and modern influences that blend seamlessly into the natural landscape and woodlands of the Silvertip Resort area."
You get a dedicated concierge service, and this rental averages about $1,580 a night. Check it out here.
5. The Shanti Residence
Villas seem to be where it's at on VRBO's site, and this one in Bali, Indonesia, is also impressive. If you're looking for luxury, this 16,000 square-foot rental has seven bedrooms and sleeps up to 21 people. And you'll get a 24-hour personalized butler during your stay.
The Shanti Residence averages about $6,000 per night. For more information, click or tap here.
6. Secluded and hundreds of years old
How about a secluded villa in Italy? And this one is really old. From the listing:
"Villa Graziella is found close to the town of Monterosso in Liguria on 'The Italian Riviera.' The secluded villa, which dates back to the thirteenth century, is located on a hill overlooking vineyards and orchards with a spectacular view of the hills, the town and the sea beyond.
"Villa Graziella began as a monastery attached to a church and may have been a reconstruction of an even older building on the site. It has been renovated many times over the centuries and its history is evident in the graceful vaulted ceilings, thick walls, deep set arched windows and covered courtyard."
Need they say more? This one averages $2,322 a night. See the listing and some of the stunning photos by clicking or tapping here.
7. Beachfront home in the Bahamas
This is an exotic beachfront home in the Bahamas, on Windermere Island in Eleuthera. Here's more from the listing:
"Built almost entirely from rich Bankirai wood imported from Bali, Indonesia, this exotic resort-like vacation destination will make you feel like you are on the other side of the world. Enjoy complete privacy as you sit and relax on the many decks and verandas overlooking the turquoise waters of the Atlantic Ocean or stretch out next to the sparkling indigo blue waters of the swimming pool surrounded by lush, tropical and well manicured gardens."
The 5,000 square-foot estate sleeps 10 and averages $1,679 a night. For details and booking info, click or tap here.
8. A Scandinavian-style villa at a high price
It's a beautiful seven-bedroom villa in Spain, but one that'll cost you. Listing details:
"This once-traditional, now luxuriously contemporary villa has been given a completely new lease on life by its Norwegian owners. Now, the aptly named Villa Anja glows with Scandinavian charm and sun-kissed Spanish hospitality – with a welcoming style that feels both modern and refined, and yet casual and relaxed."
This one averages $14,663 a night. Yowza. Read more here.
9. An even more expensive home back in the U.S.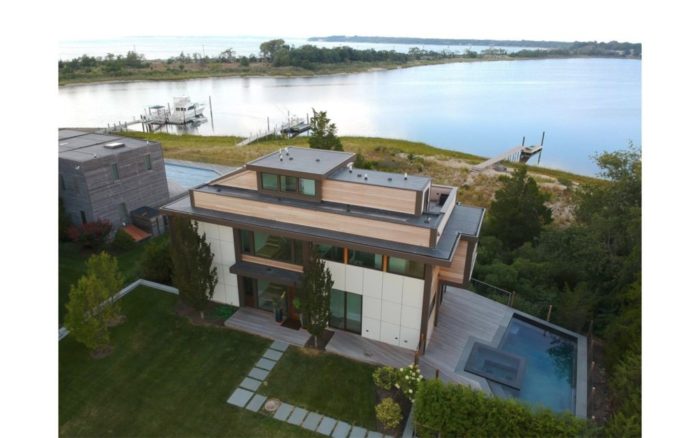 Up on Long Island in New York, you can find this yet-to-be-rented house in Sag Harbor. According to the listing, just about everything in the home can be controlled by your smartphone.
But how about this price tag? It's listed on VRBO for $15,000 a night.
10. A luxury villa in Barbados
Let's get that nightly price even higher and head to Barbados. Each of these private apartments range in size from 8,000 to 9,000 square feet with lots of perks. From the listing:
"Imagine luxury villa accommodation where no detail has been overlooked and no expense spared in delivering the absolute finest in every aspect; where the sophistication of French classical architecture and authentic Italian marble intermingle with distinctive Caribbean flair, and discreet, attentive concierge staff attends to your every request. Now, imagine all of this elegance set on one of Barbados' most picturesque bays, a short stroll from the legendary Sandy Lane Hotel. This is One Sandy Lane – opulent, masterfully designed and an absolute must for the discerning traveler seeking an unforgettable bespoke holiday experience in Barbados."
Sure sounds nice, but at an average of $20,000 a night … ouch! Here's the listing.
11. Rooms with a view
Check out this villa in Thailand, with a master bedroom commanding a 300-degree view of the sea. Listing details:
"With its gifts of sight, light, smell and sound, the villa overlooks the Western Peninsula commanding dramatic sunsets and spectacular breathtaking views of the surrounding islands and aquamarine Andaman Sea."
It's cheaper than $20,000 a night for sure, but still pretty pricey at an average of $6,729 per night. See the listing and photos here.
12. Italian-style architecture in the British Virgin Islands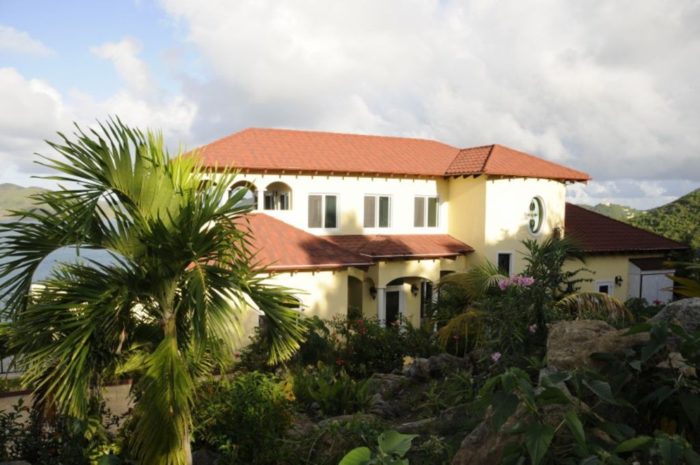 We're taking the price way, way down with this listing: a 5,000 square-foot estate in the British Virgin Islands with panoramic views of the Caribbean. This one's also got an infinity pool along with a gazebo and multiple porches, both open and covered.
And this one averages only $843 a night. Check out the listing details by tapping or clicking here.
13. Luxury in the Rockies
This luxury property in Aspen seems to have it all: indoor swimming pool and jacuzzi, tennis court, movie theater, gym, five fireplaces (well it does get cold out there) and beautiful mountain views.
It sleeps 16-18, but averages $8,107 a night. Click or tap here for more.
14. Elegance in the Cayman Islands
The listing for this one says it all:
"Luxury Cayman Villas proudly presents 'Kaia Kamina,' located in the resort community of Cayman Kai, near Rum Point, on Cayman's North Shore. Offering the most exclusive collection of private, family-friendly, oceanfront villas in Grand Cayman, we carefully outfit each residence with our 'LCV Signature Amenities' to meet the needs of the most discerning travelers.
"Majestically sitting on a private stretch of powder-white sand, Kaia Kamina represents the absolute best in modern British West Indies style, seamlessly blending modern luxury with old world charm. Rivaling even the most luxurious boutique beach hotels, this impeccably designed villa spans more than 10,000 square feet and is outfitted to the highest standards."
This estate averages $3,276 a night. Check out the photos and other info here.
15. Just stay on the boat
If you think staying on land is cliche, just rent a big schooner in Burma. Here's more:
"Take a step back in time when you come aboard the 99-foot Schooner Dallinghoo a full keel top sail gaff rigged schooner, combining the classic design and romance of a tall ship, with all the comforts of a modern yacht.
Sailing the tropical spice routes of South East Asia. Discovering islands and anchorage for yourself, dive into clear warm water and stroll along deserted beaches. Enjoy gourmet food and cool drinks while watching the sunset over the distant horizon.
You can be a part of the crew on this sailing schooner. Help hoist and trim the sails, take the helm and guide Schooner Dallinghoo as she silently glides through the water, or simply sit back, relax, and enjoy the sail."
Sounds good to me. This unique rental averages $3,664 a night. See the listing details here.
I don't know about you, but I'm ready for a vacation after seeing these listings. But we've got one more …
Did you know Kim has a rental property in Hawaii? Well you do now.
Kim's 'Maui Polo Beach Retreat'
That's right, Kim has a completely remodeled beachfront condo in Wailea, Hawaii, available for rent through VRBO. A few more details:
"Located right on the beach so you sleep to the sounds of waves along with unobstructed views, it is one of the top three premier condos available for rent at Polo Beach with new high-end furnishings, new mattresses, new appliances, new carpet, new tile, central air, and free, fast Wi-Fi.
"Relax and enjoy the splendor in a luxurious condominium that sits directly right on the beautiful beach in Wailea's exclusive Polo Beach Club. No long walks to the beach or pool; it's literally steps as you are beachfront.
"Your island home offers spacious, well-appointed, contemporary living quarters with breathtaking views, ocean breezes and sounds, framed by gorgeous manicured Hawaiian mature landscaping."
Ready to book? Kim's condo averages $840 a night. Click or tap here for all the details!