In a short span of time, our iPhones have gone from a "cool, must-have gadget" to an essential part of our lives. And since we use them every day, it's no surprise that our iPhone's memory tends to fill up rather quickly. Every photo you receive, music track you download, or website you visit leaves behind data on your phone, so if you're not paying attention, your capacity might even fill without your knowledge.
But not everyone checks their memory on a daily basis, so it usually comes as a shock when we're taking a photo and find ourselves face to face with the dreaded "Storage Almost Full" message. With so much data being swapped back and forth between devices, how is anyone supposed to reasonably keep their iPhone's memory free and clear?
Well, believe it or not, Apple provides several built-in tools and methods for iPhone users to clean up their devices and reclaim the space they desperately need. If you're ready to do some digital housekeeping, here are our top 12 picks for clearing up your iPhone's memory space.
1. Clean up text message threads to remove excess photos and videos
When it comes to your iPhone, large files naturally take up the most space. And few files on your device are going to be larger than media files like photos and videos. You already know about the ones in your albums, but a common place that people miss is text message attachments.
Any time someone sends you a message with a photo or video attached, that file gets saved to your memory. So if you no longer need that meme your friend sent you, deleting it and other photos is a great place to start.
To delete attachments, simply open a text message thread and tap your contact's name at the top of the screen. In the dropdown menu that appears, tap info. On the next screen, you'll see every photo and video you two have sent to one another.
To remove the ones you no longer need, simply hold your finger on top of an image until a window appears and tap More. You'll then be able to pick and choose the items you want to delete. That way, you can keep anything you don't want to part with just yet.
2. Automatically purge old text messages you no longer need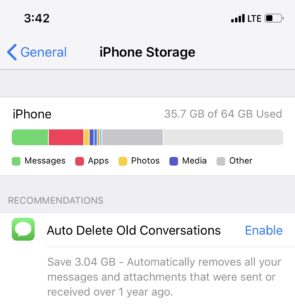 In recent versions of iOS, Apple has been giving users more ways to control the space they use on their phones. As we mentioned above, text messages and their attachments can fill up a large amount of space over time, but thanks to iOS, you can set your phone to automatically purge old message threads that haven't been interacted with in a while.
To access this setting, open the Settings app, select General, and then iPhone Storage. Then, select Auto Delete Old Conversations. By default, your iPhone will purge conversations that are more than one year old, but you can adjust the settings up to 30 days. To make the change, go to Settings, then Messages, and select Keep Messages.
3. Turn off Photo Stream to make sure you're not getting any excess media
Photo Stream is a handy feature that keeps every photo library on every Apple device you own synchronized between one another. Unfortunately, that means that each of your devices will get extra photos that weren't present originally. Unless you absolutely need all your photos in sync, this setting is probably not for you.
To disable Photo Stream, go to Settings, then Photos, and turn off Upload to My Photo Stream. Make sure to turn this off on your other Apple devices as well for maximum space.
4. Stop your camera from making duplicates in HDR mode
HDR is a wonderful feature that uses multiple exposures to capture more brilliant color on your iPhone photos. What it also does, however, is create duplicates of the original image you took by default. This can easily clog up your photo albums in no time.
To disable HDR duplicates, go to Settings, then Camera and disable Keep Normal Photo. That way, you're able to keep the brilliant, deep color photos you love without compromising your memory.
5. Check for extra PDFs or e-books you're no longer reading in the Books app
Just like with receiving image attachments in text messages, documents you receive and view tend to download to your phone as well. In the case of PDF documents, their default viewing application is actually the Books app. A good deal of space can be taken up by these excess files — and that's not even including e-books you may have finished reading.
Related: One of my most popular eBooks: 'How to Get Free HDTV and Cut the Cable'
Luckily, it's easy to remove books and documents from the Books app. Simply open the Books app and select Library the bottom menu. If you want to delete an item, tap the 3 dot icon and select Remove to discard it. (Note: The Books app was preinstalled on your iPhone. If you can't find it you may have deleted it.)
6. Check your "iPhone Storage" to see which apps are hogging the most space
The best way to get an idea of what's taking up space on your device is to check the iPhone Storage section of the Settings app. After loading for a minute, this handy menu can break down which apps are taking up the most data so you can delete them — as well as what data is taking up the most storage on your phone.
To see this menu, all you need to do is open Settings, then General, and finally iPhone Storage. This way, you can plan your strategy of deletion more efficiently.
7. Remove pre-installed apps you never use
Speaking of deleted apps, there's a couple of pre-loaded programs that Apple includes with every phone that might not be seeing much use. We're talking about classics like Compass, Home, Measure, and Stocks, for example.
But since iOS 10, Apple has given users the ability to remove default programs. Simply hold your finger on top of the app, hit the X icon, and you're done. And just like other apps, you can download them again from the App Store if you need them.
8. Delete photos and videos you no longer need (after you back them up, of course)
This is the most commonly recommended method of clearing up space on your phone, but it absolutely rings true. As we mentioned above, media files take up the lion's share of space on your phone, so purging the files you don't need is a great way to keep things streamlined.
Just make sure that you've backed up your photos before mass deleting anything. Accidentally losing a precious memory is not a pleasant feeling. Thankfully, even if you've disabled iCloud Photo Albums or Photo Stream, any iCloud backups you make will still contain the photos you have, so don't hesitate to set that up before proceeding.
9. Delete Notes and attachments you no longer need
This is one of the other oft-ignored areas that excess files might be lurking. Recent versions of iOS have allowed users to attach photos and other media to notes, so deleting any larger entries can add some megabytes to your free space in a second.
To delete notes, all you need to do is swipe left on the entry and hit Delete. If you want to keep a note but just want to remove the attachment, open the note, tap the screen in front of the media attachment (you'll see a golden line to the item's right), and tap the delete key. The image will be removed, but your note will be safe.
10. Enable this setting to purge unused apps (and free up space in the future)
Now that you've taken the data you no longer need into account, you can start activating settings to set your phone up for success. One of the best examples is found right back in the iPhone Storage menu we mentioned above: "Offload Unused Apps."
When activated, this setting automatically deletes applications that aren't frequently used. It also keeps relevant personal data saved to your phone, so if you re-download the deleted app at a later time, you can pick up right where you left off without issue.
11. Change this camera setting so your video files aren't as large
Since videos take up more room than most other files on your device, why not reign in how much space they can grow in the first place? This can be accomplished by manually setting the resolution of the videos you record so they save at a smaller size from the get-go.
To adjust this setting, go to Settings, then Camera, and tap Record Video. From here, you can reduce the quality and frame rate to suit the needs of your phone's memory.
12. Get rid of excess operating system data by updating to the latest iOS
Of course, what storage solution guide would this be if we didn't make a mention of updating your operating system. Despite popular belief, updating iOS to the latest edition installs a clean version of the software on your device — clearing any unnecessary files along with it.
To access software updates, open Settings, General and finally Software Update. If there's an update available, you'll be able to download it from this page.
If there isn't an update available, you can always install via iTunes using your charging cable and a computer. Just make sure you've taken the time to back up first before proceeding. Click or tap to see our guide for updating your iPhone.
It can sometimes be hard to let go of our personal files, but once you free up the extra space on your device, you'll be surprised at how much more you can do with your phone. What will you use your new storage space for?