Smart home devices are fundamentally changing the way we live our lives, turning our homes into tech wonderlands.
With connected appliances, the dream of controlling every single aspect of our homes with a virtual butler is fast becoming reality.
Aside from the usual suspects – smart TVs, smart bulbs, smart speakers, smart thermostats, smart door locks, etc., did you know that there's a whole army of smart appliances out there, waiting to go "Maximum Overdrive" in your home?
Turning your house into a smart home is exciting but be careful! Listen to my Komando On Demand podcast to learn how to watch for the warning signs so technology doesn't take over your home.
You'll be surprised by how many appliances are getting "smartified" nowadays. They may be wacky, weird or unnecessary, but some actually do make sense.
Here are 11 smart home devices that you didn't know existed (but you'll be glad that they do.)
1. Smart Toilet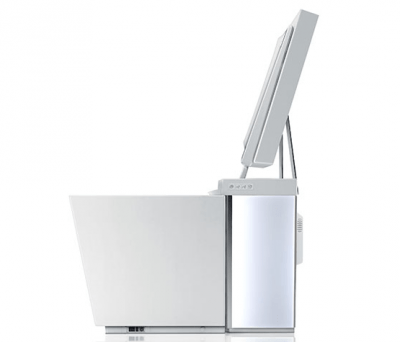 Do your business in style with this smart toilet! The Numi from Kohler is a whirlpool of technology and it's flushed with comforts you didn't even know you needed. It has a motion-activated cover and heated seat, a retractable multi-function bidet, an air dryer and deodorizer, a foot warmer, fancy lights and Bluetooth speakers!
For ultimate toilet control, you even get a dockable touch-screen remote so you can totally flush it from afar. The price tag for this ridiculously lavish lavatory? Around $6,500.
2. Smart Pet Food Dispenser
Our pets are part of the family and they need not miss out on the smart appliance revolution. The PetSafe high-tech pet feeder will make them feel right at (smart) home.
This Wi-Fi connected pet feeder can be controlled with its own iPhone and Android app so you can feed your furry companion from anywhere. You can set meal schedules and slow dispense times to prevent bloating and vomiting. It will even notify you when your pet's food has been dispensed.
The PetSafe Smart Feed is $179 but that sounds reasonable for your peace of mind, don't you think?
3. Smart Bed
Having a perfect night's sleep is vital to overall health and people have been using smart wearables like Fitbit to track nightly sleeping patterns. But what if your bed does that itself?
Sleep Number's 360 smart mattresses can track your nightly sleeping patterns, make adjustments to their firmness and can even adjust their temperatures.
It's not going to be cheap to make your bed smarter. These smart beds start at around $3,200.
4. Smart Egg Tray
Now here's a smart product that you don't think you'd need but it actually makes sense, in theory.
The Quirky Egg Minder is a smart egg tray that will tell you how many eggs you have at home and when it's time to throw them away. LED lights on the tray will tell you which one is the oldest egg and, with its smartphone app, will alert you if you're running low.
Ever been to the grocery store wondering how many eggs you have left at home? Well, with Quirky Egg Minder, you can just check remotely with your smartphone!
This eggs-ellent (sorry) idea can be yours for as low as $14 right now. Not a bad price to shell out (sorry, again) for if you're looking for extra kitchen smarts.
5. Smart Toothbrush
If you think brushing your teeth optimally is hard enough then you deserve this $180 smart toothbrush from Oral-B.
The Oral-B Genius Pro 8000 smart toothbrush connects to your smartphone via Bluetooth and uses facial recognition to track where you've brushed so you don't miss a spot.
The app will also provide real-time visual coaching on brushing time and pressure. It is so smart, pressure sensors will even automatically slow down its brush speed to protect you from excessive brushing. It's like having a dentist in your bathroom!
6. Smart Fork
Let's face it, the smart toothbrush will go great with a smart fork because, you know, we need all the tech help we can get for life's basic necessities.
If the smart toothbrush can alert you if you're brushing too hard, this smart fork will warn you if you're eating too fast.
The logic behind the HapiFork is sound – if you want to eat healthier, you need to slow down your eating pace. And this uber-utensil can help you do it how? By buzzing when you're biting more than you can chew.
It connects via Bluetooth to your smartphone and with an app, you can see your eating statistics unfold in front of you in real-time. You can then upload this data to Hapi.com and have everyone judge your table manners.
7. Smart Frying Pan
Why would anyone buy a $229 smart frying pan? Well, because they can!
The SmartyPans frying pan is an interactive frying pan that has built-in sensors that track the weight of the ingredients as you drop them on the pan.
It also has built-in temperature sensors that ensure you have the perfect level of heat each time you cook the eggs you got from your smart egg tray.
With the SmartyPans app, you can follow step-by-step cooking instructions, create and share your own step-by-step recipes and even track the nutritional value of what you're cooking. Who wouldn't want that for $229?
8. Smart Toaster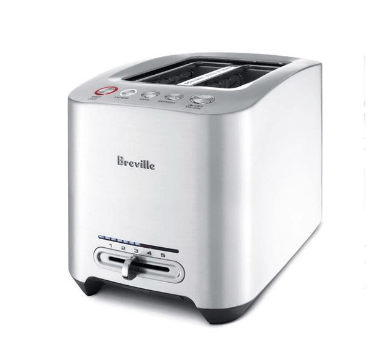 Do you quietly judge your old traditional bread toaster and think that it's so dumb it can't even make perfect toast every time?
Now, you can toss that old clunker out and get the Breville Die-Cast 2-Slice Smart Toaster instead.
With its 1-touch automation, the Breville smart toaster will lower your bread automatically with delicate care, regulate the toasting time and a fancy LED panel will inform you about the current toasting cycle.
For extra entertainment, with its Lift and Look function, you can also check your toast while it's cooking without interrupting the toasting cycle.
9. Smart Water Pitcher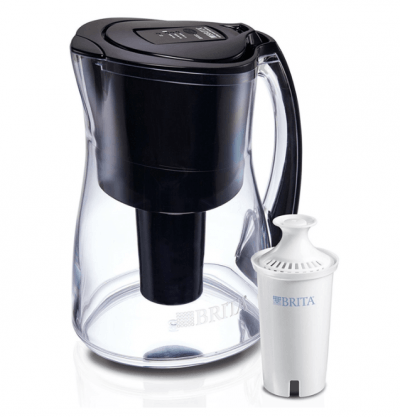 Have you ever sat at your family dinner table thinking "Honey, our water pitcher needs to get smarter fast"?
Well, say no more, Brita's Smart Pitcher to the rescue! Nothing incredibly fancy but this Wi-Fi enabled pitcher will track and order its own replacement filters from Amazon.
How about that? A pitcher that buys its own accessories and charges them on your credit card. The robot takeover is slowly happening people.
10. Smart Floss
Cultivating healthy flossing habits is challenging. It's just too much work, right? And getting the perfect length of floss each time is so difficult, humanity definitely needs this smart dispenser.
Flosstime is an automated floss dispenser that delivers the perfect amount of floss with a single touch. It will also frown at you if you neglect to floss your teeth (judge-y appliances seem to be a recurring theme here).
You can attach it to your bathroom mirror and have your whole family join in the flossing fun. Flosstime can be yours for $26.
11. Smart Wine Dispenser
To cap this off, why not have a glass of wine from this smart wine dispenser?
The Kuvée Connect and the Kuvée Key are Wi-Fi connected wine dispensers that will always pour the perfect glass from a FreshPour enabled wine bottle each time.
And with the Connect, you can even rate, favorite, view and buy refill wine bottles on its built-in LCD touchscreen! I bet other wine bottles can't do that.