The days of arcades dominating the gaming scene are gone, but you can still enjoy all the action, fun and challenges of those classic games right on your Android phone or tablet. You don't need a console, and these games are usually either free, ad-supported, or inexpensive.
From the iconic yellow hero of Pac-Man to a modern version of Frogger, these games will take you on a retro adventure back to the earlier days of video gaming.
These apps may be simpler than today's crop of hyper-realistic action games, but they're still engaging and they're perfect for kicking back for a few minutes with your phone or tablet when you're on the go.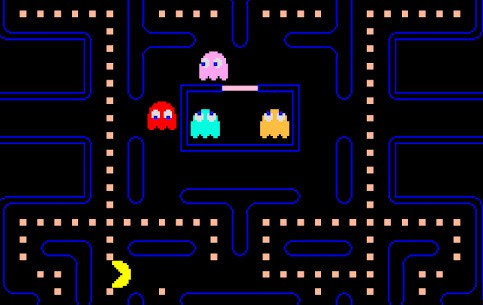 You can't round up a list of retro games without including arcade royalty Pac-Man. You can eat up the pellets and avoid the ghosts in this Android version. It looks and sounds just like you remember, just shrunken down to fit on your phone.
The download is free and the classic mode will get you as close to the arcade version as possible. It's even more fun if you can play this on a tablet to give yourself more space for the touchscreen navigation.
Nintendo star Mario goes for a run in Super Mario Run, an updated take on the classic game. You can try it out for free, but the full game costs $9.99.
There's plenty of old-school cool here as you quest to save Princess Peach. You tackle obstacles by tapping to jump, which becomes pretty intuitive after a little practice.
Tap or click here to discover the best wireless earphones to go with your Android device.
The classic falling-blocks game Tetris gets a modern update with Tetris Blitz, an eye-catching reimagining of the original. It's fast and colorful and features a system of power-ups that you earn as you play through. A fun frenzy mode sends everything into hyperdrive.
It's still Tetris, but it's even more energetic than the original.
Capcom, famous for Street Fighter and the Resident Evil games, offers up a fun side-scrolling action game with the 99-cent Ghosts'n Goblins Mobile. You play as Sir Arthur in a battle against demons as you rush to rescue a princess. Casual mode is fun for anytime, but you can switch into classic mode to make it harder.
Capcom describes it as a "famously difficult action platformer," so be ready for a challenge.
This one is a bit of a departure from arcade-style action. The realMyst app is a version of the classic contemplative puzzle game Myst, but updated for the mobile experience. The quest for understanding of your surroundings and the mystery behind the island you find yourself on is all here along with the beautiful score.
If you loved Myst or you're looking for a quieter game that's about exploration, then realMyst is worth the $6.99 price tag. While this game looks nice on a smartphone, the bigger screen of a tablet will give you an even better visual experience.
Mega Man Mobile revives the classic platformer on your Android screen. You play the cute android Mega Man on a quest to defend the world from dangerous robots. The app costs $1.99.
The game has been reworked a bit to make it playable on a mobile screen, so Mega Man purists might not be thrilled. The look and sounds will still trigger a wave of gaming nostalgia.
Tap or click here for three DIY apps that will help you diagnose and fix Android phone problems.
Sega's fighting game Streets of Rage makes its way onto Android with all its brawling action intact. You will have to practice to master all the combos for the three playable characters as you battle crime in a city.
The ad-supported game also offers a $1.99 upgrade option to remove the commercials.
The best Frogger-style game for Android starts you off as a chicken that needs to cross a busy road. The insanely popular free Crossy Road app is a modernized version of Frogger, but with even more engaging gameplay and lots of fun characters to unlock along the way.
It's cute. It's entertaining. There's a reason it has millions of downloads: It's also pretty addictive.
Go adventuring with the free, ad-supported Pitfall app. You'll need to jump over logs, avoid scorpions and make your way through a scrolling obstacle course, just like in the original '80s game.
This is one of the rare games that's available for Android but is not out for Apple iOS devices.
If you love the old space shoot-em-up Space Invaders and don't mind dropping $4.99 on the Android app version, then this game is for you. The idea is just as it was when the game first came out in the late '70s: You need to fight off hordes of invading aliens.
You can select from different graphic modes, including monochrome or color, but this is mostly a no-frills way to time travel back to the heyday of Space Invaders.
These entertaining Android games will have you covered whether you're looking for a nostalgic arcade-style experience or you want to enjoy a modernized take on a classic game. Keep these handy on your smartphone and you can sneak a little gaming fun in whenever you have a free moment.