We all love sharing statistics and data on social media. After all, numbers can reveal some shocking truths about the world! There's just one thing to remember: Most people will ignore your posts if you aren't using attractive data visualization techniques.
Here's what I mean: Most people are visual. We respond to bright colors, interesting shapes and eye-catching pictures. Most of us aren't interested in plain text, so if you want to catch our eyeballs, you need to present meaningful data in fun, colorful and beautiful ways.
Otherwise, people will ignore your bombshells no matter how life-changing the details are. For example, my guide to must-have survival items in case of an emergency is packed with images. Not only do pictures keep people interested, but they also help people remember your message.
Bottom line: You need to make your data visually appealing
People will keep scrolling if the information you share isn't interesting enough.
That's why you should never communicate fun facts in text alone. You should at least attach an image to your social media post. Or you can go a step further and create engaging graphics that hold your viewer's attention.
You should avoid boredom at all costs. The easiest way to boost your social media engagement is to create content people want to share. Tap or click here for a few ways to upgrade your social media skills.
Remember, you're competing with memes, photos and funny videos.
With this online tool, you can master attractive data visualization for free
A great resource for statistics and data can be found at Information Is Beautiful. This free website condenses real data and numbers into aesthetically pleasing infographics that anyone can understand. If you want to upgrade your social media posts, it's the perfect place to start.
Let's say you want to update your followers on the latest COVID-19 stats. Speaking of which, use this calculator to determine your risk of contracting coronavirus. Or maybe you want to teach friends about global energy consumption or carbon footprints. 
Your multi-paragraph post might get ignored. Make a chart on Information Is Beautiful and you'll make something your followers won't be able to ignore.
That's because the artists on this website fuse graphic design with brilliant colors to bring numbers to life. It's one of the best ways to teach people new facts in a flash.
Here are some of the best data visualization examples from this site in 2022: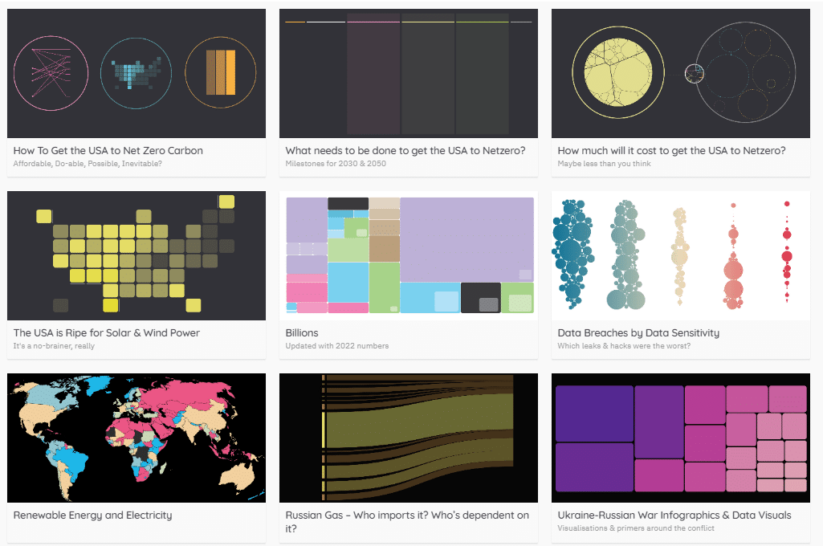 Unlike a 10-minute long YouTube video, the graphics on this website are easy to understand. This means you and your followers won't have to waste tons of time trying to absorb new knowledge. Make learning fun and easy with this free website!
More free marketing tips
8 DIY social media marketing tips to grow your business